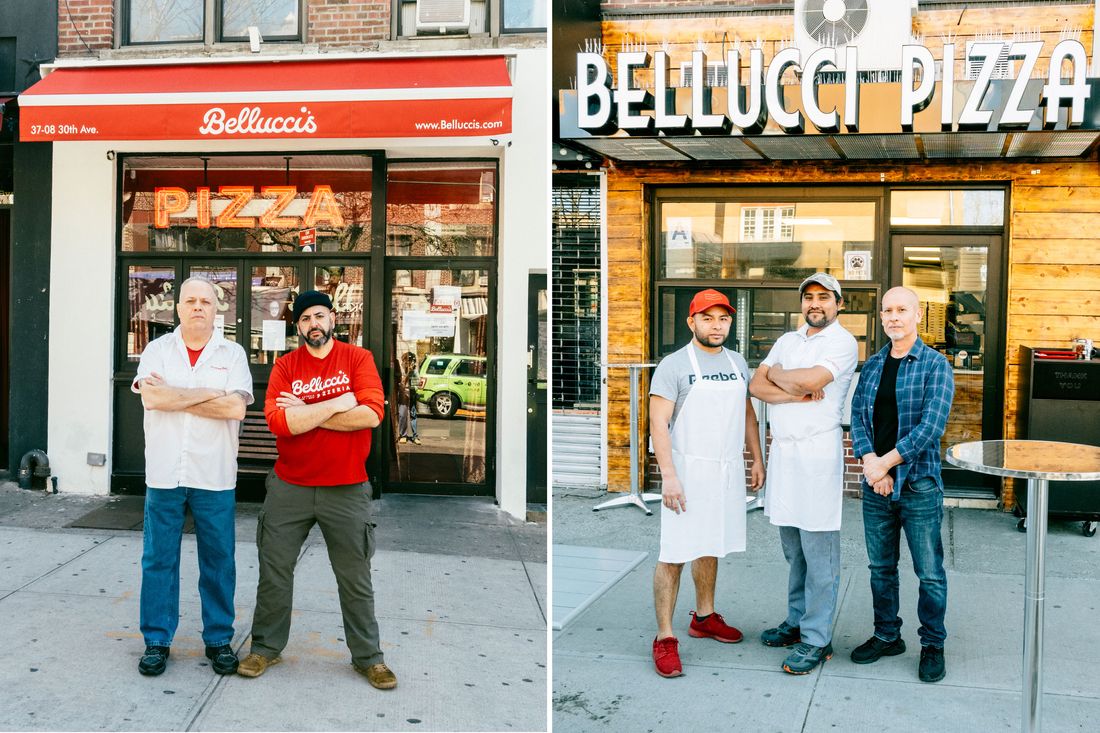 The crews at Bellucci's (left) and Bellucci (right) pizzeria, which are about a 9-minute walk from each other.
Photo: DeSean McClinton-Holland
This article was featured in One Great Story, New York's reading recommendation newsletter. Sign up here to get it nightly.
Like so many love stories gone bad, this one started with a Craigslist ad. "Pizza Chef Available Brooklyn/Manhattan" read the headline. "I'm not just pizza," continued the poster, adding that he was also a "pasta Jedi Master. And I make the Best NY cheesecake you've ever had." The man behind the job listing was one Andrew Bellucci, a snowy-haired 58-year-old from New Jersey with watery blue eyes, deep worry lines, and a wide grin. Bellucci is well-known among pizza circles not just for his pie prowess but for his historic partnerships. Though his Jedi mastery of pasta might be hyperbolic, he is an undisputed Yoda of dough.
At various points in his 30-year career, Bellucci has overseen the pie at venerable institutions such as Lombardi's, Joe's, and Rubirosa. He was, and is, acclaimed for achieving a dough at the far-end border of tensility, a wet and yielding dough that, when fired properly, produces a crisp, burbling crust, the stuff pizza dreams are made of. Bellucci's virtuosity has taken him around the world to Malaysia, Hawaii, and Shanghai. He's also the subject of a four-hour documentary, Untitled Pizza Movie.
The pie man was equally infamous for running into hot water. Nearly all of his partnerships dissolved in a firestorm of recrimination. A particularly nasty spat with Lombardi's owner Jerry Lombardi ended up in the New York Times after Bellucci's arrest for (unrelated) fraud charges in 1996. "He claimed to be the owner of Lombardi's, but in fact he was just a young and aggressive hired hand," wrote Eric Asimov. Not that Bellucci recants. To this day, he protests, voice rising in irritation: "It's irking that I was written out of that story. I found Jerry Lombardi. I put together that deal."
Leo Dakmak, the man who answered the Craigslist ad last May, knew none of this and was, at any rate, too blinkered by visions of dough to enquire more. As Dakmak, a Lebanese immigrant who owns a few tattoo shops in Manhattan, explains, "We were forced to close the tattoo shops because of COVID, but I thought if I could open a pizza shop, at least I could pay the mortgage."  When he saw Bellucci's ad, he said, "It sounded great." He reached out immediately.
Soon the two men were transforming a narrow cubbyhole of a hair salon on 30th Avenue in Astoria just opposite P.S. 17 Henry David Thoreau into a pizzeria. The small space — with no seating save a few aluminum tables on the sidewalk — was nevertheless ambitious; Dakmak bought and installed a new pizza oven while Bellucci developed a menu consisting of 25 pies, from a classic Margherita to more outré creations like Chicken Ranch Bacon, "Vodka-Roni," a French Onion, and White-on-White. Two pizza journeymen — German "Jerry" Torres and Lazaro "Lazo" Chanes — worked alongside Bellucci in the basement, laboring for a month to develop the perfect dough. As usual, Bellucci was demanding. Since dough-making is an endeavor that requires constant vigilance, Dakmak rented an apartment on 30th Avenue for Bellucci so he could check on the recipe at all times. "I have my hand in every piece of dough," Bellucci says proudly.
At first, the pizza shop was to be called Ricca Pizza, after a pizzeria in San Gimignano, Italy, which Dakmak says holds special sentimental importance to him and his wife. But Bellucci insisted the shop bear his name: "I wasn't going to do a shop with somebody unless my name was in it. I felt that with my background, I deserved it."
Dakmak was hesitant. "Andrew begged me to call it Bellucci. I told him I'd ask my wife but I didn't ask my wife." Instead, Dakmak explains, "I asked my lawyer and my lawyer said, 'Absolutely not. What if something goes wrong?'" Eventually, however, the men came to an agreement. The place would be called Bellucci Pizza, but Dakmak asked Bellucci to sign an agreement stating that Dakmak was "free to use the name 'Bellucci' for any and all commercial purposes, including but not limited to Bellucci Pizza Corp." The agreement was signed on the third day of December 2020 and the place opened to pizza-head fanfare shortly thereafter.
For a time, the ovens burned brightly and the pies emerging from the oven crackled with excitement. Now, a year later, the former colleagues are competitors and sworn enemies. Reasons for the split vary according to whom you ask. According to Bellucci, Dakmak wanted to expand too quickly. "He decided he was going to open a store on Sixth Avenue" — in Manhattan —  "and call it Bellucci's, whether I was there or not." Bellucci pauses, then adds, "To use my motherfucking name when I'm not there, that was the final straw."
According to Dakmak, Bellucci "abused the forms of the corporation," spending lavishly and charging it to the shop. It all came to a head in October. "He used the credit card like free money to buy all sort of garbage we didn't need," Dakmak says. "I said to him, 'Give me the credit card.' He said, 'I quit.' I said, 'Have a nice day.'''
"I gotta tell you," Bellucci says. "As far as my Craigslist hookups, this isn't my worst ending." He took to Instagram to announce his departure. That led to a meeting, 15 minutes later, with Matthew Kalakis, another Astoria restaurateur who owns Butcher Bar, a few blocks away on 30th Avenue. In Bellucci, Kalakis saw a hard-luck case. "He's never had somebody help him," Kalakis posits. "He's been trampled on a couple times in his life."
Together, Bellucci and his new partner set about transforming a run-down pizzeria into the biggest poke-in-the-eye pie shop in all of Queens: Bellucci's Pizzeria.
At the new shop — marinara red and mozzarella white dominating the design — Andrew Bellucci's name is scrawled on any surface that can take it. "Bellucci's Pizzeria," proclaims a banner above the counter. "Bellucci's" read the T-shirts, freely distributed to anyone who wants one. "Bellucci" reads the chef's jacket Andrew Bellucci wears over a T-shirt that also reads "Bellucci" at Bellucci's pizzeria. The name has become a talisman, a mantra, a line from Manley Hopkins: "Each mortal thing does one thing and the same: / Deals out that being indoors each one dwells; / Selves — goes itself; myself it speaks and spells, / Crying Whát I dó is me: for that I came."
In some ways, Bellucci versus Bellucci's is just the latest in the Great Pizza Battles of New York, a history littered with grease-dripped plates and bitter rivalries. Partially, this can be attributed to the fact that pizza-making is a deeply personal act. Aside from perhaps high-end sushi counters, there isn't another type of restaurant in which the chef is so intimately tied to the business: Joe's, Patsy's, Lombardi's, Totonno's, Lucali, Di Fara, Paulie Gee's. Even in new-school pizza places like Emily or Emmett's on Grove, pizza is the metonym for the maker. They are one, the product and producer. "When I make a pizza," explains Bellucci, "I give it all of me: my heart, my hands, my spirit." According to Ed Levine, author of Pizza: A History, and founder of Serious Eats, "Pizza is a very personal food. If you take it seriously, you're proud to have your name associated with it."
With an act so personal, it's no wonder that business disputes are also personal, and frequently violent. Who can forget the 2016 murder of Louis Barbati, an owner of L&B Spumoni Gardens, by Andres Fernandez over rumors of a long-simmering stolen-sauce feud? The 2011 beating of Eugene Lombardo, of the Square, by an alleged L&B Spumoni-affiliated mafioso Francis Guerra for the similar theft of sauce? (Guerra was also later charged with extortion.) Then there's the famous intrafamilial dispute between Mark Iacono and his cousin Dominic Cavagnuolo over the use of the Lucali name (Cavagnuolo opened a Lucali Miami, still extant). There's the Patsy's Pizzeria versus Patsy Grimaldi spat, which evolved into the Grimaldi versus Juliana's contretemps; the Joe's Pizza versus Joe's Pizza of the Village (actually in Brooklyn) imbroglio; and the famous Ray's versus Ray's versus Ray's saga of the mid-1990s. That 30th Avenue is awash in bad blood isn't an aberration in New York pizza culture; it's the continuance of a long-established tradition in which pizza and betrayal are forever paired.
For a few months, as he worked to modify the dough at the new shop, Bellucci held "pizza drops." Down nearly an entire block of 30th Avenue, the hungry lined up for a chance to try the master's pies while Dakmak stewed nearby. He removed the cloth awning that read "Bellucci Pizza," but soon reinstalled a new sign — the name bigger and bolder. Yet there was no question that the much smaller Bellucci Pizza, with no indoor seating nor ambience of which to speak, suffered: "I invested so much money in the branding and the marketing," Dakmak says, "and he even hijacked the Instagram account."
The situation wasn't helped at the soft opening, in early April, when Bellucci unveiled his full menu. It consists of rounds and, what he calls, non-rounds (what we others might call Sicilians). It's hard not to notice a striking similarity to the first Bellucci Pizza. There's a Vodka-roni pie. There's a white-on-white pie too, here called White Magic, finished with fresh wasabi and fines herbes. But, given more space, Bellucci has broadened his ambition to include hand-cut mozzarella sticks, a deep-fried calzone, and razor-cut garlic slices. "Just like in GoodFellas," boasts Kalakis when I stop by.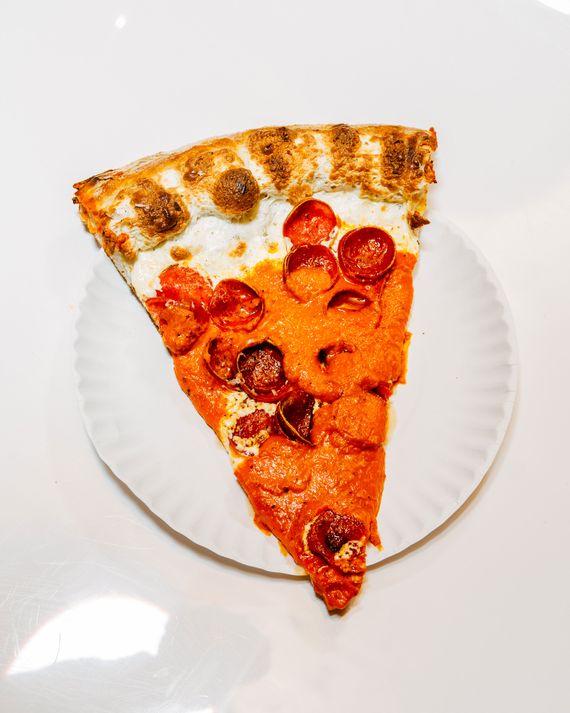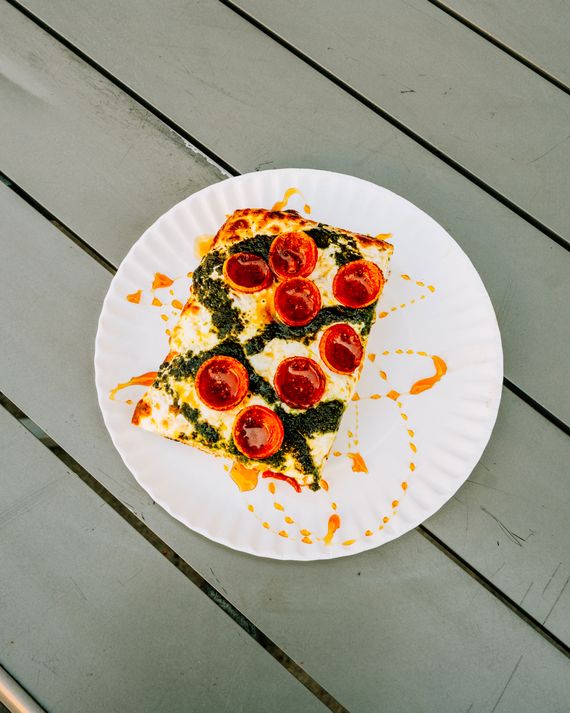 Meanwhile, at least Bellucci sees opportunity in any confusion that might stem from the names. "When people come in saying they ordered a pizza online, I know they're in the wrong place," he says. "We don't do online orders. But I'll make them a pie anyway. I'm having fun with it."
Dakmak, who does not seem to be having fun with it, is considering suing Bare Meats Inc., Kalakis's restaurant company. And he refuses to change the name. "Andrew doesn't own that name," he says. "Why should I change it simply because he doesn't want to work here anymore?" Instead, he says, he's doubling down. "We are expanding Bellucci Pizza to double its size," he announces. "I feel like we are at a place where the pizza itself has been perfected, and it is now time to focus on the experience."
Hotter and hotter the ovens burn as these two men toil in anger, driven by animus and ambition. Occasionally they cross paths, each on the way to his own corner with a sign above the door reading "Bellucci," both men fighting for their slice of the pie.