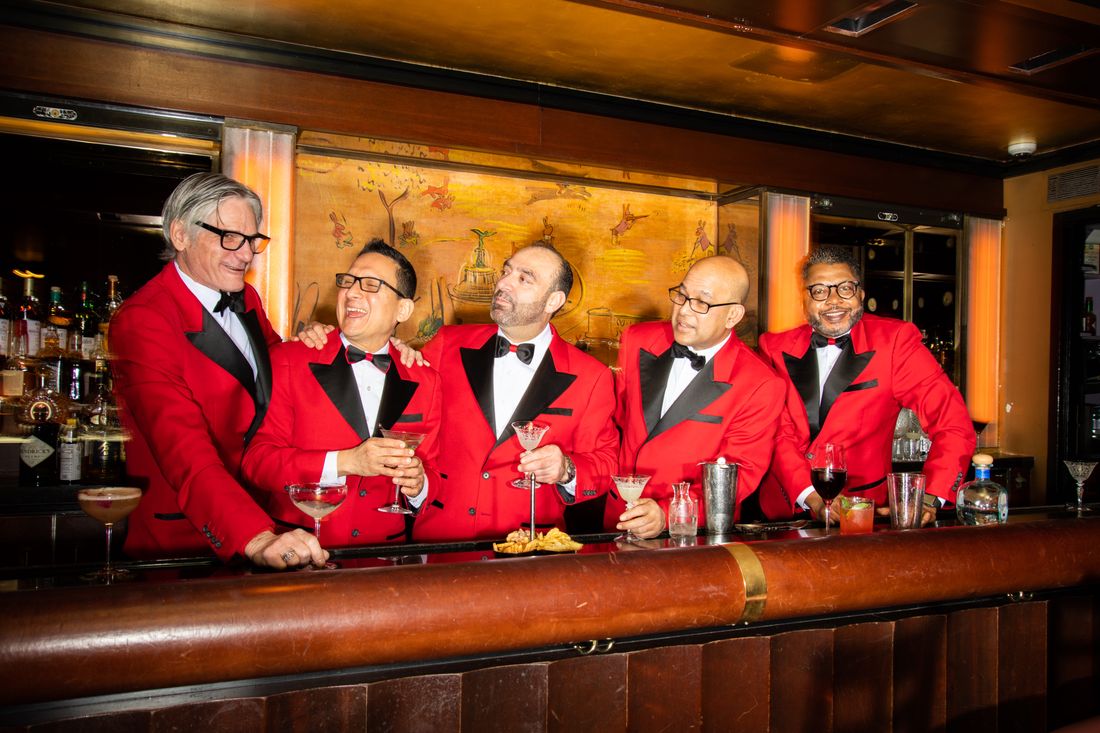 From left:
Timothy Hourigan, Pedro Caballero, Luis Serrano, Abdul Rashid, and Sharif Nagaiya.
Photo: Brian Finke
When he started pouring drinks at Bemelmans Bar in 1989, Luis Serrano couldn't have known he'd be working at what's become the hottest joint in town. Yet a weird sort-of-post-COVID Renaissance has hit the Upper East Side: Young New Yorkers hungry for the New York–iest New York experiences have found the Carlyle hotel's bar, named for its murals by the author of Madeline, en masse.
"I've never seen lines like this for the bar, ever, ever, in my life," says Serrano, 58, who was here before the new crowd was born. And they will wait, all for a $24 martini and some live jazz. With the Waldorf closed for renovations and the Roosevelt lost to time, the last of New York's great prewar-hotel bars — the King Cole Bar at the St. Regis, the Palm Court at the Plaza, and above all Bemelmans — now find themselves highly Instagrammable experiences. Lushness, it turns out, photographs well. "None of these places exist anymore, hardly," says Timothy Hourigan, a 23-year Bemelmans employee. "You can get a classic cocktail in a room where the walls were painted in 1947? Come on! That's an amazing thing." It's the New York that's supposed to exist, and here, it does.
On a recent Monday afternoon, a gray-haired woman in a pink beret sat one table over from a Gen-Z blonde who was stealth-vaping behind her Euro-luxe shopping bags as two tourists nearby staged drinks for Instagram. "The young folks are becoming regulars," raves Sharif Nagaiya. "Yesterday, a young guy was like, 'I saw you about a month ago! I'm back because of you!' " he says, pausing to assess. "Everything is so good, man." Though he has had to adjust: "Everybody is drinking espresso martinis. Everybody. On a busy night, I'll go through three or four pitchers of espresso." The reward, for this quintet of men in their 50s, has been social-media microcelebrity. "I love it," says bartender Pedro Caballero. "I always tell them, 'Hey, don't forget to hashtag #BemelmansBar.' "