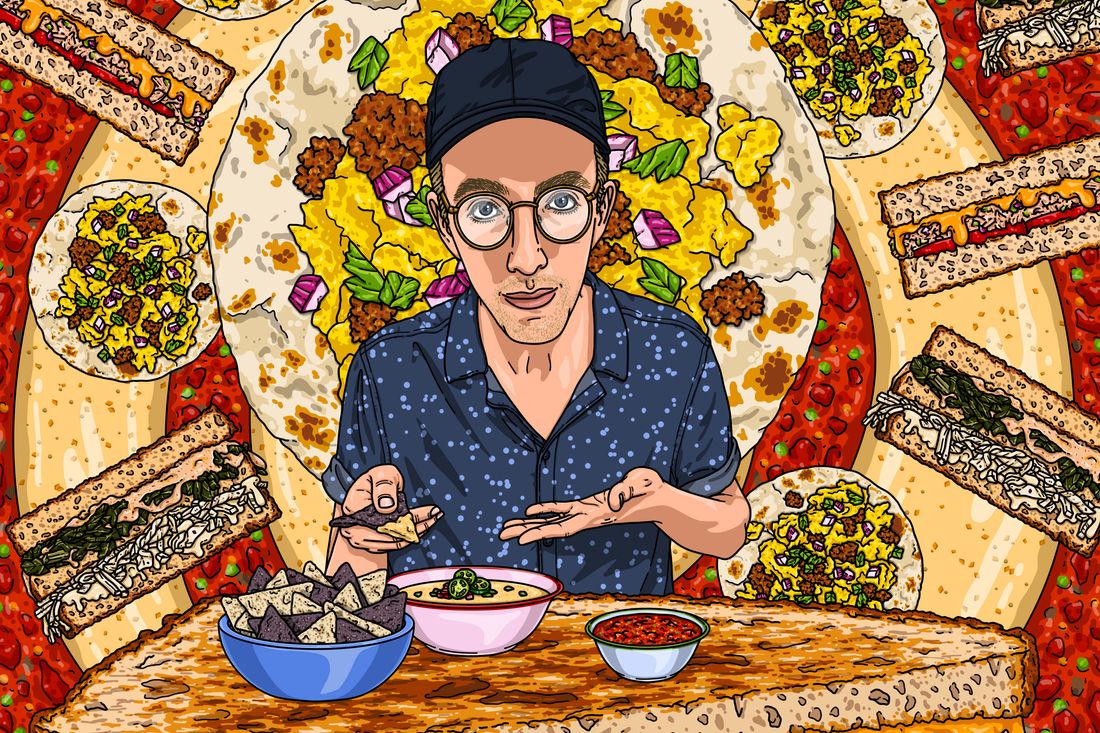 Bobby Finger, whose new novel is out this week. Illustration: Eliana Rodgers
Bobby Finger wants to set the record straight: Good Tex-Mex food does exist in New York. "I used to say there were no good breakfast tacos here, and now there's a really good breakfast taco place," he concedes. "I used to say, 'Well, I can't get a kolach here.' I had a kolach this morning." The Who? Weekly co-host and Texas native also made some of his breakfast tacos this week as he celebrated the publication of his first novel, The Old Place, though he admits he wasn't able to cook as much as he might otherwise: "I would typically not go out for this many meals, but I'm trying to make my life seem more interesting than it is."
Thursday, September 15
I wake up earlier than usual because a cat is walking on my face. When I scold him, he jumps to my nightstand and knocks my glasses onto the floor. This is cute when it happens in TikToks to things you don't own, not when it happens to lenses you just had replaced to keep up with your myopia, which a former optometrist once described as "textbook," adding, "Your eyes will slowly get worse until you're about 40, then they'll stay roughly the same kind of bad until you're about 60, after which they'll keep getting worse until you're dead."
I get out of bed, shower, and walk to the kitchen to pour myself a cup of coffee. I pull a Mason jar out of the cabinet and pour exactly six ounces of Grady's Cold Brew concentrate from the box we keep in the fridge. I use my own cold-brew-maker occasionally (it's not so much a "maker" as it is a large plastic vessel with a filter at the bottom), but there is nothing easier or more cost-effective than Grady's concentrate if you live in NYC, the only region where they sell the concentrate in large boxes via a subscription-delivery service from their headquarters in the Bronx.
Once it gets cold, we will decrease our delivery frequency and subsist on large pots of drip, but for now it's cold brew every day. I typically add a splash of cow milk, but we ran out yesterday and I forgot to buy another carton, so I settle for oat. I love coffee, maybe too much, but I do not like it without some kind of milk. Whole cow milk is preferred. Oat will do in a pinch. Almond is criminal.
My preference for milky coffee makes me self-conscious as a member of the coffee-lover community, so I have to tell myself that my opinions are valid. I look at the custom insulated metal tumbler my brother got me for Christmas in 2019 and am reminded of my worthiness as a coffee enjoyer. "GOTTA HAVE MY JAVA," it reads on the side in a funny script.
I do not eat breakfast because there is no time and also there is no breakfast food in the house apart from a single remaining serving in my husband's box of Cookies & Cream Magic Spoon that I'd feel guilty stealing. I tell myself I'll have a corn muffin later, and the dream begins to make me feel satiated. I spend the next few hours doing final prep and then recording the Friday episode of Who? Weekly, the podcast I co-host with Lindsey Weber, after which I make the saddest salad imaginable with what remains in the crisper drawer. There's some spinach. Some red pepper. Some black beans. A vinaigrette I whip together with a sprinkle of Julio's seasoning to make it feel, I don't know, southwestern. It is so bad that I apologize to Josh. He doesn't care.
After throwing the dishes in the sink — cleanup is Josh's job — I bolt to a nearby coffee shop to edit in their backyard. I almost don't want to tell you where I am going because it would ruin the secret of their beautiful backyard, which always has a free space to work, but I have been hyped for this Grub Street Diet for months now, and one of the best things about the opportunity is sharing all the places you love with people who could potentially love them too, so I'll reveal them now: Peck's Food on Myrtle Avenue in Brooklyn.
They have the best corn muffins in the universe, and I am dying for one as I approach early in the afternoon. When I arrive, I notice they only have chocolate chip muffins left. I'm angry for a moment, then I breathe and order a large cold brew "with space," (I say "with space" instead of the more common "with room" because the cool baristas there say "with space" instead of "with room," which I feel is a subconscious rejection of corporate coffee culture even though it's probably just something one employee said that stuck). I also order a chocolate buckwheat cookie, my second-favorite baked good on their menu, and go outside to spend the next few hours editing the podcast.
I have plans to see The Woman King with three friends, but before I can meet them, I have to eat an actual meal. I stop at Yellow Rose in the East Village and sit at the bar. Ever since contracting COVID-19 for the first time last month, I've been feeling pretty footloose and fancy free with indoor dining. Put me as close to people as possible. Put me at the bar. Put me behind the bar. I order chips and salsa to start and two bean-and-cheese tacos, which are the Platonic ideal of one of my favorite foods. For a drink, a Topo Chico. When I'm told they're out of Topo Chico, a normal seltzer, I am only slightly disappointed.
I'm always blown away by how good their salsa is. Plenty of Texas transplants will tell you there is no good Mexican food in NYC. They are wrong, maybe even stupid. Don't listen to those people. Good Mexican food is everywhere. And good Tex-Mex isn't as uncommon as it was when I moved here in 2009. But I've never had salsa as authentically Texas as the kind they serve at Yellow Rose. It's got an addictive sweetness to it that brings me right home.
I pay and leave and head to the Regal on Essex Street, where I meet up with Patrick and Fran and Phil and order a Diet Pepsi and peanut-butter M&Ms. I'd never had Diet Pepsi before becoming a Regal Crown Card member, and I've gotta say … it's diet soda! I finish the whole drink and half the bag of peanut-butter M&Ms during the movie. I go home and tell Josh that The Woman King was rousing and wonderful, and then I go to sleep.
Friday, September 16
Typically, I would wake up early and record the Sunday episode of Who? Weekly, but we recorded in advance this week, so I have an atypically leisurely morning. I make a tumbler of Grady's and watch The Golden Girls while responding to emails and checking early responses to our Friday episode.
For lunch, I meet my friend Jia at the newish Saraghina Caffè to both catch up and prep for the launch event for my novel, which she so generously agreed to moderate. I order a latte with whole milk and am surprised when the server brings me an iced latte with whole milk. I did not ask for it to be iced! When I take a sip, I realize the server knew better. It is perfect. Hot would have been wrong.
Jia and I split the "Romanina" salad and the Capocollo pizza, which we sort of pick at random. We finish every bite and spend the next two hours gabbing. My stomach is full, and after I hear some incredible gossip, so is my soul.
Some work. More phone calls. A haircut. Then Josh and I leave for a birthday party for Rachel, one of my closest friends. For as long as I've known Rachel, she has celebrated intermittent birthdays via Fast Food Potlucks. The rules are simple: Every attendee must bring some fast food. Josh brings Popeye's nuggets and Dunkin' hash browns. I try to bring a stack of Mexican Pizzas, the best item on Taco Bell's menu, but they are sold out, so I just bring a ginger hard kombucha because I suspect it will settle my stomach after all the food.
When we arrive at the party, hosted by another friend, Rebecca, I'm told Rachel herself is en route from Manhattan carrying a bag filled with Mexican Pizzas. She texts from the subway, where she says the smell is filling the train car. I tell her that sounds delicious.
Once everyone has arrived, we spread all the food on Rebecca's table and take in the beautiful scene: There's food representing McDonald's, Chick-fil-A (not my choice), Popeye's, Taco Bell, Domino's, Dunkin', and BonChon. We are so happy.
The Korean fried chicken from BonChon is not exactly fast food, but since it is the best food on the table, I eat so, so much of it. I also eat a slice of beautiful mochi cake, which Rebecca made for the occasion. She tells us she is worried she fucked it up, but it tastes amazing. I also eat a scoop of dirt pudding, which Rachel made and brought because it reminds her of childhood. I cannot believe we've been doing this for over ten years.
Saturday, September 17
I want nothing, not even coffee. I shower and read until Josh and I leave to see The Woman King, which Josh could not attend on Thursday and which I demand we see together this afternoon. (I take advantage of my Regal Unlimited™ movie-subscription pass.) On the walk there, we stop for cold brew at Peck's after realizing it was a mistake to avoid caffeine. I drink a seltzer during the movie, which is better the second time.
After the movie, I go to Books Are Magic to sign a huge stack of copies of my novel. It is one of the most surreal experiences of my life. I'm glad I have not eaten because I would have thrown up all over the stacks.
I walk home and watch TV with Josh before it's time to leave for our first and only meal of the day: dinner with our friends Emily and Jacob at Bernie's. Despite some irritating weekend subway changes, we arrive on time, which is to say 5:25 p.m. Bernie's is an "American" restaurant on the border of Williamsburg and Greenpoint that is very popular and very small and does not take reservations. We arrive expecting an hour-long wait, but the host surprises all four of us by saying we can follow him to a booth in the back. I draw on the tablecloth with the provided crayons, like an idiot, and order a dirty martini and eggplant parmesan. Josh and I split a wedge salad. The wedge is the reason to go to Bernie's. The iceberg lettuce is mere texture under a mountain of flavor: blue cheese dressing and cherry tomatoes and crumbled blue cheese and more blue cheese dressing, and somehow even more crumbled blue cheese. There's also a giant slice of bacon on top. Like most slices of bacon, it is unnecessary, and the only part of the salad Josh and I don't finish.
We walk to a place called Thief, which is nearly empty inside, for one more cocktail. It looks like the kind of place that will be very crowded later in the night, and I feel something resembling wistfulness as we all sit at the high-top surrounded by almost no one. I have a cocktail made with jalapeño-infused tequila. It's good, but it's also time to go. We're happy to be on our way home while there's still a bit of sun in the sky.
Sunday, September 18
I want breakfast tacos.
I make a tumbler of Grady's and turn on the broiler. While it heats up, I throw what's left of a pint of cherry tomatoes onto a sheet pan and add a couple chunks of onion, garlic, and jalapeño. I broil this until all sides are charred, then I throw the contents into a jar with salt and pepper and lime juice and blend them with an immersion blender until smooth. For the tacos, I follow my dad's general method (my dad is a wonderful cook) and dice an onion, a green pepper, a jalapeño, and a lot of garlic. While that sautées, I boil a couple potatoes I've cut into small cubes to par-cook them. My dad would typically brown crumbled pork sausage here, but I'm making them meatless, so I just sauté everything together with a few scrambled eggs until it looks like a breakfast-taco filling. I heat tortillas directly on the flame until they're crispy, then Josh and I eat.
I pour myself a glass of kombucha from the 48-ounce bottle in the fridge that I bought because it was somehow less than the price of two individual glass bottles, then head into the city to run a few errands. Neither errand is all that successful, but I do accidentally wander right into the Feast of San Gennaro in Little Italy, so I walk the whole strip and sniff all the sausages and peppers and cannoli and pizzas and pastas and arepas. I still feel full from my breakfast tacos, but want to participate somehow, so I buy a coffee from the Caffe Roma stand.
On the way home, I stop at the grocery store and buy everything I need for dinner. I cook most weeknights and 99 percent of Sunday evenings. My favorite meal to cook is Sunday dinner, but I don't have it in me to decide on a new and exciting recipe. I settle on an old reliable (my friend Jackson's veggie burger recipe) and a newer reliable (Carla Lalli Music's celery salad). I first heard of Jackson's veggie burger from his girlfriend, my friend Kate, who eventually published a version of his recipe in her incredible newsletter. They are the best veggie burgers I've ever had, and the recipe is quite simple despite using many ingredients. It's bean-based, and begins with cans of roasted black beans and chickpeas, to which you add refried beans and cooked farro and chopped kale and onions and garlic and an egg and breadcrumbs and so many spices. Soy sauce! Onion powder! Even a handful of crumbled feta! I threw in a general sprinkle of nutritional yeast this time, which took it to another level! The recipe makes six patties, which means three meals in my house.
At some point in the afternoon I decide we need a dessert, so I ask Josh to run out and get two ingredients I need: light brown sugar and a jar of creamy peanut butter — Skippy or Jif or Peter Pan. "Light brown sugar?" Josh asks.
"Yeah, there's light and there's dark."
"When the hell did that happen?"
I tell Josh it's been happening since time immemorial, and he leaves to go buy a box. When he returns, I make a batch of Ovenly's salted peanut butter cookies, the easiest and most delicious peanut butter cookies in the world, scoop out two balls of dough, and put the rest in the fridge. We watch Primal Fear while we eat because we are in the mood for a '90s courtroom thriller. I notice how interesting it is that all the non-imprisoned main characters — Richard Gere, Laura Linney, and Alfre Woodard — have very specific drinking habits. Gere likes Negra Modelo and tequila. Linney likes Bud Light. Woodard prefers Scotch or bourbon. The movie ends and I laugh. It was so dumb and good and perfectly 1996.
Monday, September 19
No breakfast but Grady's. There is so much work to do. After recording the podcast, I make a very good lunch salad with spinach and cucumber and tomatoes and carrots and broccoli and a leftover veggie burger, which I cook and throw in the center of the salad. It's hot and sort of wilts everything else, but I enjoy that consistency.
Between calls, I run to my other coffee shop in the neighborhood, Café Calaca, for a second coffee of the day because I realize I have not mentioned them yet during my Grub Street Diet. I hope to see Sean, the barista who hosts a comedy show there and who always remembers my name, but he is not working. I want an empanada but I am too full, so I just get the coffee. It is perfect.
My friend Kate invites me and Josh and our friends Megan and Lindsey to dinner at her apartment. Josh cannot go, so I cook the remaining peanut butter cookie dough (I leave three for me and Josh), pick up a bottle of wine, and walk on over. Her boyfriend Jackson surprises everyone by joining us instead of playing video games on the other side of the apartment.
Kate makes the best Niçoise I've ever had, and we sit around the dinner table for a few hours drinking fake Spaghetts (Campari and Modelo Especial as opposed to Campari and Miller High Life) and wine before everyone starts yawning. When Kate says, "I feel like I'm powering down," I say it's time for us to go. She says she did not mean that as a subtle order to leave and pours herself another Spaghett while we talk about Florence Pugh and The Woman King and weddings and parents.