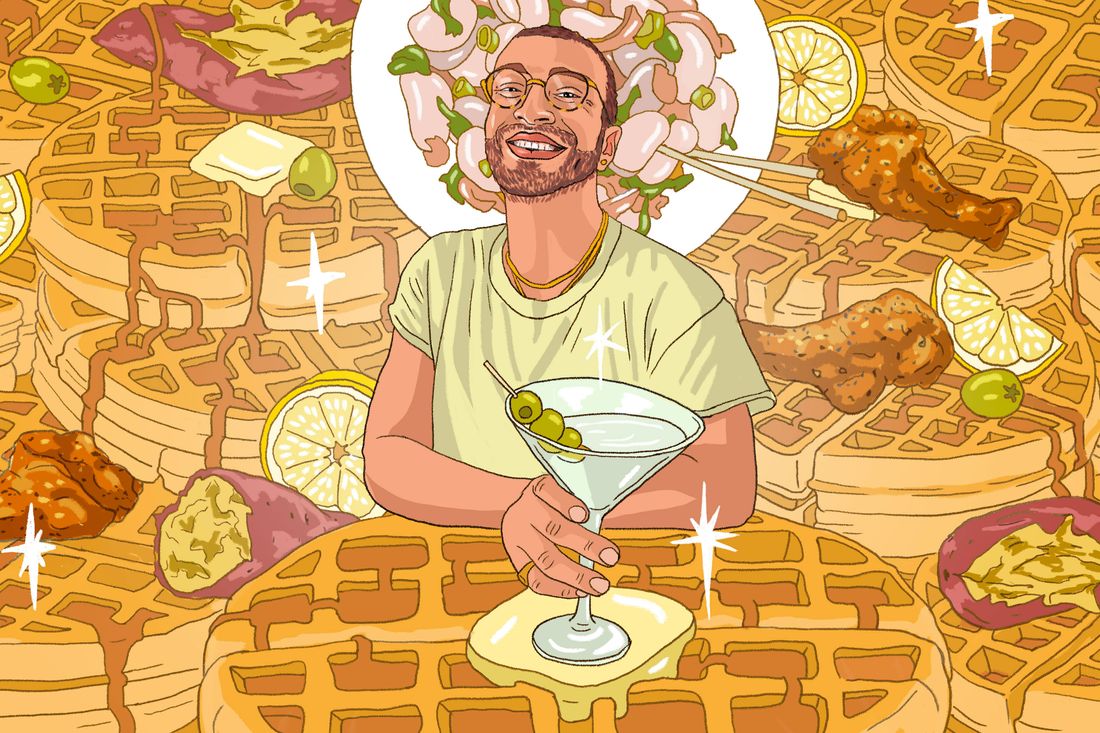 A PB&J on waffles? Why not? Illustration: Margalit Cutler
A year ago, when Elazar Sontag joined Bon Appétit as its latest restaurant editor, he dove right into the role, flying around the country to identify America's best new places to eat. "There was no on-ramp," he says. "It was a huge adjustment and a lot of learning on the job." Now, he's preparing to hit the road again, a bit more experienced but no less intimidated by the prospect of trying to cram as many restaurant meals as possible into a limited window of time. "Three meals out is a gentle day," he says, laughing. "Sometimes it's more like five." Until then, however, he enjoyed some time at home in Brooklyn, crafting a bit of bean dip for the Super Bowl and celebrating his birthday with a (misguided?) wing party: "There was oil everywhere — what a disaster!" 
Friday, February 10
For about the last year, I've had a hard time getting out of bed before 9:25, five minutes before I need to sign on for work. But a friend who lives in my neighborhood has been trying to convince me to go with him to a group fitness class nearby, and I finally caved a few months ago. It's not what I was expecting, and I've become kind of obsessed. Pretty much all the trainers — and half the class — are queer, and I really love to start my day with these people I know almost nothing about. My friend and I have theories about who they are and what they all do.
I don't usually eat before workouts, but I've gotten into a morning ritual of waking up a full hour before the class, making myself a cappuccino, and sitting on my couch reading the news or watching TikToks. My partner, Alex, usually doesn't wake up until I'm back from class, and this is like the only chunk of time before my workday starts when I'm not stressing out or in a meeting or very much online. I sit next to the enormous pile of unfolded laundry on the couch and drink my coffee before walking the five blocks to the gym.
It's almost 60 degrees outside, which feels extremely wrong for a New York winter, but I tell myself I'm allowed to enjoy the good weather in the short term even though I know it's a bad sign in the long term. On the way home, I stop at Sincerely, Tommy, a café and clothing store on Tompkins Avenue in Bed-Stuy. It's drop-off time for the school across the street, so I'm caught in the middle of a very intense parents-only social scene in front of the café. I order an iced cappuccino and a slice of lemon loaf, which I swear is particularly good here but could also come from one of the two or three wholesale bakeries that sells pastries to every café in New York.
Fridays are great for me because I've already spent most of the week stressing out about how much I have to do, and by now I've either caught up or accepted my fate. I walk a few minutes to For All Things Good, an Oaxacan café and molino in my neighborhood. I have a reliable order here, but I stray and end up ordering a carrot tinga quesadilla and a breakfast gordita stuffed with egg, avocado, and a smear of black beans. Everything is really fresh, and the quality of the corn is amazing. I always leave For All Things Good feeling really light and digestively on track, which is not something I can say for all of my restaurant experiences.
I'm about to enter a month of heavy travel and eating for my job, going around the country eating at all the new restaurants we're interested in. It's a dream gig in a lot of ways, but there is a lot of planning involved for each trip. I spend the rest of the day trying to figure out if there's a single restaurant in the entire country that's open on Mondays. The verdict is: No.
I'm split between going out and staying in for dinner. I'm craving egusi and suya from a Nigerian restaurant in our neighborhood called Buka, but Alex wants to stay in, and we have a pack of tofu that needs to get cooked. We make a version of an amazing Sichuan dish from a Fuchsia Dunlop cookbook, where silken tofu gets flashed in boiling water and then sits in a pool of vinegary chili oil, which is very much what I want.
After dinner I bake some frozen molasses cookies we batch-made a month ago and have been working through. I've convinced myself they're better when they start in a cold oven, which also shortens the amount of time I spend waiting for a cookie.
Saturday, February 11
"Happy wing day!" Alex says the moment I open my eyes. It was my 25th birthday on Thursday, and he offered to throw a party at our apartment. When we were trying to plan the menu a week ago, I had one of those freeze-up moments where I couldn't think of a single dish. The only "party food" I could think of — and, really, the only thing I ever want to eat at a party — is chicken wings. We landed on a menu of lemon pepper wings, mala chicken wings inspired by the late Mission Chinese Food, mung bean noodles, Sichuan pickled carrots and cabbage, shrimp cocktail, and a big pile of mushroom larb. We recently drove up to Hudson to celebrate our friend Wesley's birthday, and our mutual friend cooked this wild Sichuan feast for 30 people. There were three courses, ten dishes — and she pulled the entire thing off effortlessly. Everyone was so impressed and happy and well fed. That's what we're aiming for, even though we both know "effortless" is not in the cards.
I make us both coffee. People are coming over around 4, which, really, could mean almost anything. I salt the wings and put them in the cold oven to make space for other stuff in the fridge. Alex unmolds his mung bean noodles and salts his pickles and smashes cucumbers for a cucumber salad. I start making a lemon pepper sauce for the wings. My North Star for lemon pepper is that it should taste as much like Wingstop's version as possible. Growing up, I used to go to the Wingstop near Lake Merritt in Oakland with my friends, and we thought it was so glamorous how you could see them cooking and tossing the wings through a glass window. I don't want to stray too far from God. Nevertheless, I add a little grated ginger to my butter-oil mixture, plus a spoonful of green Sichuan pepper oil.
I also make the sauce for the shrimp cocktail, inspired by Lil' Deb's Oasis in Hudson. Theirs is made from scratch and has lime pickle instead of horseradish. Mine is made with ketchup and has lime pickle and horseradish. It's great. Around 2, I realize I haven't eaten, so I take a few bites of a frozen-waffle PB&J sandwich Alex is eating.
Our friends start to trickle in around 4:30. My friend Anicia is the first one in the door and gifts me a bag of frozen meatballs from her kids' food company. It's very good stuff to have in the freezer. The apartment is clean and full of flowers, and I'm ready for a chaos-free party.
That all goes out the window when I start frying the chicken wings. I realize as soon as I drop in my first batch of wings that the level of the oil is way too high. One more wing and the party would be over. A little oil sparks in the air and makes a menacing pop. I scoop boiling oil into a glass bowl. And into another bowl. The pots are both still too full. The kitchen is covered in grease; bowls of oil are everywhere.
Despite the mess, I love the feeling of being in the kitchen at my own party. I get to watch everything play out, but I don't have to facilitate any of it. Someone spills an entire bottle of red wine. By 9:30, most of the wings and side dishes are gone, and a lot of people have gone home. I'm done cooking, and a few of my friends are still here. I put the last of the frozen molasses cookies in the oven.
Sunday, February 12
It sounds very "Live, Laugh, Love" to be like "But first, coffee," but my day really does not begin until I have at least a half-cup. I make a cappuccino and survey the apartment. There's a lot of dried chili oil on the floor, so I vacuum and do some dishes.
Alex and I then spend an hour trying to figure out where to eat breakfast. With my job, I feel like I'm supposed to know where to eat all the time, but more often than not my brain goes blank and I can't think of any restaurants. Plus, there aren't a lot of breakfast spots in New York that I'm crazy about. We eventually land on Four Horsemen in Williamsburg. It's one of those restaurants that I always forget about, and every time I remember it exists, I feel like I've struck gold. I've never had a bad meal there.
The daytime menu isn't particularly breakfast-y, which I really appreciate. We order grilled trumpet mushrooms, burrata with caraflex cabbage, escarole with Parmesan, and boudin blanc sausage. Insofar as an old-school sausage can be trendy, I think boudin blanc is, and I'm really happy about that. This is the best version I've had.
I'm not hungry when we leave, but I really want a slice of a particularly good lemon loaf from a nearby café called Buddies. They roast their own beans, and the coffee is great, but the lemon loaf is godly, and I sometimes go just for that when I'm in the neighborhood.
After I secure my loaf, I tell myself that I'm going to sit in a café for a few hours and put the finishing touches on my book proposal. It doesn't happen. Instead, on the way home, I pick up some refried beans. My friend is covering the Super Bowl for work and I've invited myself over to watch the Rihanna halftime show. I've offered to make bean dip, which I don't fully understand the components of until I look it up.
I follow almost none of the directions — doubling the sour cream, adding a charred poblano pepper, the whole can of pickled jalapeño instead of a few tablespoons — but it's still great. I'm running late to the watch party by the time I finish my dip, but I'm starving so I eat half a tuna sandwich on my way out the door. It's sad and I immediately wish I'd skipped it.
The tinfoil flies off my dip while I'm walking, and I notice people staring at it. I get some nods from other people who I assume are also going to watch parties and can see how well my dip turned out. I get to my friend's place and realize all my friends have made some variation of the same dish: refried beans, cheese, sour cream. We watch Rihanna and eat everything.
Monday, February 13
It doesn't matter how early or on time I wake up, Monday mornings are a sprint for me. I hate to leave the house without coffee, but I can't miss my morning meetings, so that is what's happening. I get to the office at 9:42 very tired and with a headache. I have three minutes to grab an iced coffee before my first call. We discuss the last week's food news, which includes cheese-wrapped pickles that are apparently trending on TikTok.
I go to the work cafeteria for breakfast to scope out my options. I've been feeling grossed out by eggs lately, which is really unfortunate because they are the ideal and most effortless breakfast food. Instead, I end up with eight tater tots and five pieces of steam-tray bacon. If eggs are the ideal, tater tots are a close second.
When I'm in the office, the time between breakfast and lunch is about an hour and a half. It doesn't matter when I've last eaten, noon is lunchtime. I scrounge in the cafeteria again, which is pretty good today. I then edit a few stories, and when my eyes start to glaze over, I go to the shared kitchen to see if there are any snacks. There are not. Around 5, I realize I've been cycling between Twitter and my email for 20 minutes and haven't had one coherent thought, which means it's time to leave.
A few of my friends work nearby, so we hop on the train and head to Bar Belly on the Lower East Side. It's less expensive than a lot of other bars in the area right now, which means that you can get a drink for under $18. It shouldn't feel like a bargain, but it does. I get a gin martini; my friend gets vodka. Once our third arrives, we finish our drinks and walk a few blocks to New York's most sacred gathering place: Taiwan Pork Chop House.
Because it's right next to Nom Wah, it can feel like Taiwan Pork Chop House doesn't always get the love it deserves. Regardless, it is one of our city's finest establishments. The whole menu is hits, but the namesake pork chop over rice is particularly special. The rice is covered in fermented mustard greens and minced pork sauce and blanketed in a hard-fried pork chop. At some point during the pandemic, a sign went up on the front door at Taiwan Pork Chop House that there had been a gas leak and the restaurant was closed for repairs. The sign stayed up for a few days, and then a few weeks, and then I started to panic — dramatic but true. When the restaurant reopened, seemingly all of the same staff was there, and the food was as good as ever. I wanted to hug all of them.
Tuesday, February 14
I have a 6:30 alarm set for my workout class, but I half-wake up at 4 worrying about something work related. The worry is vague and nonspecific, but it lodges in the back of my mind and I can't go back to sleep until 6. When I wake up again, it's time to get up. I make coffee, sit on the couch, and catch up on the news. It's bleak, and I'm relieved when it's time to put on shoes and leave the house.
On my walk home, I go to the grocery store to buy more frozen waffles and some bananas. Usually this brand of waffles is good, but these are so dry they crumble in the toaster and I need a chopstick to get them out. I cover them in peanut butter and maple syrup, and they're still pretty good.
I forget it's Valentine's Day until I leave the house again to pick up a prescription and hit the corner of Nostrand and Fulton, where there's a line of stands selling teddy bears and flowers. My plan is to buy Alex some V-Day jerk chicken from a master chef at Fulton and New York Avenue, but he's not here today. I end up at A&A Bake Doubles and Roti and get two plates with rice and peas, stew chicken, curry goat, chana and aloo, and callaloo. The chickpeas here are unbelievable, but I can't see them in the steam table when I walk in. I'm extremely relieved when I'm told they're not sold out. I pick up some roses on the way home for good measure.
The path of least resistance is to eat at home on Valentine's Day, one of the most infamously chaotic days at restaurants. But we don't have much food in the house, and neither of us wants to cook. Instead, we meet at the Fly, a restaurant that specializes in rotisserie chicken and good wine and has very little else on the menu. It usually feels like a real neighborhood restaurant — easy enough to get into and very low-key. Tonight is not one of those nights. We snag seats in the window and get flattened into the wall as about 100 other couples come stampeding in. I recognize the only thing that sets us apart is that we got here 10 minutes before everyone else, but I still wish they'd found somewhere else to eat dinner.
We order Buffalo wings, fries, and Caesar salad. Even when the restaurant is this busy, all of the staff is so warm and lovely. It's impossible to feel put off by the chaos of the restaurant when everyone seems so happy to be here. My favorite bartender is working, too, and she sees us as we're heading out — so we take a shot to end the night.