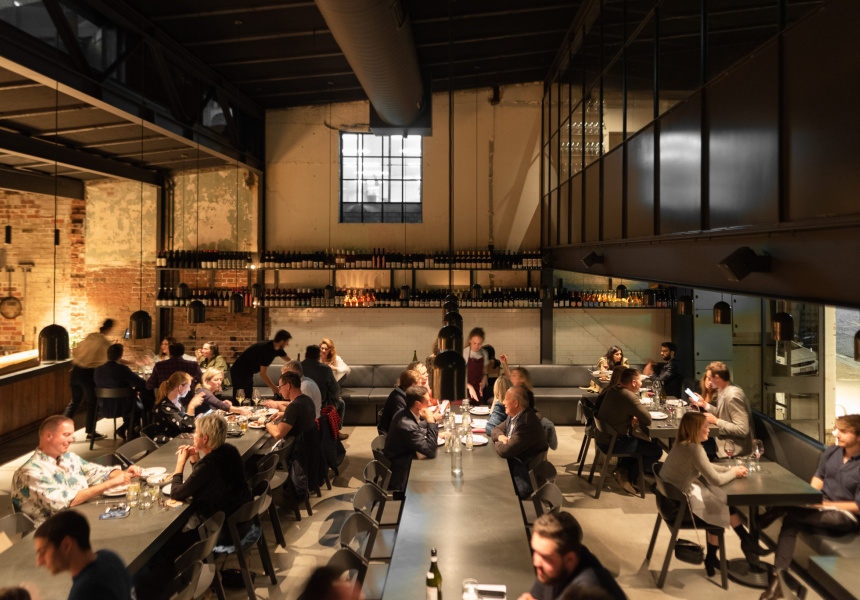 It's been an incredibly challenging year for Brisbane's hospitality industry, losing restaurants such as Arc Dining, Stokehouse Q, Corella and Little Valley to you-know-what.
Throughout the year, the industry grappled with numerous challenges including the mandated shutdown of eateries in March; many venues and workers (especially migrant workers) missing out on government subsidies; and in general, a sharp drop in business.
Among all this were brave restaurateurs who decided to open a venue during this time. No one summed it up better than chef Emily Yeoh of Emily Yeah Restaurant: "Opening a restaurant, especially during this time – it's a lot of risk. But that fear in your heart also makes you think, 'What have I got to lose?'"
Despite all the chaos, we've seen some cracking openings this year – from a moody underground izakaya to a rooftop Mexican pop-up restaurant and a fully fire-powered restaurant. Here are the best of them.
Agnes

Same Same and Honto's Frank Li, Ty Simon and Bianca Marchi, and star chef Ben Williamson, intended to open Agnes inside an ancient Fortitude Valley warehouse last year, but delays pushed it back to 2020. Then the shutdown of eateries forced Agnes to open as a pop-up bakery instead – which it absolutely nailed with wood-fired pizzettes, breads and that legendary basque cheesecake. The pop-up finished in July and the restaurant opened, fully powered by fire (no gas or electricity). Highlights on the menu include scarlet prawn doughnut with Vietnamese mint and sorrel, beef tartare with smoked chestnut, mushroom and almond crumbs, and smoked lamb neck served with an ancho mole and flatbread. For drinks, there's an enormous wine cellar and a slick set of cocktails. Finish the night with dessert – such as a smoked sticky date cake – on the upstairs terrace with views across the CBD and the Valley.
Little G

The popular Dutton Park pizza joint moved to Woolloongabba earlier this year, because brother-and-sister owners George and Danielle Diacos knew they needed a bigger space. Formerly Corella, the Diacos' have kept the fancy fit-out but relaxed the vibe with a bunch of plants, olive trees and the Little G menu projected on the wall. The latter include a neat menu of pizzas, arancini and rotating Mediterranean-inspired specials such as chermoula lamb ribs and the restaurant's popular fried chicken. Pizzas include margherita; prosciutto and pear; and hot salami with pickled red onion and stracciatella. For drinks, Little G has added a clutch of craft beers and a neat collection of small-producer wines such as Jumpin' Juice riesling and Brothers Koerner grenache.
Naga Thai

Husband and wife team Andrew and Jaimee Baturo opened Naga Thai as a long-term pop-up, given the impending redevelopment of Eagle Street Pier. The former Pony Dining space has been injected with pops of colour – inspired by the tropical fruits and vibrant produce found in Thai markets – by renowned interior designer Anna Spiro. Bangkok-born chef Suwisa Phoonsang's menu includes many dishes she grew up eating, including house-made milk buns stuffed with massaman beef; flower dim sims; Mekhong Thai whisky drunken noodles with marinated pork; and chicken and coconut curry noodle soup. Drinks are focused around creative cocktails, and the wine list features a large amount of rosés and chillable lighter reds.
Boom Boom Room Izakaya

Earlier this year, The Ghanem Group transformed The Boom Boom Room into a Japanese izakaya. The izakaya concept suits the former bank basement perfectly, with the dimly lit, moody underground space resembling the glitzier izakaya dens you might find in Japan. A new kitchen has been built beside the bar, centered around an impressive three-tier Mibrasa charcoal grill. The yakitori is a highlight, but raw dishes such as Noosa scallop sashimi with kombu dressing and salmon roe gunkan (kind of like ngiri with nori wrapped around it) are worthy of attention too. The two-sided drinks menu includes an extensive Japanese whisky selection, plenty of sake, nine Japanese-inspired cocktails; and a small but well-curated wine list with a handful of options by the glass.
Emily Yeoh Restaurant

Former Masterchef contestant, Emily Yeoh, opened Emily Yeoh Restaurant in mid-July inside a neat Given Terrace tenancy previously occupied by a Coffee Club. It's now a subtly swish space, rendered in black tiles, polished concrete floors, stone benchtops and handsome monochromatic wallpaper. The food menu taps into Yeoh's upbringing as a Chinese-Malaysian in Kota Kinabalu on the shores of the South China Sea. For starters and dim sum, there's prawn har gao, Korean-style fried mushrooms and Thai salt-and-pepper tofu. The main menu features cherry-wood-smoked whole roast duck and Hainanese chicken served with a calamansi lime and chilli sauce. For drinks, the restaurant is pouring a tight selection of Australian and New Zealand wines, cocktails and Stone & Wood beers on tap.
Eterna

Eterna is a restaurant and bar serving Roman food late into the night by Stefano de Blasi (Salt Meats Cheese). It's on the site that used to be home to iconic Thai restaurant, Longtime. The brick walls and leather banquettes are the same as its predecessor, but the shutters have been replaced by curtains and the bar and kitchen frontages have been given a face lift. There are snacks inspired by Rome's Testaccio market, such as supplì (a smaller, street-food variation on arancini). Pasta dishes include cacio e pepe prepared with house-made tonnarelli, while mains feature pollo alla Romana (chicken simmered with red capsicum and tomato) and a simple porchetta with fresh garlic and rosemary. The Italian-leaning wine-list includes your typical pinot grigios and soaves flanked by Sardinian vermentino, Sicilian nero d'Avola and Umbrian trebbiano Spoletino.
Maya

Eleven Rooftop Bar is taking a break; in its place is pop-up Mexican restaurant, Maya. Owners Jason and Katie Coats have applied a liberal application of white paint giving the entire venue a bright, breezy feel. Coats Group chef Leisa Smith offers a Queensland-produce-driven menu that explores a variety of Mexican influences. There are small plates of smoked beef ribs and chargrilled squid with pickled kohlrabi; slow-cooked pork and Dos Equis-battered fish tacos; and larger share plates of achiote-spiced chicken and chargrilled flank steak. There's an enormous range of tequila, mezcal and sotol; a Mexican-influenced cocktail list (including four different types of Margarita); and an efficient wine list.
Smokey Moo

In June, the East Brisbane favourite was reborn as a 110-seat restaurant overlooking Newstead's Gasworks Plaza. In terms of fit-out, it's relatively straightforward – a high-ceiling space decked out in bricks, tiles, timber and enormous bi-fold windows. The centrepiece of the restaurant is a long, low bench where co-owner Shalom Bitton and his chefs carve away at freshly cooked brisket, pastrami, ribs and beef cheeks. Behind them, a $20,000 imported smoker runs on black wattle, macadamia and pecan woods. For booze, there's cocktails; a short list of beers; and a neat collection of wines both local and international.
SK Steak & Oyster

While SK may have opened in December last year, it just missed the cut-off for Broadsheet's 2019 wrap-up. From Hellenika's Simon Gloftis, SK joined the impressive restaurant offerings at The Calile on James Street. The menu focuses on good produce presented in a straightforward fashion: think prawn, bug and lobster cocktails; John Dory schnitzels; and a classy line-up of steaks. Bottles of wine start at $50, with plenty of top drops available for around $70 or $80. For those with fatter wallets, there are higher-end vintage wines from Australia and abroad. The restaurant was designed by Richards and Spence, featuring lean structural lines of concrete, stone and light timber blend neatly with the subtle cream and beige decor, white table cloths and soft lighting.
Honourable Mentions:
Wine and Larder

The Local Larder & Wine Bar has been transformed into a wine-focused bistro, featuring its own 400-bottle wine store and tasting room called Arcade Wine.
The Prawnster

Fresh seafood on a boat, on the Brisbane River? Yep, you better believe it.
Uh Oh Spaghettio

A new late-night dining spot in the Valley featuring $15 serves of house-made pasta, $13 glasses of wine and late-night beats – till 2am on Fridays and Saturdays.
El Planta

A permanent home for some of the city's best vegan tacos.
Pasta Club

You can BYO vino and vinyl at this trendy West End pasta spot.
Elska

A tiny 12-seat degustation restaurant in the 'burbs.
Siffredi's

Three former Stokehouse employees cashed in their redundancy checks to open a casual Teneriffe pasta joint.
Kingsfood CBD

One of Sunnybank's most famous casual Taiwanese and Chinese restaurants takes on the big smoke.