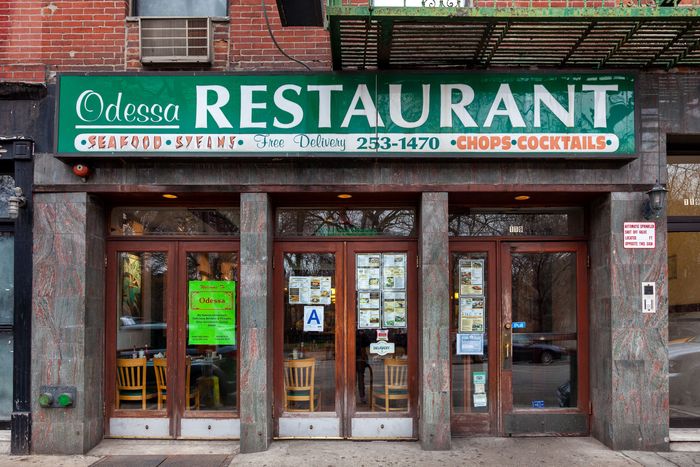 Superiority Burger's new home.
Photo: James and Karla Murray
As anyone who's ever knotted themself into a sort of human pretzel in an attempt to sit down inside Brooks Headley's Superiority Burger can tell you, there's no question that the vegetarian and vegan mecca could use a few hundred extra square feet. "We outgrew this space pretty much on the day we opened six and half years ago," says Headley. And so while no one likes to see a neighborhood icon close, the recent demise of the Odessa 24-hour diner opposite Tompkins Square Park on Avenue A presented Headley with an opportunity that was almost too good to be true. The owners of Odessa who also own the building wanted a tenant with a proven track record and strong roots in the community. "They were impressed with what we had accomplished in our tiny space and picked us as their tenant," says Headley, who signed the lease last week.
Legroom-wise, the move is a bit like trading up from a Mini Cooper to a Chevy Silverado, and Headley is pretty ecstatic about it. "Odessa has always kinda been my dream space," he says. What's so dreamy about it is that besides being big, it comes completely furnished and ready to go. "It's not old and dusty and gross and needing upgrades," he says. "I find it completely beautiful — the soda counter, the satellite bar, the cash register station. I don't plan to change it at all." Upon inspecting the premises, he was surprised to see three skylights he hadn't noticed before, including one in the kitchen. And while the fixtures aren't exactly cutting edge, they aren't kitschily retro, either: The booths, counter stools, and diner gestalt all make sense for Superiority's low-key, unpretentious style.
While table service, diner plates versus disposables, and upward of 60 to 75 seats (to be dictated by the state of the virus) mark a major change for the Superiority brand, a larger kitchen will allow the chef and his team much more latitude in what they can cook, and when. "There's all sorts of things we could never do in-house, like vegan buns, and there's stuff we could do only one time a week, like focaccia, that we can do all the time now," says Headley. "Maybe I will even have fries. Do I even know how to operate a deep fryer?"
And the counter presents a very enticing soda-fountain situation, considering Headley's expertise with ice cream and sorbet. (The erstwhile pastry chef's thoughts have already turned to the possibilities of a classic banana split.) Of course, despite the original location's quick-serve setting and frequent lines, Superiority has always exuded hospitality and neighborly goodwill, even in its current incarnation as a takeout-only operation. The Superiority Burger community has remained steadfast over the course of the pandemic, preordering set meals, when they were all that was available, as well as weekly pints of gelato, waiting patiently in socially distanced clusters on the sidewalk for their tofu-fried tofus and collard-greens sandwiches.
Headley says that he'll need to order some new kitchen equipment and anticipates that it will take at least five months — probably more, what with supply-chain issues — until the new Superiority opens its doors. The plan is to launch dinner service first and then open for lunch and breakfast (yes, breakfast!). He will likely surrender the ancillary kitchen space he leases on 9th Street but keep the original store for purposes yet to be determined. But considering the multifarious interests of a chef who began his career doing fine-dining desserts and then became known for veggie burgers and focaccia and vegan hoagies and some of the best seasonal Greenmarket cooking being done anywhere today, there's no telling what he has in store.
First, though, he will focus on the expansion. "I want this to be a place for the neighborhood," says Headley. "We have crazy, psychotic, very loyal neighborhood regulars who have kept us afloat while doing takeaway only since COVID hit. And now they will be able to, you know, have a seat! They deserve it!"
119 Ave. A, nr. St. Marks Pl.