"It's the type of burger that Greg Sizzler (founder of Sizzler) himself would have loved," early promotional material said.
The all-you-can-eat-style US restaurant chain was founded in California by Del and Helen Johnson but its popularity has waned in Australia since the 1990s. Sizzler retains a small presence in Queensland and NSW.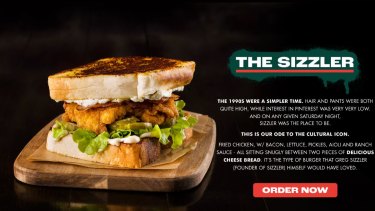 On Monday, Federal Court Justice John Nicholas granted an injunction until 2.15pm on Tuesday – when the case returns to court – restraining Burger Urge from using Sizzler's trademarks including the Sizzler logo on cheese bread products and food products generally. Burger Urge did not appear in court.
"I'm satisfied it is an appropriate case for an interim injunction," Justice Nicholas said.
Sizzler is suing Burger Urge for trademark infringement, misleading or deceptive conduct and passing off, alleging it has created the misleading impression its product is sold or endorsed by the US chain.
Sydney barrister Cynthia Cochrane, for Sizzler, said Burger Urge intended to engage in a "two-month campaign over June and July to exploit our trademarks and goodwill".
Sizzler became aware of the campaign on June 3, and filed court proceedings on June 19.
"We had absolutely no engagement from the respondent until we commenced proceedings," Ms Cochrane said.
She said Burger Urge had "gone into a media blitz" to publicise its product after Sizzler raised legal concerns. In an Instagram post that has since been deleted, Burger Urge said it "didn't think there were any Sizzlers left".
Ms Cochrane said that while the company had claimed to have removed the offending name from all digital menus and stopped selling cheese bread as a standalone item, "there's still infringing conduct out there at the moment".
Loading
The dispute is the latest in a series of legal battles between US food giants and Australian outlets appropriating elements of the American outlets' businesses in their marketing.
Earlier this month, a Sydney burger chain was ordered to hand over its signs, packaging and promotional material to lawyers for US fast-food giant In-N-Out Burger after the Federal Court found it was continuing to call itself "Down N' Out" after losing a trademarks fight.
In that case, the Australian burger chain had also publicised its legal fight on social media. In an email in 2016, one of the co-owners of Down N' Out said: "Hehe — all a bit of fun really. We are now Sydney's most controversial burger restaurant."
Get our Morning & Evening Edition newsletters
Michaela Whitbourn is a legal affairs reporter at The Sydney Morning Herald.