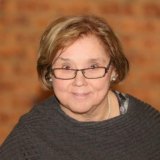 The beloved grandmother had ordered shakshuka eggs without goat's cheese, but was given the wrong meal due to a breakdown in communication between the kitchen and waitstaff.
She suffered an anaphylactic reaction and died within 45 minutes.
Mr Hickey said he wanted restaurant owners to understand the harm that could be caused if they failed to put in place systems to prevent errors.
If a colour-coded plate system had been in operation at the cafe that served Ruth, he said, "I would not be talking to you today".
A federal Senate inquiry is examining the causes, impacts and costs of anaphylaxis, a serious allergic reaction that can be fatal, including the adequacy of food safety processes.
Maurice Blackburn Lawyers, which represented Mr Hickey after his wife's death, said in a submission to the inquiry that hospitality training courses should teach "double-checking mechanisms that make it impossible for the wrong plate to be served to the wrong person".
Principal lawyer Dimi Ioannou said this could include colour-coded plates to indicate that a meal "has been prepared to satisfy a particular dietary requirement", and a rule that every such meal "must be taken to the customer on its own" and be "checked again at the time of serving".
However, Restaurant and Catering Industry Association chief executive Wes Lambert said mandating colour-coded plates would be "absolute madness".
"Colour-coded plates would mean that if someone ordered an allergy-free item and the restaurant had run out of the coloured plate, they wouldn't be able to serve the item," Mr Lambert said.
Allergy and Anaphylaxis Australia chief executive Maria Said said coloured plates were just one option to differentiate meals made to satisfy dietary requirements, saying customers could print out allergen cards to give wait staff to pass on to the chef.
"The card should come back to you with your meal," she said.
"Anyone with a food allergy, you should be taking their plate out to the customer and confirming, on its own – not with other plates."
This strategy should be taught in allergy training to all food service workers, she said, adding that the course should be mandatory – just like responsible service of alcohol.
Ms Said also wants every food-service outlet to have a dedicated food safety adviser.
A spokesman for Food Standards Australia New Zealand said it was reviewing food safety regulations and "working closely with the food industry, consumer groups and government … to look at ways to manage the risks associated with food allergens".
Dana is health and industrial relations reporter for The Sydney Morning Herald and The Age.