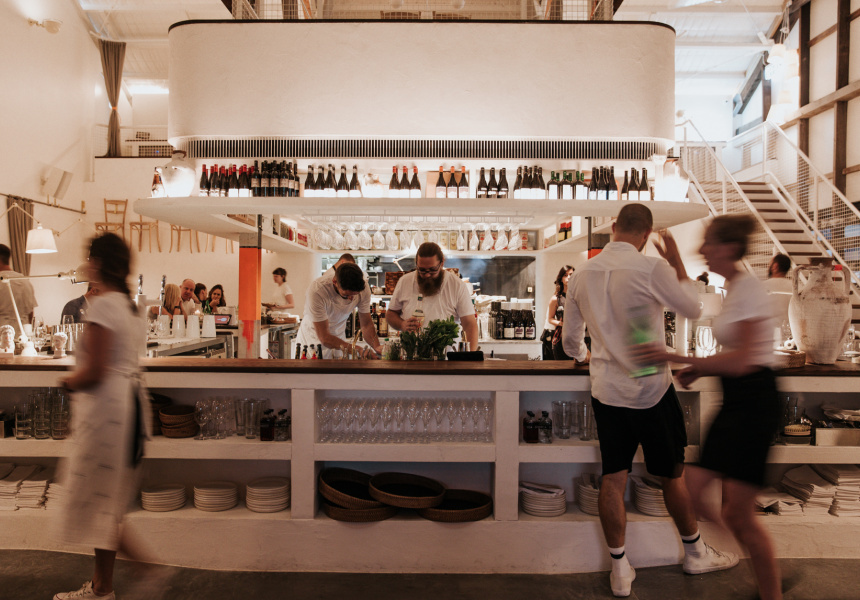 Too many seats. Not enough diners. Soaring rents. A rush towards middle-market dining. The underlying issues facing Brisbane's food and drink scene are nothing new.
For years, it seems, local restaurateurs have been hanging on by their fingernails as more and more competitors entered the local market. And that market proved surprisingly elastic, sometimes stretching to take on whole new precincts – such as King Street or the Howard Smith Wharves – that came stacked with their own venues.
But in March, things may have finally snapped.
Back on December 31, when Australia was getting ready to celebrate New Years Eve, Covid-19 was only just being investigated by the WHO. By March 23, it had forced every food and beverage operator in the country to close to dine-in customers. If there was to be a reckoning in Australia, and Brisbane in particular, this felt like the moment.
Many of the city's most high-profile restaurants went into hibernation – Otto, Stanley, Greca, Maeve and Donna Chang among them. Some, such as Little Valley and Joy, are yet to reopen. Others, such as the hugely hyped Arc Dining, never will.
But then there are the local operators that adapted fast. Same Same, 1889 Enoteca, Happy Boy, Proof BBQ & Booze, Gerard's Bistro, E'cco and The Golden Pig – to name just a few – responded to the March 23 lockdown by quickly launching takeaway and delivery menus. Small bars, too, were thrown a lifeline via temporary new liquor licensing relaxations that allowed them to sell and deliver alcohol.
Now, as restrictions in restaurants and bars in Queensland are slowly lifted, some are applying the lessons learned during the pandemic to their dine-in operations. You wouldn't say the Brisbane restaurant scene is glowing with optimism, but there is the sense that, regardless of any potential bloodbath, the most flexible operators, at least, should make it through.
"There's going to be a slow ramp back up to the capacities we were able to achieve prior to Covid," Cameron Votan recently told Broadsheet. He and his brother Jordan Votan own popular Valley restaurant Happy Boy, its neighbouring bar Snack Man, and CBD restaurant Greenglass. Happy Boy launched a delivery service via Bopple on March 26, with Snack Man also reopening to sell takeaway alcohol. The Votans also used the pandemic to road test their new online curry joint, Kid Curry.
"We saw bookings drop pre-government mandate, when there were just 10 cases in the whole country," Cameron says. "The pandemic has rammed that into people and it will take a while … There's going to be a small portion of [diners] who go hard really quickly, but they won't be able to fill out those double sittings with a full bar. We're going to be running at 80 per cent capacity.
"But there will be a lot of restaurants that close [permanently]. And I wonder if that will offset a slow return, just with there being fewer seats in the city."
Golden Pig owner Katrina Ryan, like the Votan brothers, thinks there have been too many seats in Brisbane in recent years and that the coronavirus pandemic will speed up a long-awaited correction to the local scene.
"I think it will," Ryan says. "I know a few places that closed straightaway, like Arc. I think there were a few businesses which were a bit touch and go that just said, 'Yep, this is probably a good opportunity to exit.' There will be a few places like that, which is a good thing for those of us who remain. But people also have short memories, and once we get through this, there will be just as many people starting to [open places]."
Eleven Rooftop Bar owners Jason and Katie Coats have performed their own pivot, turning their beautiful Valley boozer into a pop-up Mexican restaurant, Maya, that's specifically designed to address the government's stage-three easing of coronavirus restrictions. They agree there's too much saturation in the local market, but they're cautiously optimistic that it will – eventually – emerge from Covid-19 stronger than before.
"Has it sunk in? Yes and no," Jason says. "There are a lot of people who aren't going to make it out of this, and that's the sad thing. But that's the way the world runs.
"We're all sharing the same people. We should all be full, because there is a great group of restaurants in this area that do great things. You should see Baja, Same Same, Sixes and Sevens, Gerard's – every one of them should be full every night of the week, because they're all doing great work. But we know it's not happening across the board. A little bit goes here, a little bit goes there – we're sharing the pie."
Gerard's Bistro owner Johnny Moubarak says the future of Brisbane dining, at least in the short term, will simply come down to consumer behaviour.
"It could work either way," he says. "People could be more excited or less excited. But the vibe I'm getting at this point is that they're excited to come out. People are so grateful we're open, thanking us, and we have to then thank them for their support. That's the great thing about this – it's humbled everyone."
Moubarak says he wouldn't be so hopeful if his popular Middle Eastern restaurant hadn't so successfully transformed itself into a slick takeaway joint during Brisbane's lockdown. Each Tuesday, head chef Adam Wolfers would release a week's worth of daily set menus. The restaurant would then typically go on to sell out most nights of the week.
"That has been amazing," Moubarak says. "And full credit to [restaurant manager] Judith Hurley and Adam. I didn't have much hope – I was staring down the barrel of the gun. But our dine-in menu is now based off that, we're doing a set menu every day. People seem to love [our food] even more now … Covid definitely forced us into a corner and to be more nimble."
Moubarak says that going forward, operators will have to deal with the same issues as before March 23 – a sluggish economy, a heap of competition in the market – but that those issues have become much more acute after what he describes as a coronavirus "reset".
"Some of the great restaurants in this country have had to shut their doors," he says. "Longrain was the big one, a huge disappointment. When they shut their doors, you shit yourself." (Longrain has in recent days announced it will reopen under new ownership.)
Moubarak's big fear is if Covid-19 is still a threat in 12 or 18 months time and the industry can't find its way back to a place of normalcy.
"I hope that it's fun and free and relaxed, expressive and creative," he says. "And that we're not always using hand sanitiser, we're not always putting masks and gloves on. We're doomed if it doesn't change."
Cameron Votan says he's excited about a future with less speculative investment in hospitality and a ratcheting down of the number of seats in the city.
"It means those parts of the industry that are committed to doing something special and investing their own money and doing all these things that we know make a great place – there will be more air in the room to breathe [for them]," he says. "What excites me is we're going to see a bunch of new, young owner-operators, which Brisbane really needs, and that will really kickstart some creative developments in the industry. They'll have an opportunity to take over places that are fitted out for less rent than they would've gone for a year ago."
Moubarak agrees, saying he's fascinated by some of the trends that emerged out of lockdown.
"For these past three months people have been cooking at home, using trial and error," he says. "I'm talking about young kids with original ideas, or older people like my mother [Salwa Moubarak] taking it back to home-cooked food. Hopefully, that will make it into a commercial environment where you can go and eat an amazing pasta sauce that a kid named Mario created after his grandmother cooked for him.
"There will be an influx of soul food. Not just party food. Not just money food. [There'll be] more food that's from people's hearts. In that sense, I feel like there's a really nice vibe at the moment."
The more immediate concern is the potential loss of the Jobkeeper supplement. Moubarak is philosophical, saying that as much as it's been helpful, "the government can't keep it going forever". Ryan says she's "definitely thinking about" the end of the program, which was vital in the early weeks of the crisis, when The Golden Pig was still working out its takeaway menu.
And of course, everything hinges on the economy making a meaningful recovery. Cameron Votan says he and Jordan are bracing for an extended downturn, but he doesn't believe we're seeing the same structural economic problems the world witnessed with the Great Depression or the global financial crisis.
"In a macro sense there will be a struggle … [But] food and liquor should get back to where it was," he says. "And I think there will be a shuffle towards something more casual, and less money at the top end for expensive dining."
Of course, at the time of writing, Victoria is staring down a second wave of coronavirus as it goes into six more weeks of mandatory lockdown. It's created renewed fears of fresh outbreaks in other parts of the country, including Brisbane.
So, what if there's a second wave in the Queensland capital?
"Fingers crossed, something like Victoria doesn't happen," Ryan says. "That might be the straw that breaks the camel's back for a lot of people. We're all feeling pretty optimistic that we've turned the corner but it's hard to know. You read the news about Melbourne and you groan – we're not out of the woods just yet."