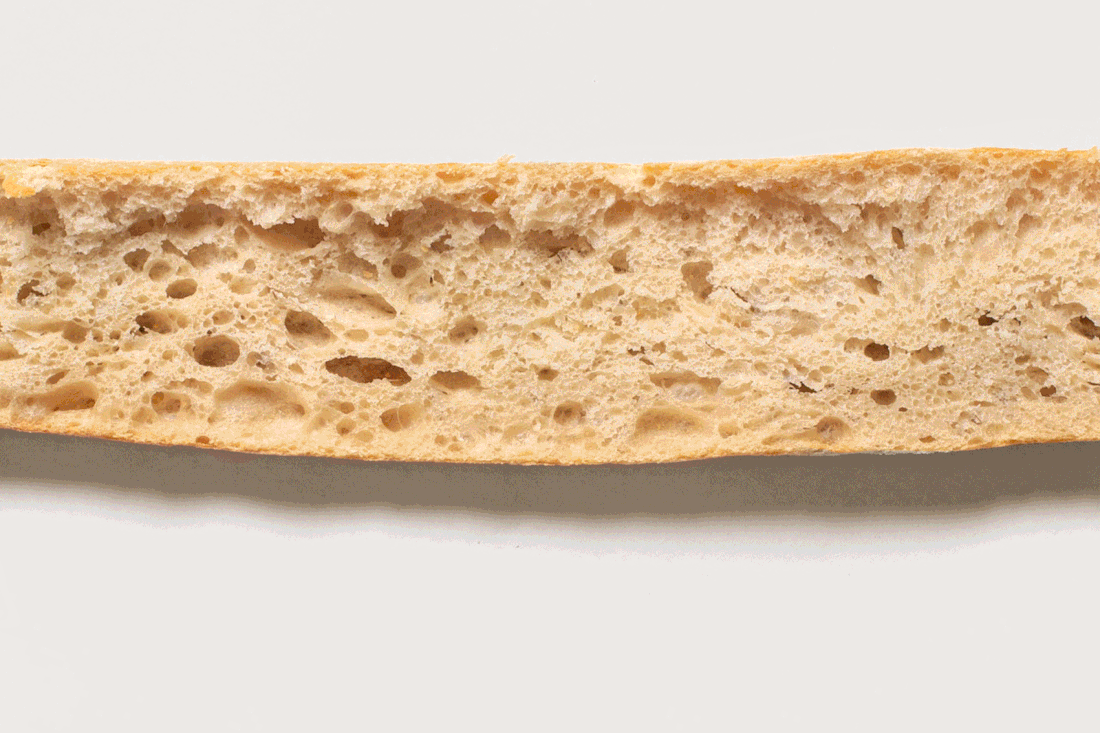 Sherry Herring's matjes herring sandwich, with gobs of sour cream and slivers of chile.
Photo: Liz Clayman
Before New York was a bagels-lox-and-cream-cheese town it was a herring town. The founding Dutch were pickled-herring addicts to a one. The English and Germans were smitten with the stuff, too. Ditto the Scandinavians. (The small fatty fish had an outsize impact on the economies and diets of much of Northern and Eastern Europe, especially after the Dutch came up with a way to preserve them for transport.) Eventually, though, herring in New York became indelibly linked with Jewish appetizing. Joel Russ, the man behind the most famous Jewish appetizing store in the world, did not get his start 120 years ago selling novi and babka to Sunday brunchers, but rather peddling pickled herring from a barrel on the street.
Back then, herring was a pretty hot commodity—an everyday protein for the waves of immigrants who had developed a taste for it. Times have changed. Among old-school noshers (the Underground Gourmet included), herring still exerts a nostalgic pull. We can't resist a sampler plate washed down with a couple ice-cold shots of aquavit at the bar at Aquavit in midtown. And the sight of all those stainless-steel bins of herring variously sauced and pickled in the display case at Russ & Daughters never fails to induce in us a drooly response that would have greatly interested the late Ivan Petrovich Pavlov.
But if herring used to enjoy something like mass appeal, it's safe to say that in recent years its fan base has dwindled. In a nine-item list on the Jewish-food website Nosher called "The Ultimate Ranking of the Grossest Jewish Food," herring gets double billing: in its familiar pickled form and for its role as a supporting player in the Russian dish "herring under a fur coat," which also contains chopped egg, beets, potato, carrot, and mayo. Regarding this blasphemy, the half-Jewish author, Shannon Sarna, writes apologetically: "Personally, I love herring, especially for brunch or with lots of cold vodka. But many, many others (including lots of you readers) really hate the stuff."
Even herring odes masquerade as herring slams. In another list, this one taking the form of a 256-page book called The 100 Most Jewish Foods, illustrator Maira Kalman reveals that as a child in the Bronx she was the oddball in her family who found herring repulsive. "They stank," she writes. "They were oily and, in my opinion, hairy. Though I know a fish can't be hairy. But when my mother would eat a piece, I would see all these hairlike bones sticking out of her mouth." As the years went by, however, Kalman came around and developed a taste for the hirsute things. Many never do. A dearly departed paterfamilias of the U.G.'s who otherwise yielded to none in his appetite for appetizing never overcame his fear of herring. He did, however, love the classic Swedish preparation of cream sauce and pickled-white-onion slices that shops like Russ & Daughters slosh over the fish, and he always managed to talk the counterman at his local store into selling him just the dressing. "I'll take a tub of herring in cream sauce," he'd say. "Hold the herring."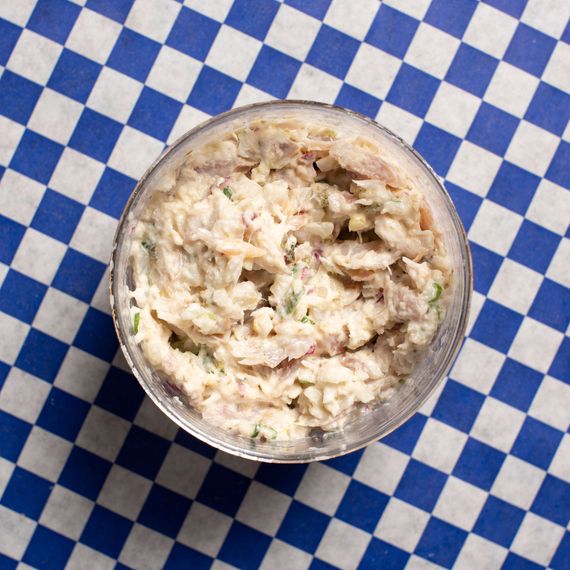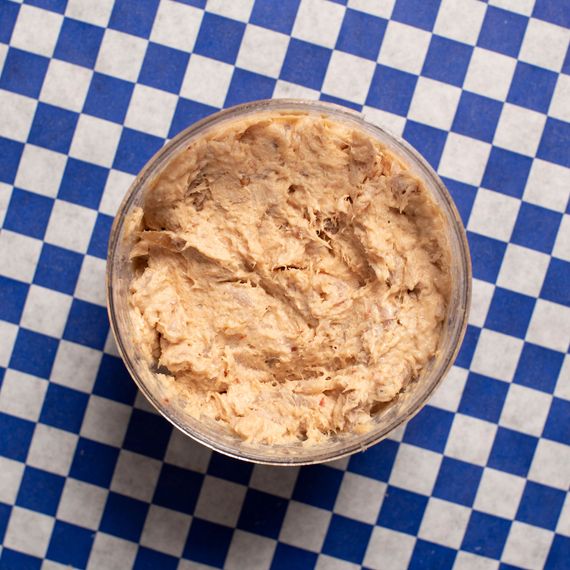 So what to make of Sherry Herring, a counter-service sandwich specialist that opened recently on the Upper West Side and whose name leaves little doubt as to where its sympathies lie? The signature dish takes a fillet of herring (a choice of the young, tender matjes or the plumper, fatter schmaltz) where no fillet of herring has ever gone before: onto a French baguette with butter, sour cream, white onion, sliced chiles, and cherry tomatoes that the open-kitchen crew squeeze like lemons over the sandwich. It works.
In addition to herring, Sherry Herring offers a handful of other similarly dressed sandwiches including smoked sardines, salted anchovies, and a chipotle-tuna spread — all terrific. You can eat them at a counter ledge or outside the shop on a bench, but it's better to take them three blocks to Central Park, allowing the flavors to meld muffuletta style along the way. For a no-holds-barred appetizing picnic, grab a pack of baguette crisps and some items from the refrigerator case, including herring in cream sauce and onions, Israeli pickles, and what has to be New York's new No. 1 smoked-whitefish salad — a rich and chunky concoction that will ruin you for all other versions. But herring is the thing at Sherry Herring, and, the owners would have you know, theirs is imported from a secret Holland source (as opposed to, say, Greenpoint, Brooklyn). Those owners include Israeli author and former food columnist Sherry Ansky, the Sherry in Sherry Herring and something like the Ina Garten of Tel Aviv.
For Ansky, herring was not an acquired taste; as the story goes, she had her first herring plate at age six and never looked back. "I ate one piece, then another, until I finished it all," she told The Jewish Week.
Ansky's daughter, Michal, also an Israeli food celebrity and a Top Chef Masters judge, runs a popular market in the port of Tel Aviv that looks like a cross between Eataly and the old Essex Market. In 2011, Ansky quit her newspaper-column job and announced that she wanted to make herring sandwiches and sell them from a kiosk at Michal's market. To the Israeli food cognoscenti, the news came as a shock. Everyone thought she'd gone meshuga, says Michal. But the sandwiches took off. Herring aficionados flocked. Tourists made pilgrimages. Somebody Feed Phil's Phil Rosenthal showed up and crowed: "It's one of the best sandwiches I've ever had in my stupid life."
Sherry Herring is not the first place to serve herring sandwiches in New York. Shelsky's in Brooklyn and Barney Greengrass dabble. For its annual New Holland Herring festival, Russ & Daughters has served fresh herring fillets with chopped onions and pickles on a soft custom-baked bun in the style of the Dutch treat known as a broodje haring. And, of course, many Nordic kitchens over the years have trafficked in the open-faced wonder that is the herring smørrebrød. Some herring snobs look askance at sandwiches as a masker of pure piquant herring flavor. As herring for dummies. Herring for people who don't like herring. This venerable fish, according to the orthodoxy, should be eaten straight up with a slice of black bread and maybe some raw onion on the side. But a more broad-minded perspective would be to consider the herring sandwich — like herring in cream sauce — a gateway herring for the uninitiated.
Besides the imported Dutch herring, what distinguishes a Sherry Herring sandwich from local renditions are the condiments and the baguette. The loaves, like the shop, are kosher, and come from the Jersey-based Patis bakery. Even so, this being New York and more to the point, the Upper West Side, the idea of plopping the smoked and cured totems of appetizing on French bread was not received without the obligatory round of kvetching. People wondered, Where are the bagels? "They kept asking about them," says Sherry Herring general manager Alex Benchimol. "They wouldn't stop." So now the kitchen offers a couple specials made with Bagel Boss bagels (you can get yours stuffed with salmon, or whitefish, or tuna, but they draw the line at the signature herring). How are they doing? "We sell way more baguette sandwiches than bagel sandwiches, and a good amount of herring," says Benchimol. "But on Sundays, the bagels definitely make some noise."