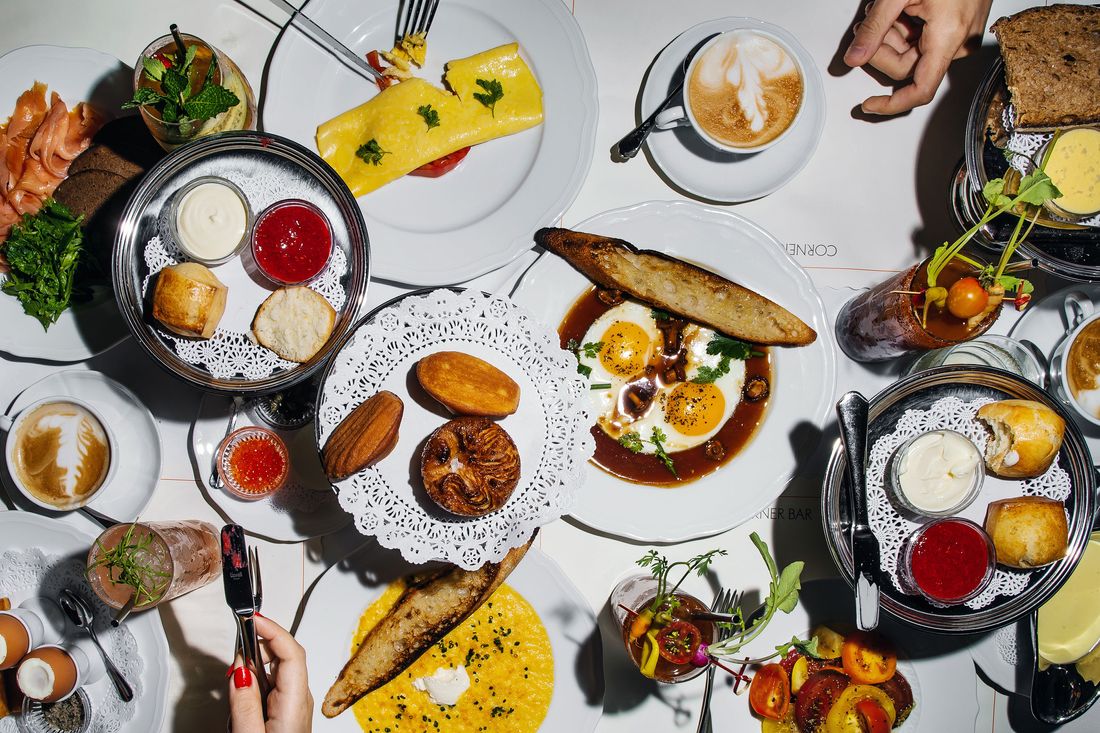 Solid options for starting your day at Corner Bar.
Photo: Dina Litovsky
It's been just about two months since chef Ignacio Mattos's Corner Bar opened on the first floor of the new Nine Orchard hotel, and already in this restaurant's short life, it has become clear that morning is the time to go. Corner Bar's oeuf à la coque is a photo-ready soft-boiled beauty that requires two hands to eat: one to steady the egg in its porcelain cradle, and another to dunk batons of fried bread into the smooth yolk. (Shiny demitasse spoons are given to guests so they may scoop the soft-set white away from the shell.) Pastries such as madeleines and canelés are baked in-house, and they are all worth ordering; there's a kouign-amann that deserves special attention for its crackly crust and tender interior.
Oh, and don't miss the ham: "We're technically a French restaurant, but the ham is Italian and seasoned with herbs," replied our server when I asked about a platter that I saw on a nearby table. I would later learn the ham is actually from an Italian producer based in California, but whatever the country of origin, it is excellent when laid atop the house scones with a smear of butter and some fresh raspberry jam.
As someone who tends to sleep in, it takes a lot to get me over the bridge and into Manhattan, let alone Dimes Square, before 11 a.m., which is when Corner Bar ends its morning service on weekdays, but lately I've been energized: The hotel breakfast, long relegated to buffet status and having vanished when tourists disappeared from the city, has awoken once more. Brand-name chefs and restaurateurs are applying their particular sensibilities to the so-called most important meal of the day, which is good news both for travelers and those who might want to delay their return to the office by even a few hours.
Then again, you may not get to the office at all. At least that's what I thought when I dropped into the Lambs Club in Times Square — a location I overheard one tourist describe as the corner of "42nd and Boardwalk" — and saw a few AirPod-wearing solo eaters tapping away on their laptops. The restaurant itself, which is inside the Chatwal hotel, was something of a clubhouse for the midtown set before the pandemic, and it remains relatively insulated from the noise of the city outside owing to its windowless walls and soft red banquettes. What's new is the chef: Michael White, who previously ran the kitchens within the Altamarea empire and who seems focused here on turning out exemplary versions of breakfast staples. "These are so good, Dad!" exclaimed a toddler toward the back of the room as a plate of respectably tall lemon-ricotta pancakes landed on the table. Dad agreed: "So good." He probably would have been equally happy with White's version of eggs Benedict, which come out with thick-cut bacon (not Canadian bacon) and fluffy hollandaise, as well as a side of lightly dressed lettuce and crunchy fingerling potatoes — fancy and fussy and something you probably shouldn't order during an actual morning meeting because it is impossible to eat gracefully.
Hollandaise sauce is absolutely nowhere to be found on the menu at Electric Lemon, Stephen Starr's 24th-floor dining room inside the Equinox Hotel, which arrived at Hudson Yards before COVID and has carried on through the pandemic. The crowd (an obvious girls' trip, a couple in matching Lululemon, one guy whose watch was so big that I could tell the time on it two tables over) is about what you'd expect, but despite its name, my Beauty Bowl — a serving of apples, "beet yogurt" the color of TikTok pink sauce and bee pollen — was a surprisingly nice start to the day, as were the flaxseed pancakes. Then again, how hard is it to make decent pancakes?
Kinda hard, it turns out. I had been excited to try Zaytinya, the glassed-in José Andrés restaurant on the first floor of a shiny new Ritz-Carlton in Nomad, and when I ordered the "olive-oil pancakes," I imagined they'd be as fresh and crispy as the dining room itself. Sadly, the flapjacks were so evenly beige and chewy that I was reminded of the pre-warmed pancakes you might find at a business-center hotel's Continental breakfast. (I'd also advise against ordering the $75 "El Camino" eggs, which are topped with caviar and nasturtium leaves, among other bits; they're upsell bait for big-spenders, and they taste like regular fried eggs.)
I next tried to check in on "culinary director" Gabriel Kreuther's menu at the Baccarat Hotel but was informed in no uncertain terms that breakfast is reserved for hotel guests only. (Grub Street's accountants declined my request to book the cheapest room I found: $1,265 per night.) Much more welcoming is the somewhat new Ace Hotel in Downtown Brooklyn, where its wood-paneled café, As You Are, is filled with out-of-towners writing emails on their phones, young tourists who looked to be from Austin or possibly Denver, and neighbors from the nearby condo towers stopping in to grab a pastry or two. My own strawberry brioche, with the fresh fruit baked on top and a smear of thick pastry cream, made a strong argument — not for waking up early, but for starting the day with what is essentially a glorified piece of strawberry shortcake.
A running list of everwhere I've been, week 29: 284. Zaytinya 285. Corner Bar 286. As You Are 287. Electric Lemon288. The Lambs Club 289. El Paso Mexican Grill 290. El Pingüino291. Laser Wolf