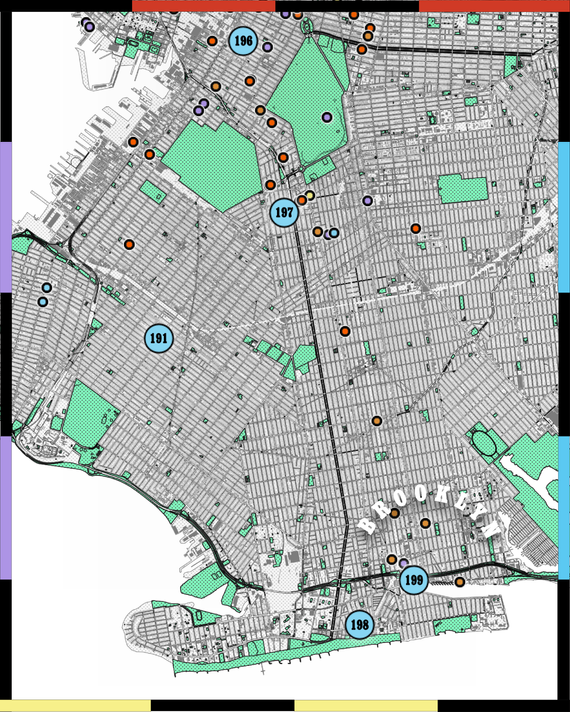 A running list of everwhere I've been, week 19: 190. King 191. Fonda Garibaldi 192. Shukette 193. Niche Niche 194. Emmett's 195. Keens 196. Terre 197. Thai Farm Kitchen 198. Beyti Turkish Kebab 199. Jimmy's Famous Heros
"Are you Jimmy?" I asked the person who was obviously the proprietor of Jimmy's Famous Heros in Sheepshead Bay. It was 10:30 in the morning on Memorial Day, and friends and I had stopped in to grab sandwiches before heading to Fort Tilden. "I'm Victor," he said. "I'll show you who Jimmy is." I was waiting for my sandwich to be assembled anyway, so I went along with it.
"Jimmy is a good history," Victor began while walking over to the wall where a cluster of images, trophies, and scrapbooks were located. Victor pointed to Jimmy in the center of a black-and-white photo of five men cheerfully posing below a sandwich menu. "We were here in 1977 — sandwiches were a dollar."
Still pointing, he went on, "You see the time on the clock? Ten after eight in the morning. You see all the men smiling? There's no coffee in those cups. They were already drinking!" Victor reminisced with a hearty laugh, even though I'm sure he recites this carefully rehearsed story a thousand times a year. Even still, I could tell Jimmy & Co. were heroes to many.
I had just checked out with my own hero — chicken cutlet, mozzarella, shredded lettuce, tomato, peppers, creamy basil sauce, and vinaigrette — plus a box of mini "cannolis" and a single, fist-size rice ball, but Victor was already telling us to come back and explaining that this year, Jimmy's would welcome the return of its annual hero-eating contest, which went on hiatus during the pandemic. He flipped through one of the bound scrapbooks by the old photos and assured us we even had a chance of winning. Also he emphasized that it's free.
It was a good thing we got those sandwiches because there were absolutely no concessions at the Fort Tilden entrance, which was not just a bummer for anyone who wanted soft serve by the ocean that day but also a missed opportunity with so many people streaming in for the holiday. I can think of a million food trucks that would love to be invited to park there, and I can think of even more people who would go to the beach specifically to try some great food.
We met up with some more friends, and I immediately shared the cannoli so they didn't perish in the sun. Shortly after setting up my towel and chair, I unwrapped my hero, which by that point had thoroughly soaked up the oil and vinegar in which it was doused — a winning beach lunch that faded into six or so hours of sunbathing and hydrating.
At some point in the afternoon a topless woman from the adjoining group offered me a slice of the lemon-chocolate Bundt she'd made for her birthday, but cake was not exactly what I craved. Instead, I perked up when I heard a voice bellowing, "Ice cold nutcrackers!"
But I was also skeptical given the changes that have swept over New York's illicit-booze industry in the past couple of years. While I appreciate that I can now pay with Venmo, gentrification in the market has led to high prices and quality-control issues.
The day before, while lounging at Brighton Beach, I'd purchased one bottle of not-frozen "frozen margarita" — candidly described as "Jose Cuervo and margarita mix" — for $15. It tasted like Lemon Pledge. And at Fort Tilden, the first seller we encountered looked a little too polished. Instead, we waited for a second purveyor, who sold me a still-icy "Blue Hawaiian" for $10. It was very blue — the best color — and had hints of artificial coconut flavor, the provenance of which I didn't think about too much because it was doing its job to mask the alcohol flavor and it paired well with the smell of my SPF.
I asked the seller how business was going. He said he had plenty of customers, but he'd been arrested working the same beat yesterday by the NYPD beach team. "They took my picture and let me go," he explained. "Fuck them dudes. I'm still out here today." We thanked him for his service and took our drinks.
Around five, we returned to the car tired, tanned, and hungry once more. We needed something simple, so after getting bottlenecked by a couple of traffic lights on the way out of the park area, we dropped in at Lucia Pizzeria of Avenue X, an excellent slice shop I discovered in the middle of February, shortly after it opened.
There wasn't a line, but plenty of people had clearly been through that day because Lucia had sold out of every spring special on the menu. The clam pie is a Friday-only option, so that was out of the cards anyway, but since my first visit — when you could get only pies, slices, and knots — the menu has been augmented with such delicacies as homemade mozzarella sticks, calzones, and a potato-onion pie that were all unavailable for those of us who arrived after six. I will take it as a reason to go back soon.
We got a vodka pie with pepperoni — the tasteful scattering of small basil leaves were an excellent touch — and grabbed an outdoor table at the intersection of Avenue X and East 22nd Street. I loved how the golden-hour light illuminated our pizza and thought about the cold shower I'd take at home before collapsing into bed after the first long weekend of the summer.