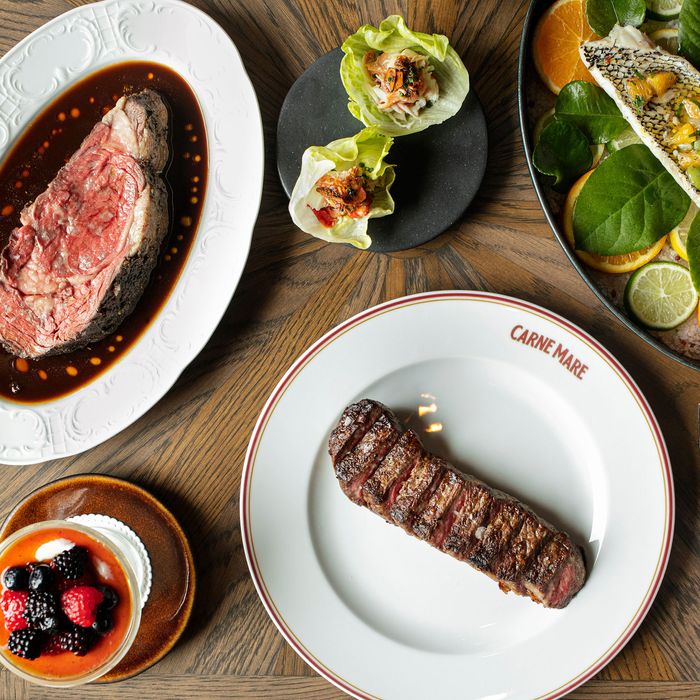 Surf and turf at Carne Mare at the Seaport.
Photo: Melissa Hom
In the ever-shifting kaleidoscope of appetites and styles that define "fashion" in the restaurant world, there are those places that tend to exude a sense of the current moment when you walk in the door and those that do not. Andrew Carmellini's new surf-and-turf venture, Carne Mare, which opened not long ago down in the new Pier 17 development at the old Fulton Seaport, fits squarely into the latter category. The walls of the two-story space are painted in shades of rusty steakhouse red. The lighting is dim, like in a mid-20th-century cocktail saloon; the gently thrumming Vegas-club soundtrack seems to grow louder as dinner progresses; and the rows of great, walrus-size banquettes have clearly been designed for the consumption of large red-meat dinners instead of, say, the lighter, more trendy "plant-based" meals that are popular around town these days.
"Are we in Vegas or New York?" someone asked as we scanned the menus, which were passed around the table by bustling servers dressed like old-fashioned hotel bellhops, in tight-fitting burgundy-colored jackets. A loquacious gentleman from Parma recited the specialties of the house, which included pink-shelled legs of Alaskan king crab served with fresh whipped lemon aïoli, and an elaborate play on the old chophouse wedge salad called "The House Wedgini." There were mozzarella sticks dabbed with caviar available for the pre-pandemic price of 24 bucks, and towering helpings of spaghetti topped with chunks of lobster for twice that price. There was a whole roast duck "d'Ivan," inspired by a recipe the chef had come across during his travels in Italy, and two kinds of Wagyu, one of which Carmellini and his crew cured in a smothering of Gorgonzola cheese.
I can't remember precisely which dishes arrived first at our walrus banquette, but to my slight surprise, most of them were constructed with precision and care, and many were delicious. I'm thinking of "chophouse snacks" like fresh little lettuce cups of crab dressed with an Italian version of Sichuan chile crisp made with Calabrian chile oil, and the grilled oysters, which are seized in a stiff Parmesan crust and presented atop a little bed of seashells. The caviar cheese sticks will probably prove irresistible to the Instagram-minded at your table, but there is also a variety of other presentable seafood appetizers to choose from (try the yellowfin-tuna tartare), and the rice balls dressed with bits of uni taste better than the caviar sticks (and are almost as photogenic) at roughly half the price.
"This place is better than I expected," said a merry carnivore of my acquaintance, as he dug happily into his House Wedgini, which was enlivened with generous crumblings of Gorgonzola and bits of pancetta. Carmellini's one contribution to the current plant-based craze — a 12-ounce roasted "beet-steak" that is carved with great ceremony at tableside — was better than expected, too, although unlike other beet creations I've sampled, this one benefits from a garnish of gently melting goat butter. The tender salt-baked black sea bass was also better than expected (in addition to the salt, it's wrapped in fig leaves), although if you want to save room for the "Steaks and Chops" portion of dinner, you'll want to avoid the aforementioned "spicy" lobster spaghetti, which was so large and rich that it caused several guests on one of my visits to lapse into a food-induced daze from which they never fully recovered.
The real reason to visit Carne Mare is for the steaks and chops, however, and if you're still standing after the preliminary salvo of dishes, and if you have the cash, they're impressive. Those two workhorses of the big-city steakhouse experience — the boneless New York strip loin and the rib eye — drew multiple thumbs-up from the beef eaters at the table, and so did the thick, tender "Cowboy" version of veal Milanese, which the kitchen covers in the customary bread-crumb crust and serves on the bone with a large wedge of lemon. My excellent 16-ounce cut of prime rib was rubbed with the same potent blend of herbs and spices that you'll find in a properly seasoned Tuscan porchetta, and the bizarre-sounding Gorgonzola-cured Wagyu strip turned out to be an ingenious dissertation on the tangy, back-of-the-mouth pleasures of umami.
You can get a cavalcade of Italian-themed side dishes ("mushroom Marsala," "sweet summer corn cacio e pepe") to go with all this heavy chophouse grub, although at least one traditionalist at the table would have enjoyed a spoonful or two of creamed spinach or mashed potatoes instead of gouts of gooey, cheese-laced polenta. The Italianate desserts, however, are much better than the usual cliché beef-house puddings and pies. There's a smooth panna cotta poured with a compote of summer berries, and a cooling selection of gelati and sorbets dressed with caramel sauces and bits of candied citrus. If you really want to travel back to the pre-pandemic days of fat-cat porterhouse dinners and the three-martini expense-account lunch, call for the impressive 17-layer chocolate cake, which is tinged with espresso and crowned with a gold-leaf-covered cherry on top.