The cause of an explosion that injured a man and destroyed shops in Belconnen in Canberra's north is still under investigation, with the surrounding area expected to remain closed for some time.
CCTV footage from a car park shows the moment the closed kebab shop caught fire and damaged neighbouring stores.
The shockwave from the explosion, about 7:30pm on Monday, at Turkish Kebab and Pizza on Rae Street was felt in suburbs two kilometres away.
A man, reportedly the restaurant's owner, who was at the rear of the store, was taken to hospital with non-critical injuries.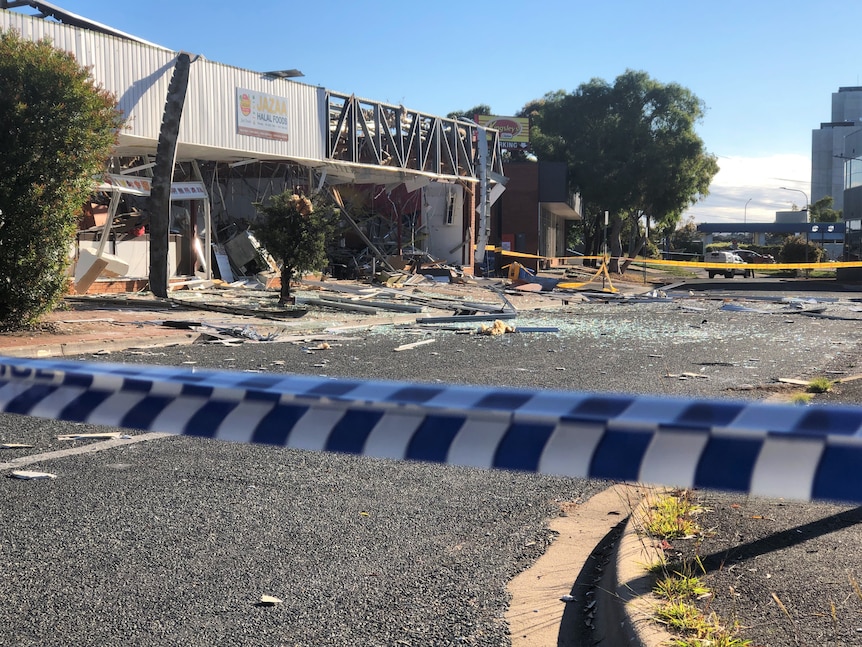 Firefighters put out blazes in adjacent premises, which were gutted by fire, and said nearby stores had suffered considerable fire and smoke damage.
'Shocked' witness says children narrowly avoided harm
Muhammad Ikram was just metres away from the kebab shop when it exploded.
Mr Ikram owns Jazaa Halal Foods, one of the adjacent stores that was also destroyed in the blast.
He said he was chatting to his friend, the owner of Turkish Kebab and Pizza, moments before the explosion.
"He had his arms and hand burned."
Mr Ikram said the owner's wife and children were in a car next to the shop watching when parts of the building collapsed onto the vehicle.
"The wall fell on the car but the kids were on the back seat … I opened the rear door and took the kids out of the rear door," he said.
Mr Ikram described the damage as "unbelievable" and said he remained "totally in shock".
"I put all my money into the shop … now it's destroyed," he said.
"Hopefully, we'll build and start again."
'It could have been a lot worse': police
Commander Brett Slater, from ACT Fire & Rescue, said the force of the explosion and the damage was remarkable, with debris strewn hundreds of metres from the site.
"The scene's actually with ACT Policing at the moment and those investigations will continue."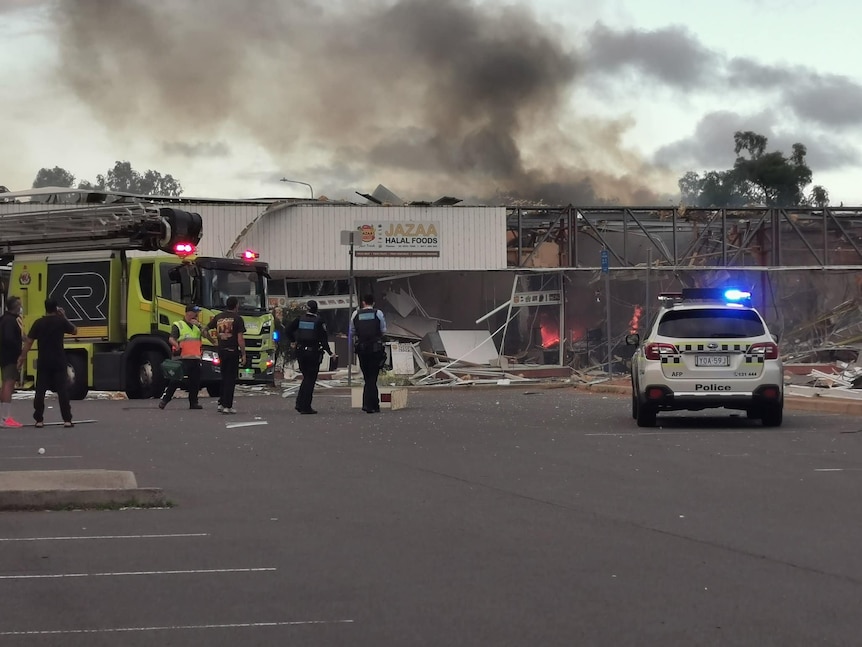 Detective Acting Inspector Emily McCallum said it was lucky the explosion happened on a public holiday, as the area was normally busy.
"It is in a very well-used area, there are a lot of local takeaway places, service stations, thing like that," she said.
While police have already spoken to several witnesses, anyone who witnessed the explosion who has not yet talked to police is asked to contact ACT Policing Operations on 131 444.