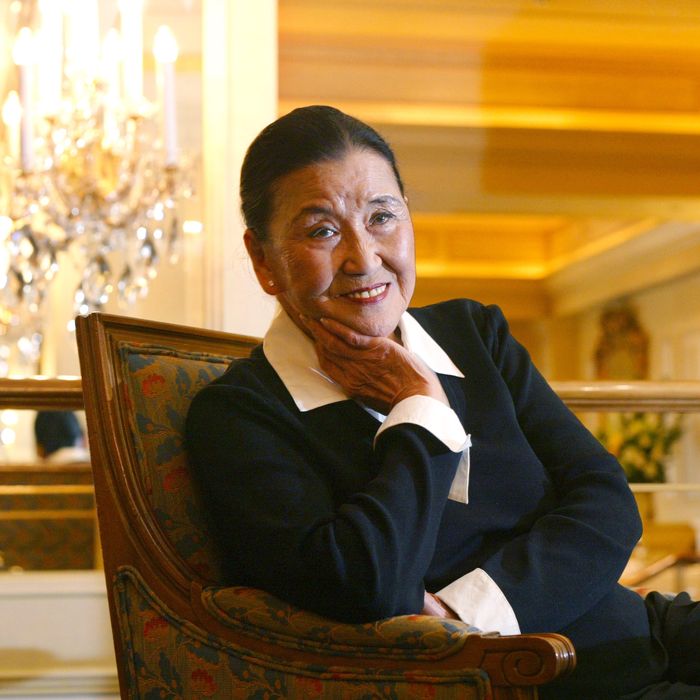 Cecilia Chiang has passed away.
Photo: Dustin Shum/South China Morning Post via Getty Images
Cecilia Chiang, who is credited with changing the course of Chinese food in America, has died. The San Francisco Chronicle reports the sad news, adding that Chiang was 100 years old.
Born and raised in a wealthy home in Beijing, she grew up as one of 12 children and was raised on, the Chronicle notes, food like red-cooked pork, pot stickers, and smoked duck. After fleeing Japanese-occupied Beijing in 1943, she went to Chongqing, Sichuan, and six years later fled to Japan during the Communist Revolution.
After visiting one of her sisters in San Francisco in 1959, Chiang moved to America and became a restaurateur in 1961. That year, she opened the Mandarin, which introduced Americans more widely to dishes now taken for granted as staples, including tea-smoked duck and hot and sour soup.
In the New York Times one year ago, Tejal Rao wrote that Chiang "built her reputation exalting regional Chinese cuisine" and "worked to undo decades of anti-Chinese sentiment in the United States and broaden the understanding of Chinese culture." It can't go unnoted that the Mandarin opened four years before the passage of the Immigration and Nationality Act of 1965, which abolished the United States' racist quota-based immigration policy. The passage of the law came 22 years after the repeal of the Chinese Exclusion Act, the 1875 federal law that prohibited immigration of Chinese workers. Chiang eventually sold the restaurant in the 1990s, and it closed in 2006, but as others have noted and will continue to do so, her legacy lives on in restaurants around the country.