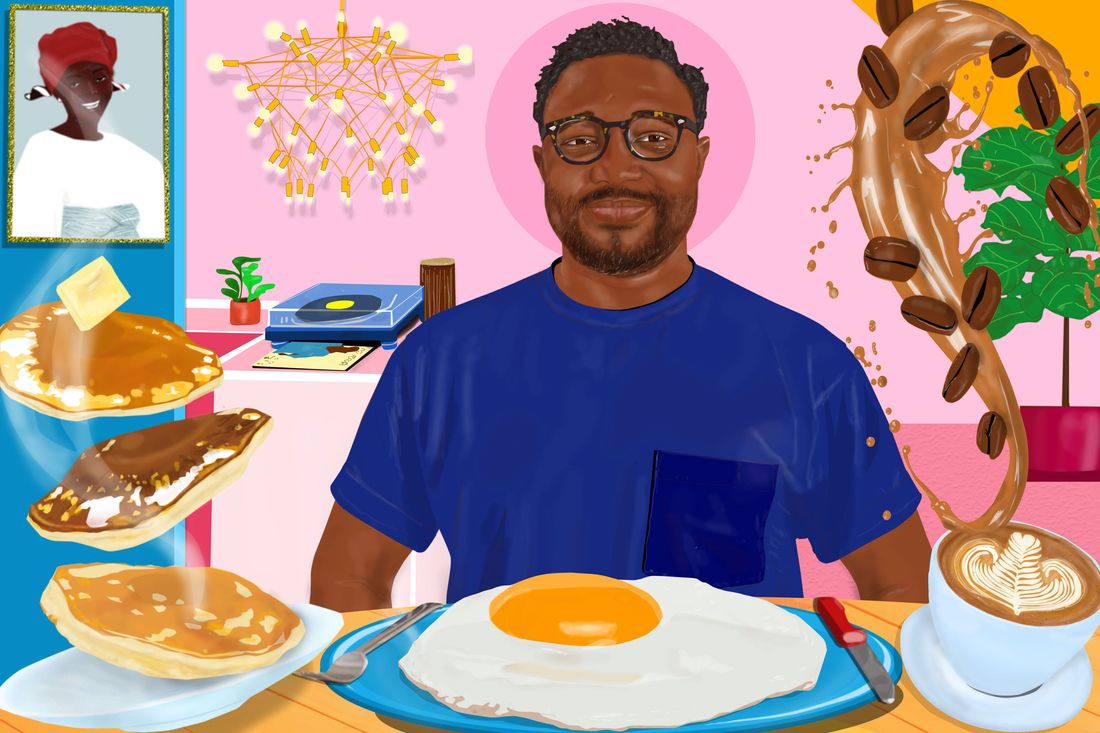 The chef Ayo Balogun, victorious with pancakes.
Illustration: Lyne Lucien
"​​New York restaurants are like pirate ships," says Ayo Balogun, the owner of Dept of Culture in Bed-Stuy; any job he'd had previously is by contrast "a pleasure cruise." Not that the Nigerian chef is complaining: he thrives on the adrenaline rush. "There's always a fire to put out, or one more thing to do, and that's always fun," he explains, sounding pleased. In the years since his first gig at the now-defunct West Village vegetarian stalwart Gobo in 2002 — back when "everybody wanted to eat raw food and all that" — he's gone out on his own with multiple projects, including the Council, his Bed-Stuy cafe, and Dept of Culture, a tiny Nigerian restaurant, where, as the New Yorker recently declared, "every night is a party."
Thursday, June 9
I'm a very early riser. Like everybody these days, I wake up and I'm trying to not go on my phone. Every morning okay, don't go on the phone. Today, we won't do the phone. But of course, there's so many messages, I end up being on my phone, even before my coffee. You think it's only one email, or one DM, and before you know it, it's 8 o'clock.
So I walked over the two blocks from my house to the Council Cafe for coffee. I need coffee. Sadly, I'm very particular about the kind of coffee I drink, because I worked in coffee for such a long time. Right now, at the Council we have Superlost, which is a roastery in New York, and they have a coffee called Supernova that's really, really balanced. I had a drip coffee — I drink drip coffee as my first coffee of the day.
I got into coffee in a roundabout way: I think in 2002, I wanted to buy a camera to make a movie. That was my plan: I wanted to buy a camera, I wanted to make a documentary. I was trying to make this movie about changing power dynamics between men and women. But everything I was interested in was a little too serious. Nobody was going to fund it. Back then, everybody wanted things like — what's the documentary about a guy who eats a Big Mac for like, 30 days or something? And I was thinking about the way democracy needs to change. So I thought, 'Okay, I have to make my own money.' And that's how I ended up in the restaurant industry.
Anyway, I had coffee and an egg sandwich. At the Council we serve it with obe, which is a Nigerian pepper-tomato sauce, and cheddar cheese and crispy kale, and I always have it with avocado. It's a sandwich that I started making at my first place, Civil Service Coffee, in 2013, and we've always kept it. While I ate, I caught up on emails. I had one employee  no-show — someone else came moments later, but since I'm not far away, I can always jump in behind the counter. So I did that for an hour, until someone else got there, and in the middle of that, I got an email from my lawyer: Call me.
Long story short, I've been involved in this lawsuit. I opened Trade Union in 2015, on Malcolm X Boulevard in Brooklyn — the neighborhood was completely different then. But then a real estate developer bought the building, and he tried to evict us. He did, eventually, find a way to evict us illegally. So you know what I did? I sued him.
I looked at the email, and my stomach was turning. I texted my lawyer, what does this mean? And he sent me the most eloquent text message I've ever received in my life: You won. My eyes blurred over. For the next hour, it was like, free drinks for everybody! Coffee? Have a matcha! It was my Oprah moment: you get a latte, and you get a latte!
I was too pumped with adrenaline to do anything, so instead of having lunch, my partner and I jumped in her car and headed upstate, to Inness in Accord. We'd had this trip planned forever. Innes is actually really fun, if you ever have to leave New York City just to get a way for a little bit — it has a golf course, it has a tennis court, they have a swimming pool, and they have a really cool restaurant up there.
For dinner, I had a burger at the restaurant. The burger was rather nice, medium rare with cheddar cheese. It was a very balanced burger. It came with fries, and I have this thing where I always order mayonnaise with my fries. I want Hellmann's. I know a lot of people love Duke's — everybody brings me Duke's when they go to North Carolina, and I know Duke's is good, but I love Hellmann's. And a Coca-Cola. I don't drink alcohol, so for me, if I'm trying to celebrate something, I drink a Coca-Cola — it's like my own Champagne — we bust out the Coca-Cola. It's a celebratory thing. I just got the news that we won the case — that was definitely a moment for Coca-Cola.
Friday, June 10
I woke up early. It's like clockwork. I don't think I can sleep in anymore. The restaurant didn't open until 8, so I had coffee in the farmhouse where I was staying. They serve Intelligentsia coffee there. I can tell, because I serve Intelligentsia sometimes, too. And then I walked up the hill to the restaurant. I had a Dutch-oven pancake, which was rather interesting. It looks as though it was fried, even though it was not fried. From a visual perspective, it's a beautiful pancake. I always get my pancakes with eggs, so I ordered two eggs, scrambled. It was a good morning — a celebration of all the stuff that we've been through, and also, I really love pancakes.
Since I'd just eaten so much food, I wanted to go burn some energy in the pool. I walked the grounds a bit. I played tennis, not an actual game — just playing around — and then I went back up the hill to the restaurant.
I got a 32 oz-steak. That was supposed to be my celebratory meal. It's one of the most intimidating things on the menu. I never order stuff like that, you know? It's a shock on the menu, a hundred and blah blah blah dollars. And I'm like, I'm not that guy. But all day, I was like, I need to do something that suggests I'm celebrating the end of four years of mental torture. I ate the whole thing. I thought I wasn't gonna be able to finish it, but I did. It came with creamy spinach and potatoes, and I ate everything. Then I had a decaf espresso.
Saturday, June 11
I did the same exact routine: I went downstairs, had a cup of coffee, walked up the hill to have pancakes with eggs, and coffee, again.
Then, back to Brooklyn. I listened to podcasts in the car — there's this BBC podcast called Thinking Allowed that's about philosophy. Four or so years ago, they did this piece about the history of the restaurant. It's one of the most brilliant pieces on the radio ever, period. So I was listening to the back catalog of Thinking Allowed.
When I got back to Brooklyn around 2, I rolled straight into the Council for a quick iced coffee and to check on things. Another friend was just in from Philly, and instead of me cooking, we all went to this place called Baba Governor. Now, this is the thing about Baba Governor: it's an underground Nigerian restaurant, which, I don't think I can tell you where it is, because they'll get shut down if anyone finds out. If you go in there, it's like a time machine. Everybody's old, and there's nothing pretentious about it. It's a bunch of expat Nigerian old men and women, and the kind of politics that they're discussing are from, like, 1980. If you're not well-versed in politics, you're like, What are they talking about? They're talking about old stuff. Everybody's old.
You have to know people who work there to go. You press the buzzer, and they come and look at the camera and make you wait. They know me — I've earned my stripes. It's kind of like Soho House, but with stricter rules. At Soho House, you can always talk to somebody, but if these guys don't open the door, you have no way of getting in.
People ask me all the time, what's my favorite Nigerian food? And I say jollof rice with egusi and goat meat. So that's what I had, with a Schweppes Crush. But it's not a proper way to actually dine. Most people wouldn't put egusi over jollof rice, but that's what I enjoy, so that's what I always have with them. They always think it's odd, but I just make sure that I tip very well. That way, it doesn't matter how odd I am; they open the door next time.
After lunch, we went back to my apartment and hung out for a while. It got late, and again, I wasn't going to cook anything, and by midnight, everybody was sort of hungry, so we went to another bodega in my neighborhood to order lamb over rice. I'm very, very loyal to them. If I go there, I don't order; I just nod.
Sunday, June 12
I went to the Council for coffee as usual, and then for breakfast, I went to For All Things Good, which is just two blocks away. They have this breakfast tetelas thing, masa with chihuahua cheese and avocado. I hung out with Matthew Diaz, the chef, for a brief second. You don't get to see him all the time anymore, but he passed through.
We have a few things coming up at Dept of Culture. There's a millet pudding called fura, which is a food from northern Nigeria. I had to find the right kind of millet, and mill it, and then ferment it and all that — it's an interesting one to try and recreate, so I was working on that almost all day. I think that's something we're going to have on our menu at some point in the summer. It's going to be almost like a fura ice cream. It'll be a little bit spicy — we've been messing around with a bunch of spicy ice creams at Dept of Culture that we're going to roll out. Hopefully I can perfect it in time. My fear is not the average diner. Most people, when they come to Dept of Culture, they're actually quite happy. It's the Nigerians that I worry about. It's very traditional Nigerian food. The only place I don't stick with tradition is dessert, because I feel like dessert, you have to be playful. But I don't want it to be so foreign — it still has to have Nigerian elements.
This is the best time for me: I'm in the lab, I have my podcasts on, it's like a time machine. When I'm by myself, doing the menus and all that, I'm sort of nibbling all day, tasting; if I'm testing different batches of ice cream, I might end up having ice cream for lunch. This day, I'm guilty of that.
Dinner is the bodega again: lamb over rice. It's one of those restaurant things, when you cook all the time, you want to eat something slightly different from what you're cooking. Sometimes I cook — lots of times I make my own food — but sometimes I just go there, and the guy knows exactly what I'm having.
Monday, June 13
Again, I was trying to tell myself this would not be a day for phones. Of course, I said that for a brief second, and then I was swiping through Instagram and emails and notifications.
I stopped at the Council for coffee. For me, I have to stop, but it's also, your first cup of coffee is this brief five minutes just to get into the day. Your eyes gloss over, and you have this false sense that this is going to be a very good day to achieve everything! When I have my first cup of coffee, I feel like, everything is gonna be alright. I know it's all chemicals, it's the caffeine going through your system, but sometimes, if you just have the right coffee — a single origin coffee from Burundi, or a good coffee from Tanzania, or the right Rwandan coffee — it just transports you to a moment that's just you. It's like a force field around  you, and you're like, I can make a list and I can accomplish it. When you have the first cup of coffee, you feel like it's all possible. And if you don't achieve your goal one day, you get to try it again the next day over another cup of coffee.
A little later, I biked to Whole Foods, because there's some weird little things I love to get from Whole Foods, rather than Baldor or something. I got a whole bunch of fresh rosemary, a whole bunch of fresh thyme, and a whole bunch of bay leaves, because I'm experimenting with a specific jollof rice right now, and it has to be completely vegan. The Ghanaian are running their mouths about how their jollof rice is better than Nigerian jollof rice, so I have to cook Nigerian jollof rice that's 100 times better than the Ghanaian ones, and it has to be vegan. It's a friendly rivalry, but a very bitter one, especially because the Ghanaian just beat us in soccer about a month ago.
I brought some of the herbs back to Dept of Culture, and then in the evening, my son was having a piano recital at Third Street Music School. He's 11, and he's much better at piano than I thought. I almost cried. It's one of those things where he can do things now that I don't know how to do at all. I was quite pleased, and it was also humbling.
Afterwards, of course, I asked where he wanted to go eat. "The Smith." So we went to the Smith — that was a feast. His mother had oysters and shrimp, I had calamari and the burrata, and he had shishito peppers. After that, he had filet mignon, she had gnocchi, and I was sneaking some of his fries, with mayonnaise, because I was already full, and I knew that I had to go back and reduce some tomato that I wanted to use for the jollof rice.