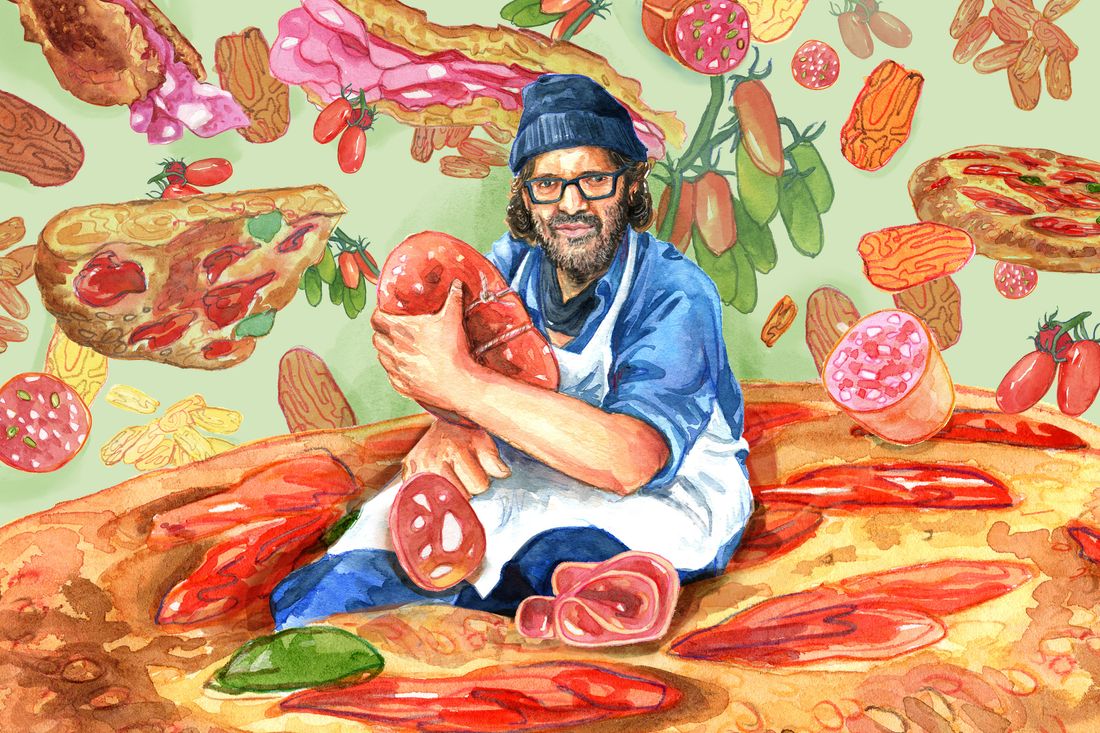 Bread and Salt's Rick Easton, with his daily mortadella. Illustration: Sarah Kilcoyne
At the Jersey City bakery Bread and Salt, owner Rick Easton and his crew spend their days tinkering away at focaccia barese, chocolate-ricotta crostatas, and the pizza al taglio that first helped him build a loyal following. He also just published Bread and How to Eat It, his first cookbook (along with his partner, Eater NY editor Melissa McCart). He keeps bakers' hours — which is to say, he's up long before the sun — and he spends that time working on a few more projects in his kitchen, like gelato (made with a machine gifted to him by Superiority Burger) and a style of sausage that's chopped by hand and which is, he admits, a little bit impractical.
Thursday, May 11
Two coffees made in the Moka pot at home and then 10-plus cups of espresso throughout the day. I always drank this much caffeine. I mean, I started drinking coffee when I was 10 or something. Now, I have a routine.
On service days, I have to be at work at 3:30 in the morning to get all the stuff done before we open at ten. So I get up at 1:30 a.m. to give myself enough time for coffee before I go to work. I like having this time: I'm in the house, I'm drinking my coffee, it's quiet. That's valuable to me, so I get up extra early to do it.
Usually by the time I eat breakfast, I've been up for hours already. This morning, I have two dates and a handful of Italian almonds. That helps me deal with all the coffee already in my system.
Italian almonds are crazy. We have three different varieties in the building at any given time. I don't know if this is a fact — so take it for what it's worth — but somebody told me there are 130 cultivars of almonds in Sicily alone. We sell a couple of Sicilian almonds, like Romana almonds and Pizzuta almonds, that come from the chef Corrado Assenza. They're insane. They're dry-farmed. The yields are much lower, but the flavors are much higher. If you ever taste almond extract, you're like, "This doesn't taste anything like almonds!" These almonds have that taste.
I also have a few spoonfuls of almond gelato and Meyer-lemon sorbet right out of the machine. We've been working on gelato and sorbet for the last couple of months, very quietly. Brooks Headley gave us his old Carpigiani machine, because they now have a much bigger one in the new restaurant, and he and his pastry chef Darcy Spence came out here and gave us some ice cream lessons. I have a guy who works here, Phil, who has been helming that project. It's an incredibly complex and interesting process.
Before leaving, I eat lentils with friselle and some sausage testers, which is the other thing we've been working on. Making sausage is highly impractical for us to do, and I'm chasing something that is very hard to find commercially.
If you go to a butcher shop in Southern Italy, you can buy a lot of sausages that are punta di coltello — point of the knife. It's a hand-chopped sausage, and the texture is amazing. To actually pay someone to hand-chop sausage, well, the amount of time it takes is insane. But there's also a tradition that people are going to pay a little more for. What you get is something I've always been looking for: a coarseness in a sausage, a little bit more bite to it, and a little bit more chew.
For dinner, I get Korai Kitchen. It's one of the few places that I get takeout or delivery food from. Jersey City is growing and changing and whatever. I wouldn't be one who's parading the excellence of the restaurants here, but I think the food at Korai Kitchen is really, really good. It's a Bangladeshi place run by a mother and daughter. And the food tastes like somebody's mom made it. And, of course, somebody's mom did.
I normally order some vegetables, but the beef tehari is something they only do on Thursdays. It's just an interesting dish. There's this very short-grained, aromatic, special rice that isn't used in the other food, and it has this beef cooked in it, but it's also got a lot of spices and chiles and whatnot. You squeeze lime on it and it's a really nice dish. I mean, it's a lot of food. It's a lot of rice.
Friday, March 12
I like my coffee to be lower acid, more concentrated. At the shop, the espresso that we make is based on a very Southern Italian–style coffee, but also influenced by espresso in Tokyo.
I eat a slice of focaccia barese every morning when we're open. I'm always tinkering with it, so I have to eat it to figure out where it's at: How is it changing? I tweak fermentation times and the schedule constantly.
This is the kind of thing you can spend your entire lifetime refining. Changing the baking and the textures and just trying to figure out what it is you're looking for. It's such a live process, I think, in so many regards that you zoom out and look very big-picture, it probably seems the same every day. But to somebody like me, those little differences are what make it interesting.
I think that it's one of those things that I have ups and downs. Some days I really do think it's great. Other days I feel more, ehh. Am I satisfied with it? I don't know. I'm not the kind of guy who pats himself on the back that much.
Eat a few pieces of mortadella. I ate a lot of bologna sandwiches as a kid and I eat mortadella every day we're open. If we're running it on the slicer, I'm going to grab a few pieces. Like I said, I get up at 1:30 in the morning and I generally don't really eat anything until after eight. That's what I eat: a piece of focaccia, a few slices of mortadella, and then I'm okay. Now, I'm ready to have enough energy to get through with day service.
I sneak in a suppli — I don't get to eat them that often because we normally sell them all — and eat the leftovers from Korai Kitchen at home.
Saturday, May 13
Dates and almonds. Repeat my coffee situation. I eat a lot of the same stuff while at the shop, more focaccia barese and mortadella. Fridays are definitely the slowest day for us, but Saturdays and Sundays, people travel from a lot farther out.
I take home some leftover sugo from the coda alla vaccinara we served in the afternoon, and have it over rigatoni. We start by cooking really, really, really finely chopped carrots, onion, and celery in lardo for a long time. We render out the lardo, put in a whole chile or two, a couple of cloves. Brown the oxtail, add the tomato. Partway through, we put in whole pieces of celery and pine nuts and raisins.
At the very, very end, we add in some unsweetened cocoa powder. Some people grate chocolate on it. Some people don't do either. This is sort of the fancy version. I mean, the dish of course comes from poverty cooking back when oxtails were cheap. And people didn't always have chocolate. But these days, pine nuts, raisins, chocolate are all pretty common additions.
When the sugo is cool, you could bounce a quarter off of it because of all the collagen from the oxtail. It's just incredibly rich.
Sunday, May 14
Coffee, focaccia, mortadella. Eat a sfogliatella. It's a crazy pastry. We just started working on it. It's a very thin, delicate dough that you kind of spread with lard and roll up into this giant coil. Then you make slices of that, push it out, and fill it with a semolina-ricotta filling that has candied orange in it and just a little bit of cinnamon.
They're amazing. All through Naples, this is the thing, you get them everywhere. But here because of the labor involved, again, it's not something people do on a large scale. It's very challenging, and we don't have a sheeter or anything, so it's a lot of work. But it's cool because after you bake the sfogliatella, they're so incredibly flaky and crispy, because the lard separates all those layers. I love it. It's a great pastry. I hope we continue to do it and continue to work on it.
For dinner, I get Honduran food from Bryan Girón's pop-up, Perquín. Bryan used to work here, and he's a very good cook. This is not what I had planned on dinner — I'm usually pretty much ready to fall asleep by eight o'clock on Sundays — but he had called me and asked if I was around. He brought me a bunch of his food and I haven't had a chance to try it: baleadas, coconut rice and beans, some fried chicken with plantains and a cabbage situation, mixed seafood soup with coconut. Pinole, hibiscus to drink.
I'm really happy that I did this. It's fantastic. I don't know anything about food from Honduras — there's not a lot of Honduran restaurants in the area or in New York, even — and I think it's cool to try something new. The baleadas, especially — people could eat those every day. The pinole, it's made with corn and different spices, is amazing.
Monday, May 15
Coffee, bread, ricotta, and honey from the Catskills that's pretty nice. The ricotta is from Caputo Brothers Creamery. It's what we use here. I love it — taste, texture, all of it — because it's one of the few whey-based ricottas that's made commercially. Most people just serve whole-milk ricotta, which is basically, it's fundamentally curdled milk, right? Ricotta made from whey has a very different texture to it. So that's what we have, and that's what I always eat.
Get dinner with Beatrice from Gustiamo at Alice in the West Village. Salad, mixed-fish crudo, we split three pastas: a stuffed gnocchi, bucatini with yellow tomatoes and colatura, linguine with clams.
I, of course, am a very loyal Gustiamo customer, and Beatrice is almost family to me at this point. We've worked together for a very long time and we do try to go out and hang out, have dinner once a month, once every other month. She had wanted to go to this restaurant because she had just met the chef, Riccardo Orfino, and she liked it.
It's funny because if I go out on my own, or make the choice, I probably want to eat Chinese food or Japanese food. With Beatrice, she's Italian. She wants to go eat Italian food. She wants to know what people are doing, where they're going, what are these restaurants using, what are the ingredients? Can they convert to Gustiamo? Is it good?
When I go out for Italian, the only other time I can think of is I'll go to Emilio's Ballato. Emilio is a good friend, so I go to see Emilio more than I go to eat. So I'll go like on a Monday or Tuesday, come into the city and just sit at the table with Emilio for a couple of hours and inevitably I'm going to eat. We met him because he'd come here to Jersey City. He is really still very active and curious about food; he goes out all the time and he wants to know who's doing what. He's a great guy. He's a total character.