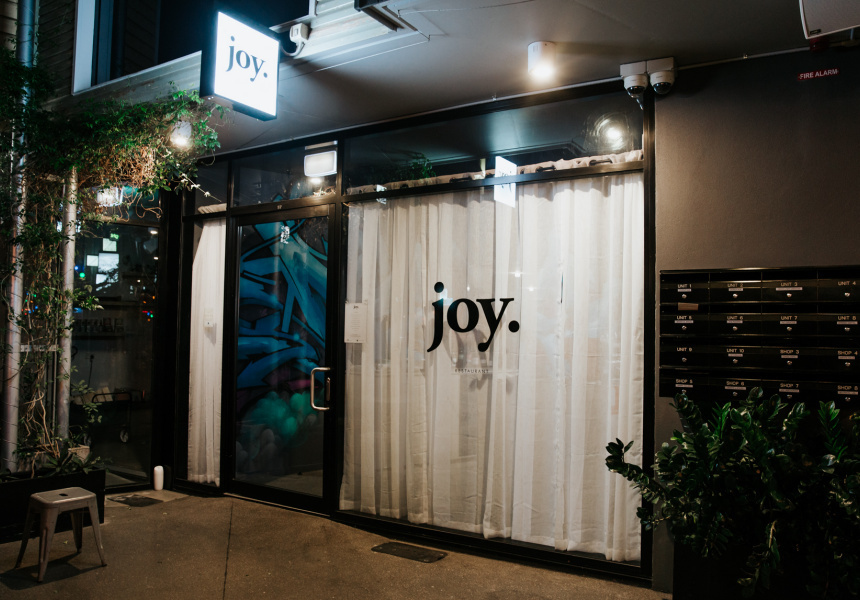 Chef Tim Scott has parted ways with Joy, leaving the enormously popular Fortitude Valley restaurant in the hands of co-owner Sarah Scott. Tim's decision not to return to the business comes after he and Sarah called time on their marriage earlier this year.
"It is with both sadness and joy (excuse the pun), that we say goodbye to our beloved Tim at Joy Restaurant," Sarah said in a statement provided to Broadsheet this afternoon. "The road Tim has helped pave over the last year has been absolutely crucial to the success of Joy to date. His creativity will always be appreciated."
Originally comprising two chefs, one bar and 10 seats, Joy will replace Tim's chef role with bartender Maddie Sim, who most recently worked across Ann Street at Savile Row. Sim will take care of front-of-house and cocktail duties at the restaurant and begin to evolve Joy's wine list while also helping Sarah in the kitchen.
"To have Maddie on board to support me … is going to add a level of skill that comes from her years of industry experience," Sarah said in the statement. "Together we will continue to offer a list of funky wines, quality whisky and of course our non-alcoholic options also … I look forward to letting Maddie express her creativity through the pairing [of wines with food] and to have her knowledge help build a pairing that isn't just wines."
Otherwise, the restaurant will continue with its omakase-style setup, with Sarah changing the menu regularly.
Joy missed its original reopening date of July 23. The intention is to now reopen on September 11, with existing reservations rebooked from that date. The restaurant will initially open just three nights a week, Thursday to Saturday. There will be two 2.5-hour sittings per night, with each sitting accommodating just eight diners (down from 10 due to Covid-19 restrictions).
"This is such an exciting new chapter for Joy Restaurant," Sarah said in the statement. "All restaurants grow, change and adapt throughout their life span, and this is just one stage in Joy's journey of growth."