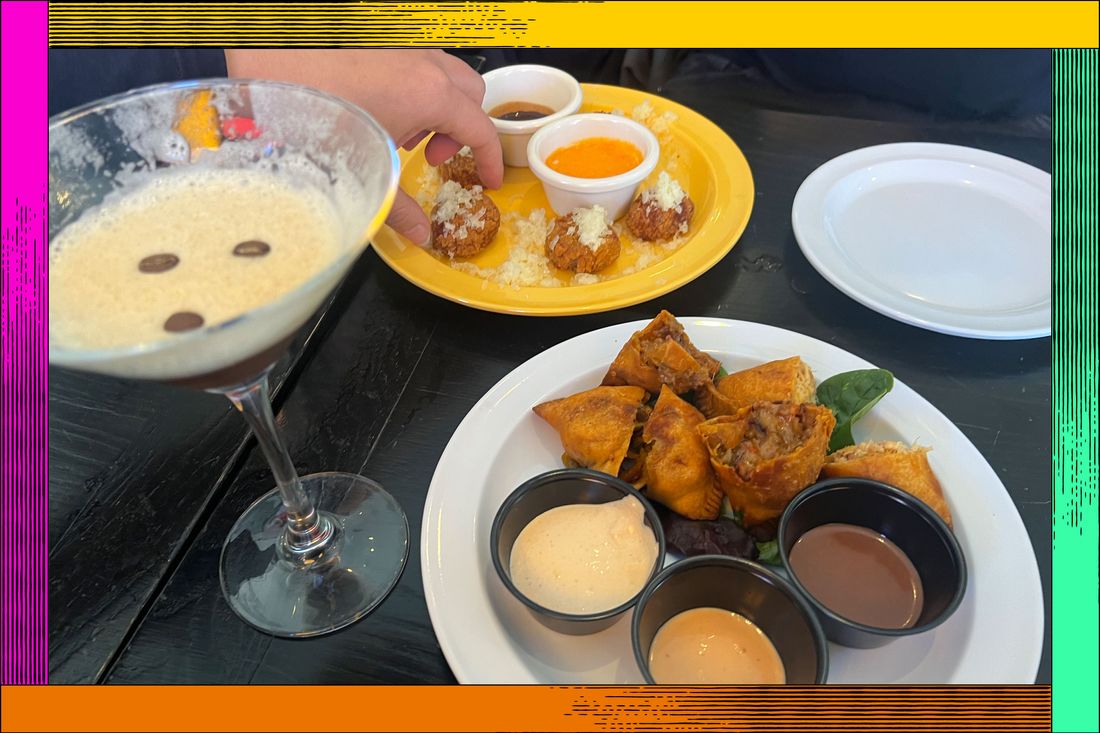 Chocobar Cortes in Mott Haven. Photo: Grub Street
Canonically, the days immediately following Thanksgiving are spent eating leftovers and shopping for deals. This year, I decided to go off-book and get brunch at a place that puts chocolate on everything. Chocobar Cortes, in Mott Haven, is an outpost of a café with the same name in San Juan. It came recommended by some friends, who as luck would have it also offered to drive me there this past Saturday.
I may have thought my plan was original, but our reservation turned out to be necessary as the airy space was jammed with all manner of diners and families. Even at midday, the bar was seated to capacity, with a couple people choosing to stand for the chance to sip chocolate cocktails next to their friends.
Truly, there is no other menu like this in New York, a combination of Puerto Rican food and diner fare meets Willy Wonka. The club sandwich comes on chocolate bread, the Bloody Mary is doused with chocolate bitters, and there is a chopped cheese with chocolate-chipotle mayo. Also worth noting: All seven of their hot-chocolate varieties — traditional Puertorriqueño, 80 percent dark, and seasonal variations — are served with cubes of cheddar cheese for dunking, though I was a bit apprehensive about that last bit.
No matter. It all works. My friends loved the chocolate grilled cheese, and chocolate-wine sauce on the "tripleta," a pernil–steak–roast beef sandwich, was like a rich, barely sweet gravy. Most people around us were eating breakfast food, like magnificently fluffy waffles, and more than anything else, everyone seemed to have a heavily garnished dessert cocktail in front of them.
Despite the clear popularity of Chocobar, which has been open less than a year, I was surprised to learn that they are considering closing after a spate of break-ins this fall. Hopefully it doesn't come to that, but if you find the prospect of a multicourse chocolate meal tantalizing, I might suggest you get there soon.
As our own meal wound down, I finished my espresso martini and we prepared to make our way to our next stop, our first trip to La Piraña Lechonera, one of the city's best-known food trucks. In this case, it seemed we lucked out by choosing to visit after Thanksgiving: There was no line and we were able to get the full Piraña experience from the purveyor, Angel, who fed us some choice pieces of crunchy skin and walked us over to his real kitchen, a tarp-covered pizza oven set up on the sidewalk about half a block away from the truck.
Pork at La Piraña Lechonera. Photo: Tammie Teclemariam
A running list of everywhere I've been, weeks 44 and 45: 417. Lassen & Hennigs 418. Taqueria Maria & Ricardo 419. Back Home Bakery 420. Bake & Things 421. Princess Pizzeria 422. Los Tacos Al Pastor 423. Dame 424. East Wind Snack Shop 425. Chocobar Cortes 426. La Piraña Lechonera 427. Pace's Italian Market 428. The Bronx Beer Hall 429. Addeo & Sons Bakery 430. Dukagjini Burek 431. Johnny's Reef 432. Jen's Roti Shop 433. Chinese Tuxedo