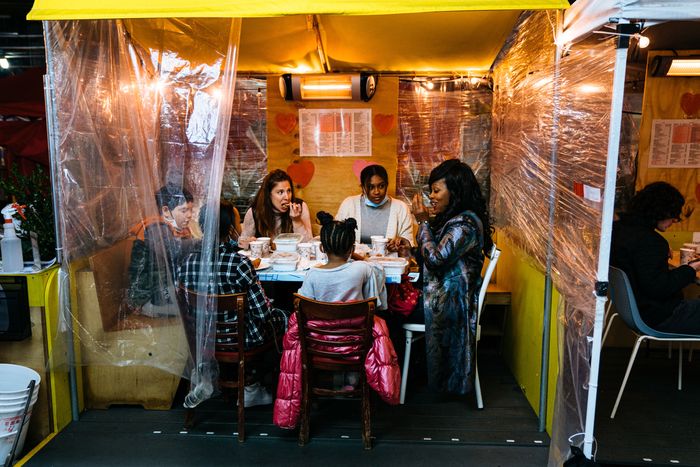 Outdoor dining sheds will, reportedly, become seasonal. Photo: Janice Chung
It's been about a year since we heard anything about the city government's plans for the future of outdoor dining. Last February, the Council convened to discuss the outdoor-dining bill, a meeting that lasted for over eight hours, with 250 people calling in to testify for or against the program. The bill has since stalled, which isn't surprising given the opposition of certain Council members like Kalman Yeger, who in that hearing described streeteries as a way for restaurant owners to "get free space courtesy of NYC." Now, it appears the City Council plans to once again move ahead with the legislation to make COVID-era outdoor dining permanent — with one key change. Streeteries will be seasonal, the website Streetsblog reports.
As Council member Justin Brannan tells Streetsblog, sidewalk dining won't face seasonal restrictions, but lawmakers are putting forward a proposal that calls for more standardized designs for outdoor-dining structures (a.k.a. "sheds"). The plan is to move on "from the year-round structures that often sit empty during the winter months."
It's true that, as fears of COVID infection have dropped among the public, very few diners are willing to shiver through dinner when they could instead simply sit inside a heated dining room. The outdoor sheds can often feel quite literally like Siberia: spillover seating for a full dining room that also happens to be cold. Even the sheds' fans will admit that they are mostly useful when it is nice outside.
Of course, the existence of the outdoor structures saved restaurants (and restaurant jobs) during COVID, and brought sidewalk cafés to 17 new neighborhoods around the city. It changed the entire dynamic of streets, like Mulberry in Nolita and Vanderbilt in Prospect Heights. The Open Streets program has also been a huge boon to Tompkins Street in Bed-Stuy, which on summer weekends can turn into a huge block party.
Officially, the City Council says that nothing is yet final and that it "is continuing to work on a bill that creates a permanent outdoor dining program for the City that strikes the right balance for our restaurants, neighborhoods, and all New Yorkers." It's been more than two years since the council first voted to make some version of this program permanent. Now it seems that might finally be a bit closer to happening.
This post has been updated with comment from the New York City Council.