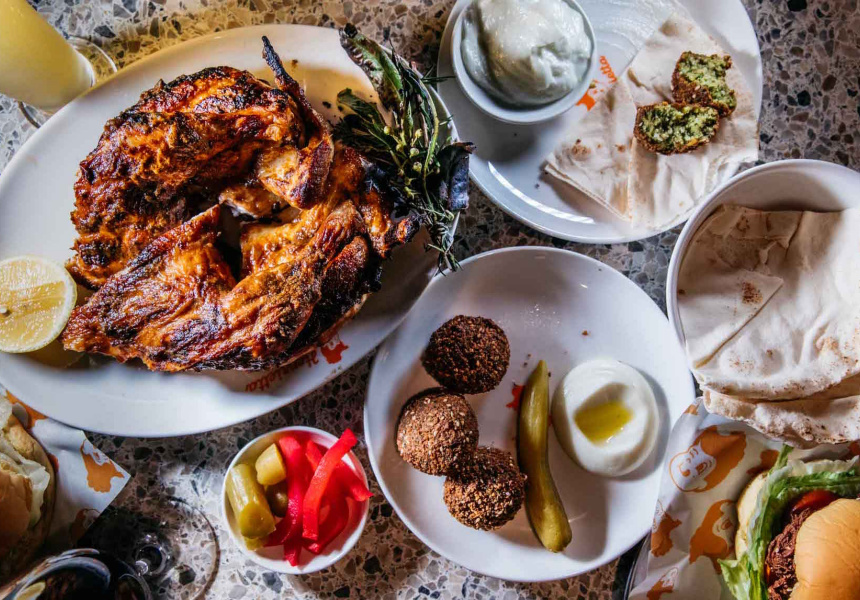 Charcoal chicken is undoubtedly the star at Sydney restaurant Henrietta in Surry Hills. It's best eaten with your hands, on a bed of Lebanese bread slathered in toum, co-founder Ibby Moubadder said when he opened the Crown Street eatery in 2020.
Though Moubadder and business partner Jorge Farah – who also own Middle Eastern restaurants Nour, Lilymu and Aalia in Sydney – wanted to open a second Henrietta in Sydney, they instead chose to take their casual charcoal chicken restaurant to Windsor after spotting the perfect location on a trip last year.
"Every time I go to Melbourne I always end up on Chapel Street for dinner," Moubadder tells Broadsheet. "We were having dinner across the road at Tokyo Tina, and I came across the site and thought it'd be perfect – so we urgently called them."
The former restaurant will be transformed by architects Russell & George, who fitted out venues such as Society and Yakimono. It'll have a skylight, says Moubadder, and entrances to the rear laneway, as well as side-street access. Where the Surry Hills restaurant seats 50, Windsor's Henrietta will seat 90. And it will absolutely have a takeaway window – something Moubadder says is central to the Henrietta experience.
"You can order takeaway, you can pick it up at the window and you can come in for a dining experience. That's the beauty of it," he says. "I've always loved Melbourne – the dining scene is amazing – but charcoal chicken isn't that popular and there aren't that many Middle Eastern restaurants. In my opinion, it's the cuisine that's going to take over."
Executive chef Enver Katranci is finalising the menu. It will star charcoal chook but will also have other charcoal dishes – such as whole fish and steak – that the Sydney eatery doesn't offer.
"In Melbourne we've made a decision to focus more on the meze selection, which will have more variety … we'll have a customised skewer so we can cook whole fish over charcoal," says Moubadder.
The Windsor location has more room for a bigger pit, which means more meat over the flames at one time. There'll be cocktails and beer on tap, and Henrietta's sommelier is working on the wine list for when the liquor license is approved. For Moubadder, it's the perfect spot to introduce Henrietta to another city.
"We saw it, we loved it, and we'd always had the idea of taking it to Melbourne. When the opportunity came up, we couldn't say no."
Henrietta Windsor is slated to open in August at 75 Chapel Street.