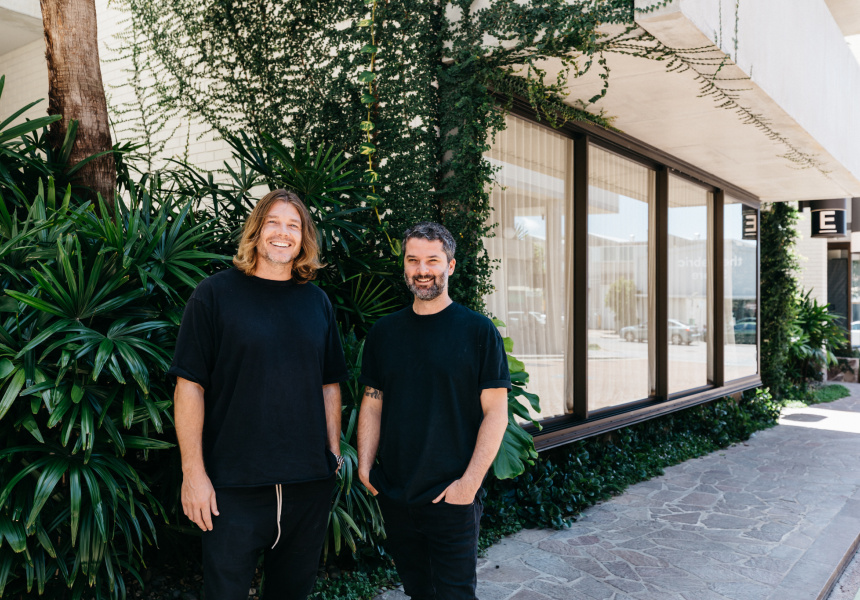 Eleven months ago, after numerous delays, Ben Williamson was finally ready to unveil Agnes, his much anticipated woodfired restaurant. The only problem? It was scheduled to open in late March, just as the pandemic was bearing down on Brisbane.
Like any restaurateur you interviewed at the time, chats with Williamson tended to turn into existential discussions. What was going to happen? What would the government do? Was there a future for Brisbane's restaurants?
A few days later, on March 23, the answers began to come. There would be a national shutdown of food and beverage venues, alongside many other businesses. It felt like it could be the end of the industry – particularly in Brisbane, a town where the restaurant scene was coming off a years-long boom.
Of course, what happened to Agnes would become a piece of pandemic folklore. Williamson and co-owners Frank Li, Bianca Marchi and Tyron Simon pivoted, opening the restaurant as a woodfired bakery in April. Punters would queue around the corner for its cheesecakes, cinnamon doughnuts, and custard and almond kouign-amanns. Later in the year, the restaurant opened proper to critical acclaim.
What happened to Brisbane's hospitality industry, though, is still playing out in surprising ways. Any ideas of it being brought to heel by the coronavirus have been shelved for now. Instead, the city's charmed run through 2020 has it feeling like a boomtown again, as lockdown weary southerners migrate north to buy houses and join in on spending money in the local economy. A lot of that cash is flowing into restaurants (many are consistently booked out over the busier nights of the week) and the invasion of Sydney chefs, sommeliers and floor staff of the past few years is being echoed in a similar Melbourne migration.
"The past year has been great," Williamson says. "I don't want to make light of it because Covid was really difficult for a lot of people. And it was really difficult [for us], but running restaurants and working in kitchens is inherently difficult anyway. It was just another a hustle. Something presents a problem, there's a change in circumstance, and you have to adapt and change how you operate.
"The opening of Agnes was great. The reemergence of local people dining locally and not leaving the state – that's all coming back. Overseas holidays are off so people are spending money locally. Restaurants are busy in this town. You talk to everyone around town, and they're busy."
"During the pandemic, no one could have predicted the upturn for restaurants we're seeing now," Tyron Simon adds. "There was no international travel and now there won't be this year. I think everyone is resigned to that."
So what might've seemed like a mad idea back in March 2020 will next month become a reality when Williamson, Simon, Marchi and Li open a new Italian restaurant, Bianca, on the corner of Ada Lane and Wandoo Street. Bianca will occupy the two-storey digs previously home to Beaux Rumble, the space given a slick redesign by in-demand architects Richards & Spence.
"When Tyron and I first talked about working together, it was always going to be more than one restaurant," Williamson says. "This site actually came up pre-Covid. And before Agnes was born we'd discussed some of the concepts we wanted to explore, and Italian was one of them. Bianca [Marchi, who has lent the restaurant her name] is Italian, and it's just a great, nourishing cuisine that I gravitate to when cooking for myself."
There's a practicality here too. Taking over the premises allows the group (which also operates Same Same and Honto) to take more control in shaping Ada Lane's dining precinct, which in the Beaux Rumble days was in danger of becoming a little top heavy.
"If we don't do something there, who does? And does that work with the ecosystem of restaurants that's there?" Simon says. "We're not opening a high-end steak restaurant to compete with SK Steak & Oyster. We're not doing something that would compete with Same Same's Southeast Asian menu. This rounds out Ada Lane and the Calile and the greater precinct."
Bianca's menu is very much a product of the pandemic – it's simple, produce-driven and intended to be affordable. Williamson is writing up a straightforward combination of snacks, antipasti, six house-made pasta dishes and five main courses. The pastas will rotate, although always on the menu will be a paccheri pomodoro and a lasagnette that became a minor sensation during Agnes's bakery days. Helping run the kitchen day to day will be sous chef Mario Asero, a veteran of Bennelong, Firedoor and Fred's in Sydney.
"A great everyday Australian-Italian trattoria, is how I'd put it," Williamson says. "We don't want it to be super high-end. It's a venue that's for everybody, with a menu spread with enough familiarity that people can gravitate towards certain dishes straightaway."
For drinks, expect a 300-bottle list of Italian wines and local drops made in an Italian style, and a lengthy back bar of spirits imported from the peninsula. Also, there's the restaurant's killer app: an Italian-made Carpigiani soft-serve gelato machine.
"It'll bring a fun element to the dessert," Williamson says. "Light hearted, delicious, tasty food. More than anything, we just want Bianca to be somewhere you relax, enjoy and have a good time."
Bianca will open in Ada Lane on James Street in late March.