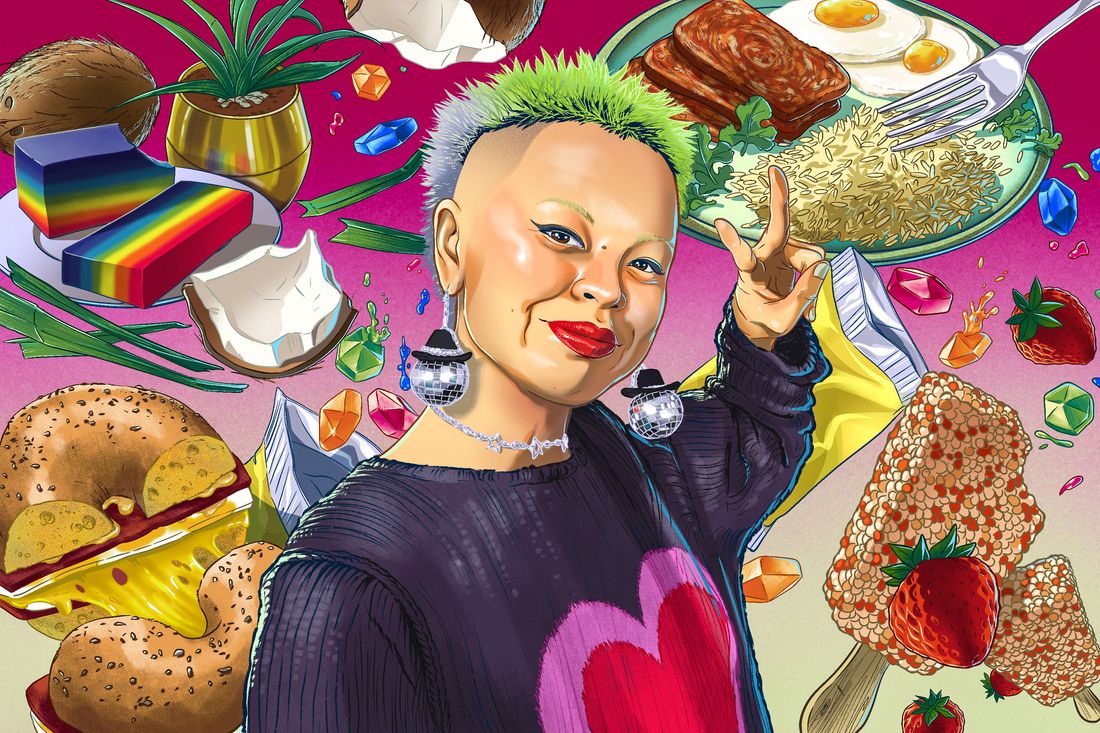 Balingit, with the pork roll that gets her out of bed and the Spamsilog she makes for lunch. Illustration: Adam Mazur
In the early days of COVID, Abi Balingit started selling Filipino treat boxes as a way to fund her new blog, the Dusky Kitchen, and to raise money for the mutual-aid funds popping up around the city. At the time, the move felt like "a big leap," she says, but the confections — made with ingredients such as pork floss and calamansi lime — sold out so consistently that it lead to a deal for a cookbook, Mayumu: Filipino American Desserts Remixed, which Balingit released this week after months and months of test-baking in her apartment. "I literally have ingredients up to the ceiling and cans on the floor under the TV stand," she laughs. "It's really fortunate that my roommates are chill."
Tuesday, February 21
Even though I'd stayed up late watching the latest season of Aggretsuko on Netflix, my internal clock managed to wake me up around seven. I laid in bed scrolling through Twitter for longer than I'd like to admit, and eventually I pulled up the online-order page for Greenberg's Bagels. I got my usual: the Jersey pork roll, which consists of Taylor ham, two fried eggs, and American cheese on an egg-everything bagel.
After a short walk back from Greenberg's, I ate the first half of the sandwich — covered in Cholula — in the part of the apartment that my roommates and I converted into a makeshift dining-room-slash-office. I poured some tangerine juice to wash down the salty bites of yolk-covered bagel, then I saved the other half in the fridge and opened my laptop. My job in the live-music industry is fully remote, which is such a benefit because I do not miss commuting on the subway during rush hour.
It was a busy morning after the holiday weekend, and I had a lot to catch up on. After a quick phone interview with a food writer to talk about Mayumu, I got back to work and didn't get thirsty or hungry until almost 2 p.m. I hastily peeled a mandarin only to find that it was dried out on the inside, but I ate the disappointing fruit in its entirety because it had to tide me over until the end of a stressful meeting with a tax consultant.
It was my friend Scott's birthday; my roommate Karis and I wanted to plan a special night for him. I thought it would be a good idea to get him desserts from Lady Wong, the pastry-and-kuih boutique in the East Village. On my lunch break, I took the G to the L train and was on my way to Lady Wong when I stopped by Trader Joe's on First Avenue. I'd meant to get some ingredients for a bake sale and wound up at the free-sample booth trying some new maple-pancake snaps. They tasted like maple-syrup graham crackers, which I generally like, but I didn't feel compelled to buy a box.
I got what I needed from TJ's and made another pit stop at Johnny Air Mart, a Filipino grocery store. I picked up Spam and spicy banana ketchup, and then I finally made it to Lady Wong. I put together a selection of treats for Scott's birthday gift. I also ordered myself a slice of the lapis rainbow, which I ate while waiting out the rain. You can rip off each chewy layer one by one, and it tastes like coconut and pandan. I love how colorful this dessert is and how much it reminds me of a Filipino layered rice cake called sapin-sapin. Once I was done with my snack, I went back home.
During the last stretch of work at 5:30, I microwaved the other half of my bagel sandwich and gave it the Cholula treatment again. I had a few strawberries and opened a bag of Toasted Marshmallow Milano cookies, using one as a vessel for Trader Joe's cannoli dip. I didn't expect it to be so goopy.
Miraculously, I dodged a couple rats on the walk over to LaRina Pastificio & Vino in Fort Greene for Scott's birthday dinner. We didn't have a reservation, but the restaurant had an open table in the backyard, which was heated. We started with olives and a plate of the assorted bread. The focaccia with artichokes on top was one of my favorites, and there was a dark-gray bread made with grano arso, or burnt grain, that made it slightly bitter.
I ordered a cocktail made with grappa and bergamot and then agnolotti del plin. The braised-beef and chicken filling was so hearty, and I loved how sour black lime on top cut the richness of the pasta and sauce. We got a meringata with passion-fruit sauce and raspberries for dessert, which was a light way to end the meal. I also tried a sip of Scott's alcoholic hot chocolate, which kind of reminded me of the Andes after-dinner mints you get after eating at Olive Garden.
Wednesday, February 22
It was day three of my period, and I woke up feeling bloated and tired, but the fear of the strawberries in my fridge getting moldier by the hour prompted me to prepare a nice breakfast before work. I popped frozen Trader Joe's maple poffertjes — Dutch mini-pancake puffs — into the oven and quartered the strawberries. I drizzled dark-amber maple syrup on the puffs and added a dollop of clotted cream on the side. A superb breakfast combo overall.
I got to work at nine, and it felt like I was getting ghosted left and right about urgent requests for two hours straight. I was venting about it to my friend, Andrew, and then he asked me if I was home. Since he lives close by, he came over around 11 with Fan-Fan Doughnuts. We split the guava-and-cheese doughnut and he kept me company as I continued to trudge through emails.
Once he left, I had a phone interview with a reporter at 1 p.m., and started to feel hungry around 2:30. My head was starting to hurt, too. Does Advil count as food? If so, I took one before starting on lunch. For a Filipino meal called Spamsilog, you need Spam, fried rice, and eggs. I opened the can of Spam I'd bought and cut up three slices to pan-fry. My roommate Michelle bought this round egg pan that makes eggs that look like what you get when you order a McDonald's Egg McMuffin. I fried two eggs and reheated leftover rice in the microwave, then tossed it all with handfuls of Wangderm fried garlic that comes in a jar.
I had ensaladang mangga — a Filipino salad made up of diced mango, tomato, and red onion, and tossed with Pinakurat spiced coconut vinegar — in the fridge from Monday, too, so I scooped some into a small bowl and topped it with fresh cilantro leaves. I ate mouthfuls of Spamsilog with my ensaladang mangga and saved whatever I couldn't finish in the fridge.
For dinner, I had a reservation at Place des Fêtes in Clinton Hill with my boyfriend, Jason. He met up with me at my apartment and we walked over together in some light drizzle. We sat at the bar, which is always fun because you get to see all the action happening in the kitchen. Influenced by the Sex and the City gals, I ordered a Cosmopolitan with citrus leaf, mandarin, and cranberry. Jason got his favorite cocktail, which he orders everywhere we go: a classic negroni (not sbagliato!).
We had two specials of the day, which included toasted Otway bread with prosciutto slices and uni from Maine and Spanish mackerel. As appetizers, we got the crispy maitake mushrooms with black-garlic fudge and raw fluke with pomelo, daikon, and caviar. We absolutely loved everything.
By the time we ordered dessert, we were pretty full but hungry enough to get three out of four of the options on the menu: wild-strawberry sorbet, buffalo-milk ice cream and chocolate sauce, and financier with smoked date and pawpaw. Every dish had some sort of component — crème fraîche, booze, added sea salt — to balance the sweetness.
After our dinner date, we had time to watch The X-Files, and after a couple episodes, I wanted to snack. I had a bite of a strawberry, and then I ate one of Trader Joe's dried chile spiced mango slices that I like a lot because each one is covered in a spice mix that's similar to Tajín. I was still a little hungry, so I toasted a frosted maple Eggo-flavored Pop-Tart.
Thursday, February 23
Jason and I walked to Brooklyn Kolache for breakfast, and we ran into the owner, Autumn, while we were there. We caught up a bit; Autumn has been a longtime supporter of my treat boxes. I sipped on a warm ube latte and munched through a sausage-and-cheese kolache.
It was almost one o'clock when Jason barged into my room to give me a bite of his leftover lemon-curd kolache. Although I never intend to do this, I sometimes go for long stretches without eating anything when I'm busy with work. I'm glad Jason reminds me to take breaks. He asked if I had anything in my fridge for lunch, so I told him about my leftover garlic fried rice and ensaladang mangga, and I cooked a couple more eggs in the round egg pan.
After a visit to the mail store to send out some advance copies of my book to my cookbook-shoot crew, Jason and I left the apartment to go to his place in Greenpoint. He heated up homemade chicken consommé with a couple parsley leaves in a mug. Then we went to a nearby bar called Capri Social Club to hang out with our friend Kristen.
When we entered the bar, it got all quiet and everyone stared at us, kind of like that SpongeBob meme. It wasn't very busy, and the TVs were showing Jeopardy and, randomly, Cast Away. We arrived just in time for the devastating Wilson scene and got some drinks: a beer for Jason and a Long Island iced tea for me. We caught up with Kristen in a corner booth over a round of $2 jello shots. I was a little tipsy by the time we finished drinks and headed over to our reservation at Nura.
Nura looks like an industrial loft space, but it's filled with plants and accent-lamp shades that make it feel more intimate and cozy. I had only been once before, with Jason, and we ordered a few repeat dishes plus more for Kristen to try since it was her first time. All day, I'd been looking forward to the bread basket and dips. We dove right into the garlic-coriander naan, the green-peppercorn Parker House rolls, the roasted-cauliflower dip, the beet hummus, and the curry leaf–cilantro yogurt.
My favorite appetizer was a prawn dish with ají amarillo, passion fruit, Urfa biber, and mezcal. The prawns' heads were left on and it was the best experience slurping them up and using the naan to soak up any leftover sauce. Jason and I also split one of the specials, clams in  carrot broth. Jason and I got to work on the baby-back ribs for our entrée, which was covered in harissa, coconut, peanuts, pickled jalapeño, and herbs. The order arrived with wet wipes on the side. They came in handy.
Back at Jason's place, I had a wildberry-flavored gummy while we watched an episode of The A-Team (just to catch a split-second guest appearance by Mitch Pileggi) before going to sleep.
Friday, February 24
Since I was staying over at Jason's, I worked in his bedroom while he took calls in the living room. He dropped off a banana to me before he had to close the door for a meeting, and that was my breakfast while I was chaotically wrapping up the first draft of a story due by the end of the day. I'm not sure how I managed to do it, but I made that single banana last from 9 a.m. to 12:30. I was in the zone, but I didn't get up for lunch. Not good! Jason had lunch plans with a friend, so I really didn't raid his kitchen like I should have between emails.
I turned in my draft to my editor and finished all my other work by five, so I heated up Meat Hook sausages that Jason had in the fridge. I had a dinner reservation with my friend Anjile at Rolo's, so I didn't want to spoil my appetite with anything big. Jason heated up some corn tortillas, and I used two to make sausage a taco with Valentina hot sauce and a medium-boiled egg. I hopped into the shower right after that and bolted out the door to catch the L train.
I felt really nostalgic getting off the Myrtle-Wyckoff stop because I lived in the neighborhood from 2018 to 2019. It surprised me that I didn't recognize many of the places on the walk over, though. And I was astounded by how busy Rolo's was! Granted, it was a Friday night, but everyone was crowded around the bar in hopes of getting a table. I remember reading somewhere that Rolo's is one of Jeremy Allen White's favorite spots, and I wonder if that contributed to the frenzy.
As soon as Anjile and I were seated, we went straight into plotting our menu choices. We had already decided that we were going to forgo alcohol so we could splurge on more dishes. To start, we ordered mortadella, wood-fired polenta bread, and a citrus salad. I'm a sucker for any fruit-as-the-main-character salad. For our mains, we got lasagna — I'd heard raves! — and a pork scallopini special. The pork and mushrooms were cooked in a marsala wine sauce and served with a lemon cheek to squeeze on top.
After ample gossip and people watching, we finished the meal with tiramisu and two scoops of honey-pistachio ice cream.
Saturday, February 25
I woke up really excited for a tooth-gem appointment I'd booked in Bushwick for noon. Since the L wasn't running, I needed to allot extra time to get there by bus, and I had a quick breakfast of Kellogg's Crunchy Nut cereal. Inspired by Colin Farrell's Golden Globes acceptance speech, I ordered the honey-and-peanut corn flakes online and have been obsessed with them ever since. I drank a glass of tangerine juice and went on my way to the studio.
My tooth-gem specialist, Elyssa, put my book title, MAYUMU, in white-gold Old English letters on my teeth. She said to wait an hour after the installation process to eat again, so I ended up back at my apartment and putzed around until the hour was up to cook lunch. I made a batch of jasmine rice in the rice cooker, which I tossed with fried garlic. I had leftover Spam, so I diced and fried that along with two eggs in the round pan. I basically had the same Spamsilog meal I had on Tuesday, complete with the leftover ensaladang mangga. I wanted something sweet afterward, so I grabbed a Friendly's Strawberry Cake Krunch bar from the freezer. And I was still fiending for a second lunch dessert, so I ate another Eggo Pop-Tart.
A couple hours later, I had dinner at Kabayan, a Filipino restaurant in Woodside. My friends and I had a kamayan reservation, which meant we would be eating a feast with our hands. Each server ladened the banana-leaf-lined table with mounds of rice, lumpia, mussels, lechon kawali — fried pork belly — two big bowls of bulalo — beef-shank stew — and so many other things to share. There were 11 of us, and they gave each person their own piece of fried bangus, or milkfish.
My friend Jenn passed around cashew-cookie wafer rolls wrapped in cellophane for dessert, and the inside was so powdery that each bite felt like a choking hazard (albeit a fun one, like the cinnamon challenge).
After taking an Uber home, I watched An Affair to Remember and somehow still had room in my stomach to snack on some Haribo Sour Smurfs.