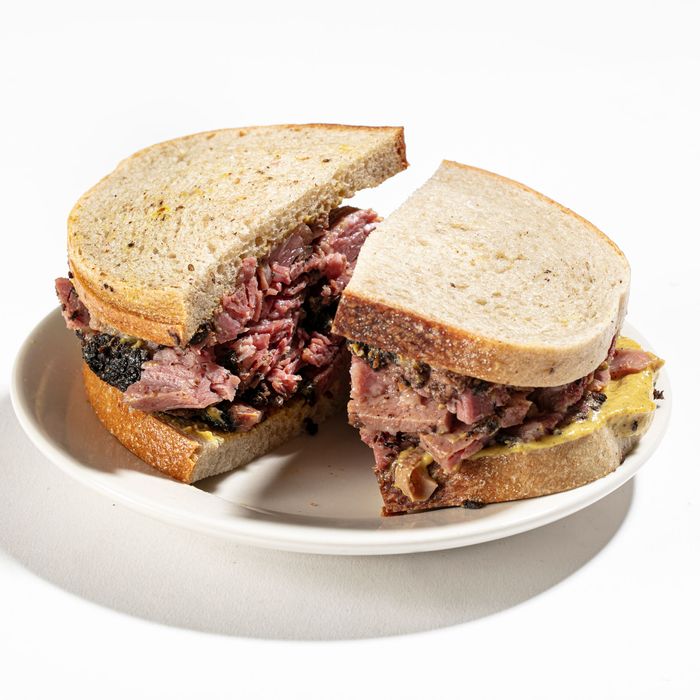 Eisen Coffee Shop's pastrami on rye.
Photo: Melissa Hom
When Eisenberg's luncheonette closed in March, Eric Finkelstein and Matt Ross, who run a sandwich mecca of their own called Court Street Grocers, swooped in and snapped up the lease. Their mission: bring the 92-year-old institution back from the brink. And as they gear up for a late fall opening, it's hard to imagine the place in better hands. As anyone who's ever perused a Court Street Grocers retail shelf or sandwich menu knows, the pair's passion for classic culinary Americana runs deep. Another plus: Finkelstein, it turns out, comes from a long line of fressers who treated Eisenberg's as a sort of home away from home. "I'm probably the fourth generation of my family to be a customer there," he says. His parents ate there. His grandparents ate there. A great-uncle actually worked there, presumably when he wasn't eating there. Like Eisenberg's founder, Monus Eisenberg, Finkelstein's great-grandfather was a furrier in the neighborhood, so it's likely that he ate there, too. And another great-grandfather on the other side of the family tree "used to go there to get soup." In sum, the impression you get is that if not for Eisenberg's Sandwich Shop, the Finkelstein clan might have starved to death.
One thing to note: This newest iteration of the landmark luncheonette will be Eisenberg's in spirit, not in name. The prior owner, despite running the restaurant for barely three years, now owns the trademark. While, in our humble opinion, "Finkelstein's" has a certain ring to it, Ross and Finkelstein have settled on Eisen Coffee Shop, a nod to the Flatiron Building across the street (eisen means iron in German). They aim to preserve as much of the ambience as possible, including the backbar and stools, making subtle repairs where necessary. The same respectful approach applies to the food. "It's roughly going to be the menu that's always been there," or at least could have been there, Finkelstein says, down to such relics as stewed prunes and the ever-popular individual can of sardines. You can also expect crowd pleasers and signature items like tuna melts, turkey clubs, BLTs, pastramis on rye, and matzo-ball soup. There's talk, too, about supplementing the roster with some stuff never before seen on the iconic 40-foot granite counter like Jersey-style Sloppy Joes and Court Street Grocers' superb muffulettas. And, yes, customers will still be able to quench their thirst with lime rickeys and chocolate egg creams. The partners are already deep in discussions with what might be New York's, if not the world's, last seltzer-tap-system repairman, who happens to know a guy in the syrup business. They say his stuff might even best the old Fox's U-bet.
Eisen Coffee Shop, 174 Fifth Ave., nr. 22nd St.; Dec.
*This article appears in the August 30, 2021, issue of New York Magazine. Subscribe Now!
More From Fall Preview 2021