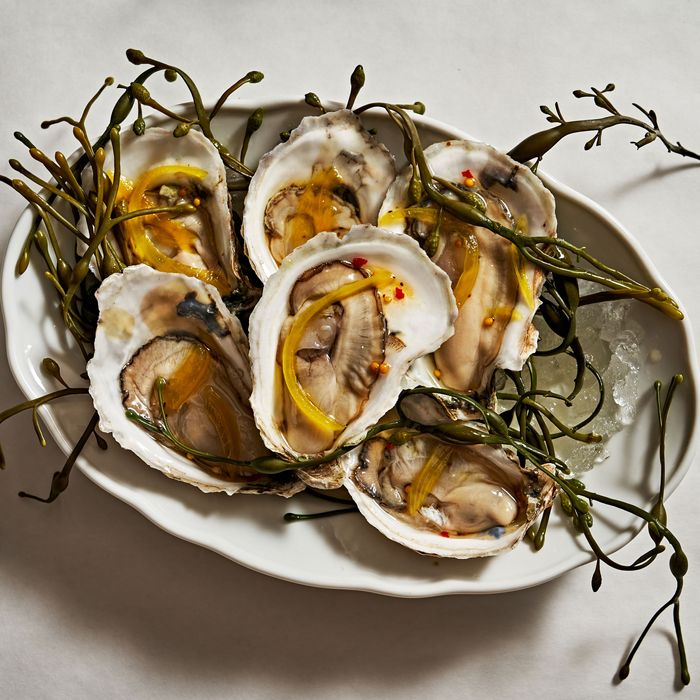 Pickled oysters in bread-and-butter brine at the Commerce Inn.
Photo: Andrew Bui
Over the years, I've seen diners register displeasure with a meal, or a certain dish, in all sorts of ways. There's the standard huffy call to the server when a steak is too bloody or a delicate piece of fish is overcooked, of course. There's the subtle push away favored by professional eaters like me, which tends to be quieter and more discreet the more reputable the establishment and the chef. There are the time-honored facial expressions telegraphing various levels of distress — the archly cocked eyebrow, the rolling of the eyes, the sour-lemon look of distaste. At the polite review dinners that I convene, these outbursts tend to be rare, especially during the COVID era, and usually involve one or two dyspeptic souls (hint: Usually that's me), though every once in a long while you'll get a dish or two where the frowns and subtle eye-rolling and sour-faced looks occur all at once.
This happened more than a few times on my visits to Jody Williams and Rita Sodi's experiment in ye olde Shaker-inspired and early American "cookery," the Commerce Inn, which has been doing a brisk business selling Yankee delicacies (chowders, baked beans, ancient cocktails spiked with red wine and apple brandy) ever since opening in a storied tavern space in the West Village several months ago. To be fair, no one was quite sure whether this was our fault (the reviews have been good; everyone around us seemed to be having a fine time), or the kitchen's (we were all admirers of the chefs' other excellent West Village endeavors:I Sodi, Via Carota, and the French bistro Buvette), or the Shakers' — members of a Christian sect who, for the record, were more famous for their carpentry skills than their cooking and have now mostly vanished from the face of the Earth (it didn't help that they advocated celibacy).
During their heyday, however, the Shakers exhibited many qualities (self-sufficiency, thriftiness, farming and pickling skills, a love of beans) that might appeal to anyone opening a new restaurant during the depths of a pandemic, and the glowing little space on Commerce Street is filled with examples of their tastefully spare aesthetic. There are boxes of oyster shells stacked by the entrance, and if you happen to be wearing a great woolen winter coat (or a Pilgrim hat), you can hang it on one of the rows of carved wooden pegs that run the length of the dining room. The only decorations on the walls are white serving platters, and in contrast to the noisy tavern side of the room, the tables are set as if for a church supper, with spindle-back chairs and folded white napkins.
The wait staff at Commerce Inn aren't dressed in hand-sewn Shaker costume (they wear suitably muted dun-colored vests), but the small "Bill of Fare" pub menu is printed out in the kind of font that you'd see in a museum exhibit or on the wall of a library in Salem, Massachusetts. It advertised fresh and pickled oysters on the half-shell, which our little party had no problem devouring, and an underwhelming version of that British comfort-food favorite rarebit, the cheesy cheddar top of which wasn't quite melted when I sampled it another time. There was also a $33 serving of lobster chowder, which looked as if it might actually have been conjured from some 17th-century Puritan recipe (gooey and gray with bits of tiny lobster leg sticking from the bowl) and a small, weirdly listless $25 pair of New England cod cakes, which lacked any trace of sizzled, just-cooked crunch.
The mood at our table brightened with the arrival of a chicory salad folded with hazelnuts and plenty of raisins and some very nice pork-and-molasses "Shaker beans," which we enjoyed with helpings of warm spoon bread, just the way they used to do back on the old farmstead. My briny roast chicken wasn't horrible by big-city standards, though to the chagrin of the ham lover at our table, the "country ham" turned out to be a few meager prosciutto-like slivers of smoked ham with a ration of crusty bread on the side. If anything involving the word pork (chewy, flavorful ribs; a bountiful fatty chop) is scrawled on the daily-special chalkboard, get it, but I never saw any evidence of the "fortifying pot pies" promised on the website, and when I inquired hopefully about the rabbit stew at 7:10 p.m. one visit, I was told the kitchen had already run out.
Given the Williams-Sodi track record, I'm sure these kinks will be worked out in time, and as any country cook will tell you, the menu always improves as the weather warms up and early spring turns slowly to summer. As one remorselessly seasonal "heirloom" recipe succeeded another, however, I couldn't help pining for a proper pub burger, perhaps, or some mint sauce to go with my chewy lamb chops, or even a helping of mashed potatoes poured with gravy. Comfort, when it finally arrives at this curiously uncomfortable establishment, does so in the traditional way, at dessert time, with wedges of clothbound cheddar and Bayley Hazen Blue cheese and a series of cakes and puddings (a densely rich ginger cake, date-pear pudding sitting in a pool of caramel, rhubarb crumble with a jug of cream), which brought nothing but smiles and looks of happiness and contentment to the assembled Pilgrims at our table.
Recent restaurant reviews