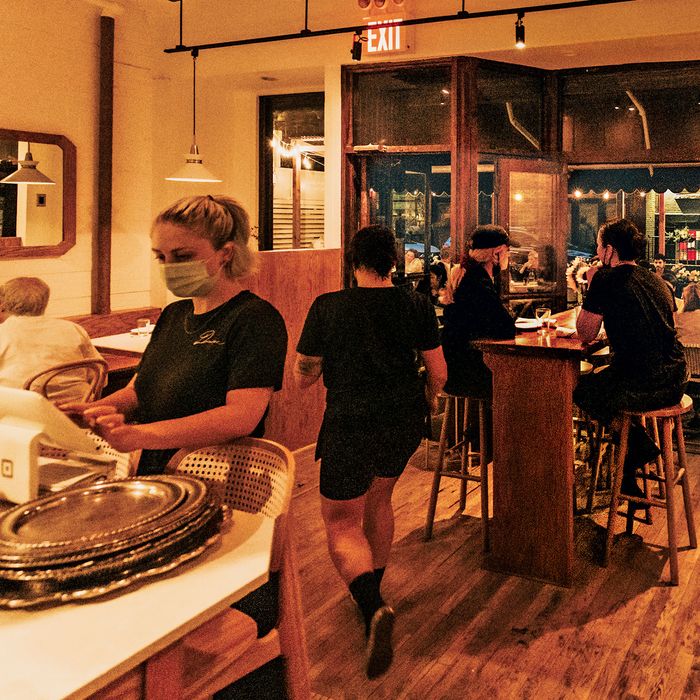 The dining room at Dame in Greenwich Village.
Photo: DeSean McClinton-Holland
When dining scholars sift through the ashes of this grim era for clues on how to survive the next Great Plague, the case of the little seafood spot called Dame, which has been open in one form or another since last year, will be one to study. As any fan can tell you, it began life in March 2020 as a pop-up in a Lower East Side coffee shop, then emerged a few months later in Greenwich Village as Dame Summer Club, a seasonal operation serving chef Ed Szymanski's deliciously high-minded (and for thousands of cooped-up Instagram addicts, delicious-looking) version of fish and chips. In time, there were more attention-getting pop-up events and then, over the winter, after signing a long-term lease on their dream restaurant, Szymanski and his partner, Patricia Howard, opened a small pantry store selling wines, T-shirts, and jars of classically English potted shrimp, among other staples.
Now that dream restaurant has finally arrived, I'm guessing more or less as the intrepid owners always imagined it, in one of the jumble of storefronts and outdoor dining shanties along Macdougal Street. The façade is trimmed in blue, and the dining room is filled with neat rows of blond-wood-edged tables and counters. The sturdy outdoor space is lined with flower boxes and furnished with the kind of metal tables and blue-and-white-patterned plastic wicker chairs that you might find near the rocky beach of an English seaside town. The fish and chips remains on the menu, but it's surrounded now by a revolving cast of dishes like grilled oysters spooned with fresh-whipped hollandaise, skewers of Montauk squid squeezed between grilled shishito peppers, and — if you happen to hit the right evening — piles of scrambled-egg kedgeree folded not with the usual salty kippers, the way they do in Scotland, but with nuggets of langoustine or uni.
Szymanski grew up in London and apprenticed at April Bloomfield's star-crossed gastropub the Spotted Pig, and he has clearly been influenced by the kind of deeply flavored, deceptively sophisticated style of cooking that was pioneered in the early aughts by British masters like Fergus Henderson and Bloomfield here in the USA. The aforementioned oysters were delivered to our sidewalk table on a bed of white pebbles, and if you looked closely, you could see that their creamy hollandaise-covered tops were tinged with an elegant touch of green Chartreuse. They were accompanied by a salad of ripe late-summer tomatoes in a lightly creamy anchovy dressing and a pod of crunchy smoked-whitefish croquettes, which the kitchen serves straight from the fryer with an Italian-style red-pepper sauce for dipping and a dusting of lemon zest.
In between the sipping of Pimm's Cups, classic styles of martini (there are three options), and perfectly balanced gin-and-tonics, it's tempting to make a meal of these elegant bar dishes, and on my visits to Dame we almost did. We enjoyed warm slabs of toast stacked with generous piles of tuna tartare flavored with bottarga and spindles of kebab stuck with squares of monkfish that Szymanski and his cooks dress in a rich curry sauce in the London style and set on a cool bed of yogurt. Depending on the day, you might encounter helpings of sweet raw scallops paired with equally sweet Sungold tomatoes and plates of cucumbers tossed with smoked mussels and dill. Blowfish never tastes quite as thrilling as it sounds, but the version we had one rainy evening was enlivened with melting piment d'Espelette butter that we mopped up with chunks of sourdough bread.
When the fabled fish and chips finally arrives at this non-pop-up version of Dame, it's almost as good as advertised: a curl of just-sizzled hake set atop a thatch of weighty, double-fried chips with tartar sauce and a cut of lemon on the side. As my Underground Gourmet colleagues have reported, the usual flour-and-beer batter has been lightened with a combination of rice flour and a hint of vodka, which gives the crust a feathery quality. It was the square-cut chips, however, that our table couldn't seem to get enough of, and we enjoyed them with other classics like grilled mackerel (which tasted even better the next morning with my scrambled eggs), skate wing with chanterelles and potted shrimp, and a magisterial version of that great Galician fish, the turbot, served for two on an ornate old blue-and-white china platter smothered in garlic butter, roasted cockles, and a small cloud of parsley.
As at all serious seafood bistros along the English (or French, or Spanish) coast, the menu changes with the daily catch and the seasons, but the wine list — a quirky, well-chosen mix of seafood-friendly Euro-centric bottles ("What James Bond Is Drinking") and more modestly priced, less traditional natural options ("What Austin Powers Is Drinking") — is one that the wine loons at my table looked forward to exploring over time. I'll be returning for the desserts, however, which seemed to get livelier with each visit. Surprisingly, that old U.K. cream-and-berry staple Eton Mess was the least lively of these, so if you're in the mood for a proper taste of pudding, call for the custard tart (ours was dappled with tiny Champagne grapes and infused with the taste of elderflower) or a wedge of fruit torte that this excellent little kitchen produces hot from the oven with a scoop of crème fraîche on top.
Recent restaurant reviews