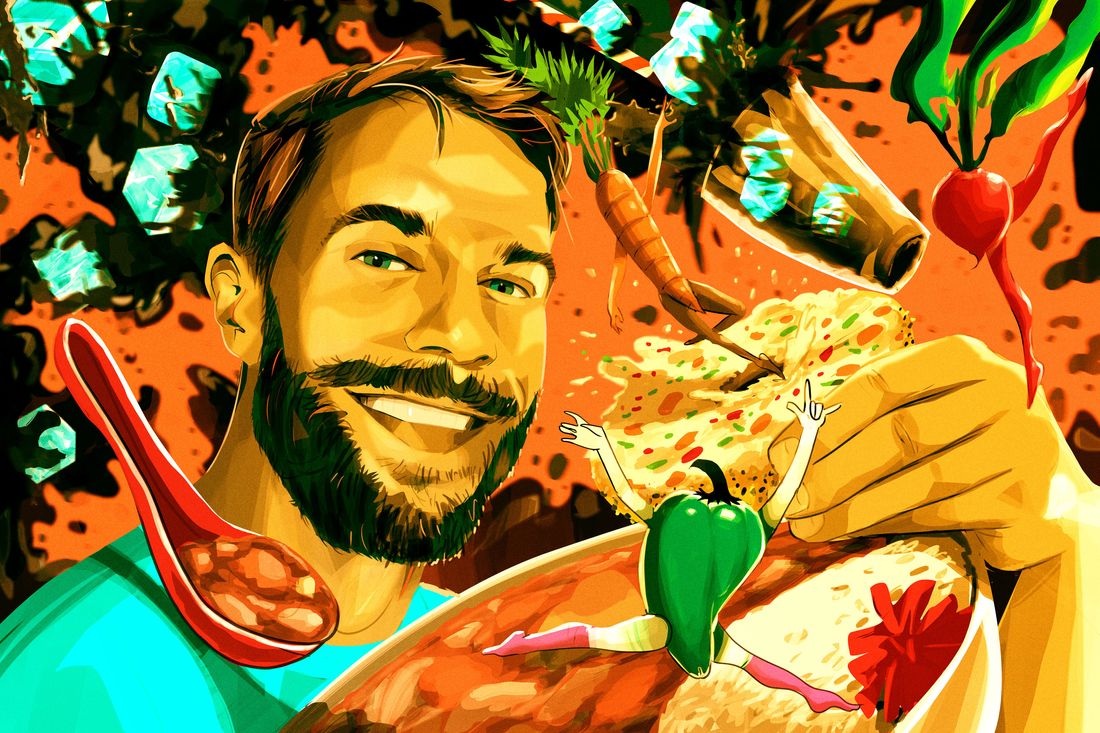 James Whiteside with some of his carbs.
Illustration: Ryan Inzana
"I always lament how tedious eating to survive can be," says James Whiteside. "A lot of the time, the way I eat is so I don't die. So I really celebrate the times when I get to enjoy food." 
As a principal dancer with the American Ballet Theatre, ​​he's a self-confessed carbo-loader; outside ballet, Whiteside records music as JbDubs and performs under the stage name Ühu Betch as part of the drag ensemble the Dairy Queens. On August 17, he'll publish his debut memoir, Center Center: A Funny, Sexy, Sad Almost-Memoir of a Boy in Ballet, which the Seattle Times describes as "a delight." He also went in on noodles: spicy sesame ramen from Ramen Danbo, spaghetti with Italian sausage and vodka sauce, and rigatoni from Lavagna. 
Monday, August 2
Mondays are garbage. I rarely have the will to live on a Monday, but somehow I scrape my desiccated corpse out of my Casper sarcophagus to brew some $20-per-bag bodega coffee in my $13 Mr. Coffee drip-maker. I sit down at my behemoth desk and suck down the gritty sludge with an audible ahh. I loathe eating first thing in the morning, but my schedule usually forces me to eat 'n' run, so I make a homemade egg-and-cheese sandy on the flaky, buttery brioche from the Bad Wife, my local Park Slope grocer. The key is to put mayonnaise on one side and hot sauce on the other side. Even though I'm not hungry, it still tastes damn good. Nobody does eggs like a bachelor.
I left my hovel and hoofed it over to the Film Center building, where I was doing a pickup recording for my audiobook. How strange it was to read aloud for hours at a time. After a while, nothing makes sense and I think I sound like I've got balls in my mouth.
After the recording, I went home and ordered spicy sesame ramen from Ramen Danbo in Brooklyn. Sesame is one of my favorite flavors, sez me. I usually order kaedama, extra noodles. At this point, instead of veins, I probably have noodles. Around 2 or 3 p.m., I hit a wall and either need to be asleep or getting some caffeine into my noodle veins. I made extra coffee that morning, so I poured myself some stagnant joe over ice, and it did the trick. Clang clang clang went the trolley!
I went to see Marvel's Black Widow with my boyfriend, Augie, at the Battery Park Regal and stopped at Shake Shack before. I love their fried-chicken sandwich and demand "so many pickles that it's mostly pickles." For a vegetable side, I order the cheese fries. They're my favorite salad.
Tuesday, August 3
Tuesday trauma, mawma! I stopped at Mud on 9th Street in the East Village for brekkie with Augie. We were sat in the back patio. It was just us and two NYU kids. We were nursing our coffees and waiting for our food when one of the youths got sick, a mix of last night's alcohol and a McDonald's nightcap. It splashed my leg and I clutched my pearls. We asked if they needed help (more for show, really) and then moved out to the front. We sat at a table in the street, which is where restaurants live now, and received our rations. The egg plate was delicious, though my appetite had mostly waned post-vom.
After taking ballet class at American Ballet Theatre (my workplace), I had an unceremonious yet delicious luncheon at Chipotle, where I ordered a chicken burrito bowl with all the fixins. I feel like I'm not supposed to like Chipotle, but I do. Nobody's perfect. My afternoon slump was upon me, so I minced over to Joe Coffee, which is peculiarly located inside a Union Square Chase bank. It feels like a place where people go to charge their phones more than to order coffee. Nevertheless, the coffee was rather good, and I could get cash out after. Win-win.
After a tedious day of erranding, I went home and cooked one of my favorite bachelor chows: spaghetti with Italian sausage, Parmesan, and Rao's vodka sauce, topped with fresh arugula. I adore Rao's vodka sauce. Something I discovered recently, which is probably sacrilege and would make them furious, is using it to make a cheap, homemade version of Bar Pitti's Rigatoni Pitti.
I plopped down and started a new series on Netflix called Elite, which was fabulously homosexual. It's in Spanish, so I felt like I was learning something while I watched 20-somethings have sex and murder each other.
Wednesday, August 4
Every hump day should start with sex or coffee. I had coffee. Along with my pre-ballet-class egg-and-cheese sandy, I made the gayest bowl of granola you've ever seen. It was gorgeous. Fage yogurt (which still sounds homophobic to me), pecan-brown-sugar granola with gay little dried cranberries, fresh raspberries, and honey drizzled over the whole damn thing.
I try to take ballet class every day, and when I finish, I'm famished! The level of fitness required to do ballet still astounds me. Post-class, I walked over to Sixth Avenue to the Hummus & Pita Co., which has a delicious chicken shawarma. Once again, I demanded pickles galore along with Mediterranean rice and beans, cabbage, and Feta. It feels like fast food, but it doesn't send you running to the toilet.
Wednesday nights are for leftovers, so I housed my spaghetti with Italian sausage. It was as delicious as the first time. I always add olive oil and more Parmesan to my leftover s'ghetti. If you're feeling fancy AF, try Russo's Blend from Russo's Mozzarella and Pasta. I go to the one in Park Slope by my apartment.
I'm a skinny little pony, so I make protein shakes before bed sometimes. I don't like the idea of losing muscles while I'm sleeping. I need those! I blended the shake in my Ninja blender. It sounded like a scimitar in the garbage disposal but worked like a dream. I chugged my chunky blend and hit the sack.
Thursday, August 5
Sweet baby Jesus was I running late. Thursdays really send me into a manic tizzy. I whipped out of bed and did the requisite hygiene tasks, then soccer-mom-on-a-power-walked down to the corner Starbucks for a sausage-egg-and-cheese and a tall Pike Place.
After ballet class and rehearsal, I took the F back to Brooklyn and suffered yet another bout of s'ghetti leftovetti. Thankfully, I polished it off and washed it down with an iced coffee, which always turns around a manic day.
I met my boyfriend, Augie, at Chela modern Mexican in Brooklyn for skinny margaritas (the regular ones are too sweet for my taste) and enchiladas suizas. Chela always feels like a bit of a party, and the food is so damn good. I adore the host there. She's a gruff lesbian with a roguish demeanor that makes me assume she does extremely well with the ladies. I adore her and am thrilled she's getting laid.
After dinner, Augie and I made our way over to Good Judy. When I moved to Park Slope, I Yelped "cocktail bars" in the neighborhood, and Good Judy came up as the highest-rated result. The first time we went there, I was astounded to find loads of queer people and queer flags adorning its walls. Augie said to me, incredulously, "You didn't realize it was a queer bar with a name like Good Judy?!"
Friday, August 6
A Good Judy hangover can be cured by one thing, and that's a bakery-restaurant in Park Slope called Winner. I ordered an iced coffee and a ham-egg-and-cheese on an English muffin. Augie and I sat on a bench, munched our vittles, and did the Times crossword. Fridays are tough, though!
After ballet class, before rehearsal, I sprinted over to Juice Generation and ordered a Protein Knockout. I'm always amazed at the range of people in a juice joint. And then I'm amazed that I paid $14 for a beverage without alcohol.
After rehearsals, my stomach was grumbling and I decided the void could only be filled with an Italian sandwich from Potbelly. Again, extra pickles. Even when I was a little kid, I used to ask my mom to put pickles on every sandwich. Potbelly is a tough sell for me because, though the sandwiches are indeed delicious, one leaves the place smelling like a six-foot-tall meat-laden hero. Well … put that way, a six-foot-tall meat-laden hero can rescue this princess any day.
I met my friends at Lavagna on 5th Street in the East Village for a sumptuous feast. I ordered a Maker's Manhattan on the rocks with an orange peel. I find those syrupy cherries offensive. I can't stand the maraschino cherries, and I do not like the Luxardo cherries that the hipsters go apeshit for. I don't love cherries unless they're super-fresh and tart and delicious.
For dinner, I ordered the burrata and the rigatoni in a gorgeous pink sauce, and for dessert, tiramisu and espresso. This restaurant is full of characters — the staff, that is. They're as New Yorky as they come, with quirks and isms you couldn't make up. Meals at Lavagna are always delicious. They're the kind of meals that make you forget you're in America, where Walmarts exist. They make you want to drink excessively and smoke hand-rolled cigarettes. In other words … it's perfect.