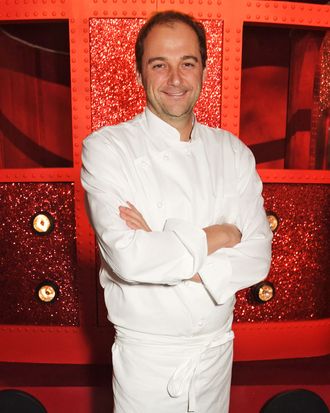 Photo: David M. Benett/Getty Images
While plant-based dining may be the future, it will not, apparently, be the future of guests dining at Claridge's hotel in London, which has just parted ways with Eleven Madison Park chef Daniel Humm.
Humm wanted the restaurant to be vegan. Claridge's, the Guardian reports, did not. "We completely respect and understand the culinary direction of a fully plant-based menu that Daniel has decided to embrace and champion and now wants to introduce to London," the hotel posted to Twitter. "However, this is not the path we wish to follow here at Claridge's at the moment, and therefore, regretfully, we have mutually decided to go our separate ways."
The chef had been at the helm of the five-star hotel's restaurant, Davies & Brook, since it opened in 2019, back when Humm was just a simple superstar known for his exquisitely labor-intensive preparations and his lavender-honey–glazed roast duck.
But during the pandemic, he'd had — as has now been extensively documented — something of a vegan awakening. "Our practices of animal production, what we're doing to the oceans, the amount we consume: It is not sustainable," he told WSJ Magazine in May. "If Eleven Madison Park is truly at the forefront of dining and culinary innovation, to me it's crystal clear that this is the only place to go next." The restaurant went vegan, and it has remained so (at least mostly).
Claridge's, though, isn't having it. "If they turn the restaurant vegan," an unnamed insider told the Daily Mail, "they will upset thousands of regular guests." Humm was not going to budge, making his position clear on Instagram: "The future for me is plant-based," he wrote on Friday. "Standing behind this mission, and what we believe in, is most important and is unfortunately not something we can compromise on." Always his flagship, EMP will soon be his only restaurant: Made Nice, his fast-casual concept, closed after a four-year run last fall.
Humm and his team will stay at Davies & Brook through the end of this year. Claridge's, polite as ever, promises an update on which path it does wish to follow "in due course."