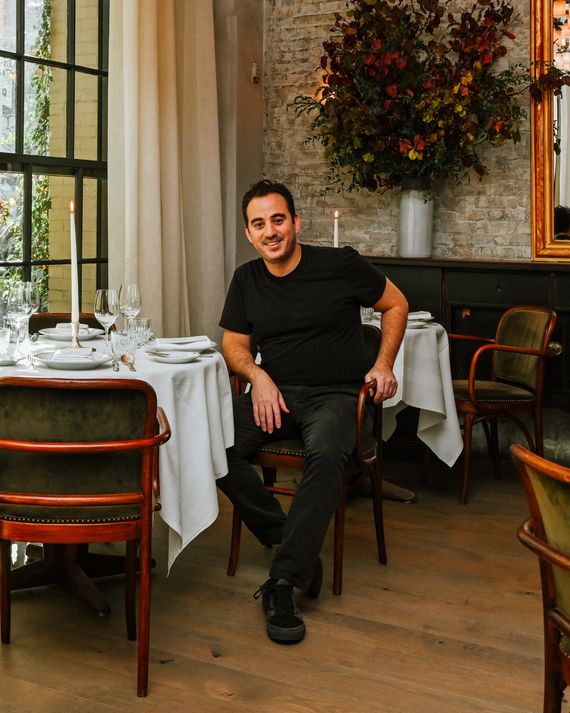 Daniel Rose, inside the dining room of Le Coucou, which reopened last week after its long COVID hiatus.
Photo: DeSean McClinton-Holland
Since the great COVID-19 plague wave crashed down on the city's restaurants, Le Coucou has remained closed — with no pivots to takeout or outdoor dining in sight — until last week, when chef Daniel Rose and Stephen Starr reawakened the dormant enterprise with a full dining room and a literal chorus. Our restaurant critic Adam Platt (who recently opined that the old-guard style of French fine dining is, at best, in need of a retune, or is perhaps, at worst, on life support) took the opportunity to ask Rose whether his particular reverence for la grande cuisine still has a home here in New York.
Before we get to the reopening of Le Coucou and your hopes and fears for the future, tell us a little bit about how you and your family spent the pandemic. I'm assuming because you were in Paris, and because both you and your wife are world-class chefs, that you and your family weren't subsisting, the way some of us were here in New York, on bean recipes.
We were in our apartment in Paris, we have a good kitchen, so yes, it was quite nice. All of the restaurants in the city were shut down including ours, and suddenly all of our suppliers had all of this product on hand and they sent us all sorts of good stuff. Pigeons, game birds, veal shanks, poulet de Bresse. It was winter, so we were braising things, and as you know, the world slowed down during COVID, so it was a time to be with your family and cook.
Let's move on before I get too depressed. What have been the biggest challenges in reopening this new version of Le Coucou?
When we first opened Le Coucou, I didn't anticipate its success. I thought it would be popular, at best, but I didn't think we'd be treated so wonderfully by the customers. And I wanted to make sure that if we were going to reopen, it wasn't going to be a bastardized version of itself. We decided to reopen four months ago, and we've spent every bit of that time getting ready. There have been many challenges along the way, from equipment to suppliers, to calibrating a new menu for the world we live in now, and staffing, of course. When the restaurant closed down last March, there were 100 people working here. We've brought back close to 60 people, many of them on the old staff, so I think we've been lucky with that.
I see the menu is filled with grand old French favorites like multiple renditions of hot and cold foie gras, sweetbreads in cream, and a $100 plate of halibut with beurre blanc and caviar. A four-course prix fixe is also a fairly hefty $185, which is not exactly a budget price, especially for these lean times.
I'd say our new menu is about 40 percent different than the old one. During the lockdown, regulars were sending us these emails from their little apartments or houses in the woods: I'm dreaming of your sweetbreads … I'm dreaming of your quenelles … I'm dreaming of the leeks vinaigrette and the halibut with the fermented daikon. Our whole country rabbit was also a big one, so we've brought those back along with one or two other recipes from places like Spain and Portugal, to give people a sense that there's a big wide world out there, even while travel is still a bit curtailed.
Do you recycle old recipes, or are you coming up with these yourself?
We have a new sea bass that's inspired by the town of Sète, which is between Marseille and Barcelona. It's a somewhat industrial town on the Mediterranean, with a saltwater lagoon right behind it that's full of oysters and shrimp and squid and all kinds of sea creatures. The cooking there is much more Spanish. It is sort of old Riviera style. So we created a dish that is black sea bass that's very simply steamed but comes out with a pot full of spot prawns, and the sort of the yummy parts of clams, with squid and different stuffed olives.
So there's that, and then tuna "à la Portugaise," for example, is inspired by when you're at home during the pandemic, dreaming of traveling. You can't go anywhere, but maybe you're dreaming of Portugal, and what is Portugal? Portugal is tuna. Portugal is Madeira and Porto and raisins and raw onions, and a mix between, you know, sea and land. And then we also have a new veal dish, cooked in cream and a splash of Calvados, with apples, which is a very French construct, and which we hope will keep our customers warm during the cold winter.
So, old-fashioned fine dining in the French style is not in fact dead, as a certain grumpy New York critic has recently suggested.
Of course we all read your grumpy proclamations with horror, but I would say, respectfully, that fine dining is not dead, although as always, it's evolving. The magic of restaurants is certainly not dead. In Paris, this magic is based on a familiar kind of communal, small-room intimacy. In New York, there's probably a little more theater involved, but the magic of community is the same.
In other words, everything is changing, but we can carry on.
It's a question of style. There will always be a place for people looking for something exceptional, but "exceptional" doesn't necessarily mean what it used to. People really are looking for something authentic. Authenticity is the new luxury.
And you think the market is still there for this kind of experience?
There is still a certain amount of risk, but you can never quash that human desire for connectedness. That's what we're all searching for when we go out, right? That's the difference between going to eat and having something that can be moving.
A happy sort of communal bonding.
That is the heartbeat of New York City.
As a grumpy critic, and also a longtime booster of the city's dining scene, I love to hear this, of course. I agree with you, although I think it may take some time to find a market for this style of dining again. I would say ultimately it will happen, but it will take a while. What do you think?
You may be right. These days, the prices of everything — labor, ingredients — have gone bonkers, and yes, people may want to dine in a different way after the shock of COVID. New York tastes can be hard to figure out sometimes, but if our customers are going to spend money dining out in the city again, as a restaurateur and a chef, you have to make the experience feel generous and joyful and worth the price. When you have something delicious that's been carefully prepared and served by an army of people, and the effort of this little army is reflected in every bite of that dish, we think that's something special. We think it's worth the effort, and we think there will always be a market for this kind of cooking here in New York.
This interview has been edited for length and clarity.