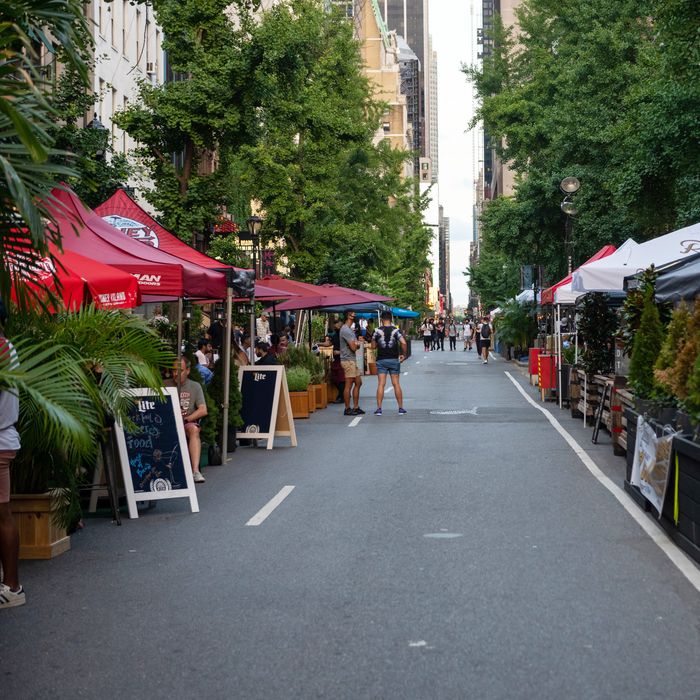 The city's Open Restaurants program will now continue through October.
Photo: Alexi Rosenfeld/Getty Images
With indoor dining postponed indefinitely, New York City mayor de Blasio has announced that the city's Open Restaurants program will be extended through October. The plan — which is an expansion of the usual sidewalk cafe regulations, and allows restaurants to use sidewalks and curbs — was originally supposed to run through Labor Day. (Regular outdoor dining was already going to continue through October 31.) Additionally, de Blasio announced the city is adding 40 blocks of space to Open Restaurants, including in Sunset Park, at Blind Tiger in the West Village, and on a stretch of Woodside Avenue that includes the original Elmhurst location of Ayada.
When de Blasio first announced the return of outdoor dining in June, he called it "the way forward." Some owners and workers who spoke to Grub Street say it's been a struggle, as they've had to deal with the city's oppressive summer weather, continued lack of business, and concerns over safety. Yesterday, the United States recorded a record 70,000 coronavirus cases in one day. States around the country have rolled back their reopening plans as cases surged, with spikes linked to bars. There are other safety concerns. On July 5, a man drove his car into a restaurant's outdoor dining area in Jackson Heights, injuring five people.
Some owners, like Derek Wu of Wu's Wonton King, say they aren't willing to open for any dine-in service because of fears over employee and customer safety. Nikol Burgos Sevilla, who works at Prospect Heights bar Sweet Polly, says she would have had "a much, much harder time" returning to work for a different boss. That issue — of whether or not owners are being transparent and doing enough — has been playing out around the country. A Texas bartender who got coronavirus says her boss warned her not to talk, as have others. In some cases, customers have responded with hostility to safety guidelines, with the Washington Post reporting that two employees of Washington, D.C.–area restaurants were assaulted for enforcing mask rules.