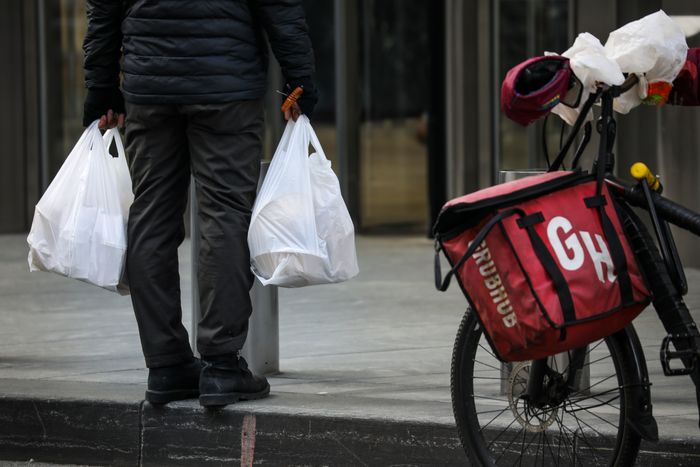 Photo: Drew Angerer/Getty Images
Have you ever unpacked your regular meal from your favorite local takeout spot and found four sets of plastic cutlery for your one order of General Tso's chicken? Like other New Yorkers, you probably thought … nothing, actually. It's one of those things that everyone just sort of takes for granted, maybe using their plastic forks, maybe tossing them, or perhaps stuffing them into a drawer to save for later.
Starting today, you will have to think about it. New York City will require businesses to give customers utensils, condiment packets, napkins, and additional containers only if those items are requested. Restaurants that don't follow the rule will be fined ($50 for the first offense, $150 for the second, and $250 for any more infractions), starting June 30, 2024. The policy stems from the "Skip the Stuff" bill, introduced in February, which aims to reduce plastic waste in the city.
Less plastic waste is undoubtedly a good thing. But what about a city where New Yorkers are forced to buy proper forks and spoons for their apartments? For years, New Yorkers have been able to rely on the generosity of their local takeout restaurants to stock their cupboards with cutlery. Of course, these flimsy products don't last forever, which is why restaurateurs are so generous with their cutlery in the first place.