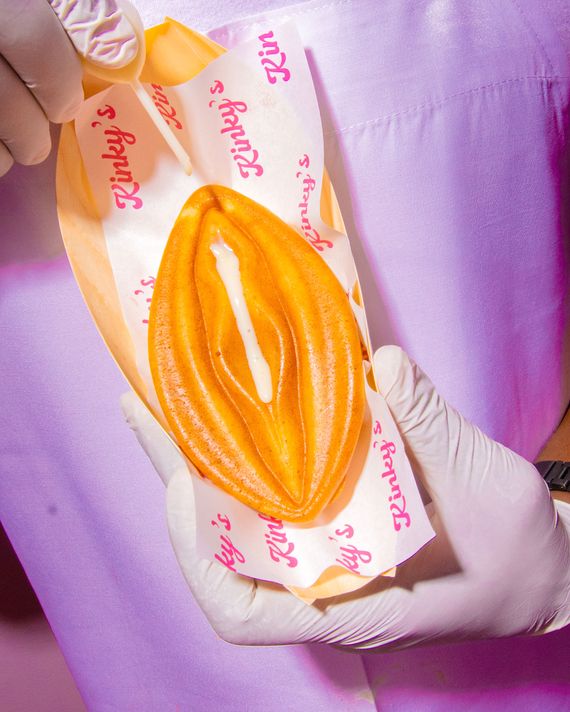 This is a waffle.
Photo: Evan Angelastro
On a recent Thursday night in Brooklyn, a dark party thrummed with humidity, bass, and women who could pull off bangs. The tattoo artist Anna Williams buzzed images of long-lashed eyeballs into guests' triceps, a giant projection of a Jell-O mold wobbled up front, and friends took turns at the bar waiting for refills of orange wine.
But the real action was in the center of the room, where a candlelit table stood displaying several cakes. One protruded three tiers high, baby blue and decorated with images of assorted butt cheeks shellacked to its buttercream. Each layer was embellished with pomegranate seeds and gold-dusted chocolate shells that spilled a distinctively milky gel, half a dozen miniature money shots forever frozen in time.
"It looks like an altar," remarked a nearby voyeur as we gazed upon the tiered desserts. "Like we each have to add something to the table, before we sacrifice the cakes."
"Isn't sacrifice what happens to every cake, technically speaking?" responded another.
The occasion was the launch of Cake Zine, whose first volume is dedicated to sexy confections. The timing couldn't be better, as the country's collective yearning for X-rated pastries is nearing its all-time climax. Max Jacobson-Freed, the third-generation partner of Freed's Bakery in Las Vegas, reports his most popular adult cake offering is currently an erect phallus fashioned from a chocolate-dipped banana, protruding from a seven-inch round cake ($75, serves ten). He tells me that in recent months, sales of raunchy cakes have steadily risen: His bakery now produces 50 to 65 per week, as compared to the 25 to 45 they made before the pandemic.
Tom Rosa, owner of Cake and Art in Los Angeles, says custom requests for dirty cakes are up at least 25 percent since before March 2020. At Blue Ribbon Bakery in New Jersey, manager Yesenia Argueta tells me they've been turning out roughly twice as many naughty cakes as they used to. And at Sweet Cheeks Baking Co. in San Diego, owner Elaine Ardizzone says adult-cake requests are becoming "more creative than ever," with a recent customer asking for a half-banana, half-penis, "rising off of its plate" and flavored like strawberry.
A boom of delayed bachelorette and bachelor parties is partly responsible for this, ahem, sudden surge of interest, and Rosa says that once photos of his cakes began to circulate on TikTok, he saw a jump in requests to ship cakes around the world. But that isn't the whole story, say watchers on both sides of the offset spatula, pointing out that these NSFW cakes go far beyond classic torso-shaped party offerings and include BDSM birthday cakes, cupcakes frosted to look like breasts with nipple piercings, and chocolate-chip cookies with the words "Fuck me" emblazoned across them in edible neon for no occasion at all.
"People are horny. They're thinking about sex constantly, and at the same time, there's a radical shift away from starving yourself and from diets," says Serena Kerrigan, a "Queen of Confidence" who served an enormous hot-pink penis at her 28th birthday party in March. "If you want a dick cake, you're going to order a dick cake."
Rosa tells me he'd observed a similar desire for bacchanalia among his customers. "So many people were sitting at home during COVID saying, 'When we throw our next party, we want it like the Romans used to throw.'" Over the past several months, tastes have changed: "They used to always want a picture of their boyfriend's dog on a cake. Now they're like, 'I'm gonna get a picture of a butt.'"
Rosa says that another, more positive development is that many requests have moved away from the porny cakes of yore, which were dominated by the male gaze. "When Hugh Hefner was alive, every year, he'd get a boob cake and a dozen roses and he'd give it to the playmate of the month. He'd be like, 'Make sure there's a mole on the right side of the boob,'" he says, with a sigh.
When August DeWindt and her husband, John DeWindt, opened Kinky's Dessert Bar on the Lower East Side in February, they wanted to make sure it was a sex positive space for customers of any gender orientation, race, or sexuality. Now, crossing the bubblegum-pink threshold that separates Kinky's from Orchard Street, customers pass through twin signs in oversize bubble font declaring "Bite me!" and "Lick me!" Inside, the walls are covered in vintage and contemporary art depicting nudity and sex in all permutations, and upstairs, there's a seating area lit only by neon signs spelling out seductive messages or outlining copulating figures. Visitors can enjoy their nipple-ring cupcake or "Slutty Cinnamon" waffle in either of the "Dicky" or "Va-JayJay" shapes sitting atop furniture that DeWindt's mother-in-law découpaged with dirty pictures.
"I saw a neon sign of a thick woman naked, and I was in love," says Tatyana Chouloute, who took her girlfriend to Kinky's on a date earlier in May. "You look at the cupcakes and see different races. I was like, 'This is the place.'"
Claudia, a 28-year-old from the Bronx has visited Kinky's twice since it opened: "My generation and the younger generations aren't as held back," she says. "There's less stigma. And the pandemic opened the door to conversing about what we are afraid of."
Kinky's launched with a selection of cupcakes, cookies, and waffles. They only began taking orders for custom erotic cakes the other week, yet the DeWindts say they have already received roughly 100 requests.
A customer of Freed's Bakery who recently purchased a $350 penis cake so large it needed to be sheathed in multiple boxes, and who asked only to be identified as Allie, speculates that perhaps we have arrived at Peak Erotic Cake because society is more open to embracing and celebrating sexuality. "People are spending more time with people they choose to be with," Allie theorizes, "and maybe they feel more comfortable exploring who they are and who they want to be."
At the same time, even though someone can meander into a local bakery and spend $5 for an anatomically accurate frosted vulva atop a red velvet cupcake, laws escalating antiquated threats on American bodies and sexuality seem to be hurled out of the government on a weekly basis. This isn't lost on the people who bake the cakes.
"With what's been going on in politics, people have had enough with how bodies are policed," DeWindt says.
When I ask Claudia whether her visits to Kinky's have been, in part, an act of resistance, she tells me, "It's more just showing the world that this is something normal. It's a cupcake that looks like a part of your body. It's liberating. Places like this take the stigma away from talking about it."