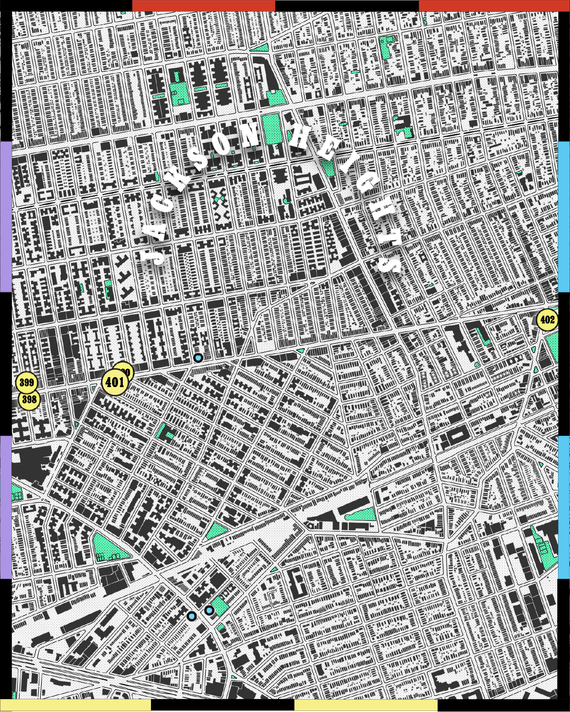 A running list of everywhere I've been, week 42: 393. Cervo's 394. Bareburger 395. Camillo 396. Luigi's 397. Jing Fong 398. La Esquina Del Camarón Mexicano 399. 969 NYC Coffee 400. Leo's 401. El Culichi 402. Tulcingo Bakery 403. Piccoli Trattoria 404. Court Street Grocers 405. Pasture Burger
On Saturday, I met up with a couple friends in Jackson Heights. One of them, who lives in the neighborhood, wanted to try a new Mexican seafood truck, and we were particularly ready for cold, spicy aguachiles on an unnervingly warm November afternoon. The only problem was … we couldn't find the truck.
Roosevelt Avenue is the agora of Jackson Heights, hitting peak density every weekend. With the concentration of tightly packed people, businesses, food trucks, and sidewalk vendors and the rumbling train above you, it can make it very hard to find the precise thing you're looking for, even if you've seen it before. So when the seafood truck was not where it should have been, parked in a spot in front of a mini-mall, we checked the surrounding blocks before giving up.
Our leader had a backup plan, but between the unseasonably warm day and the fact that I hadn't eaten yet, the back-and-forth was particularly excruciating. In a moment of weakness, I contemplated buying a snack, ultimately deciding against it. A buñuelo would have fully ruined my appetite for whatever lay ahead. I managed to stay strong until we arrived at the window of La Esquina del Camarón Mexicano, a taqueria situated in the back of a corner store.
When in doubt, find tacos. Photo: Tammie Teclemariam
By the time our fried-fish tacos and shrimp cocktail were ready, we had secured one of the two outdoor benches along the wall and I was sipping a tall boy of Modelo. Things were looking up. And it was in high spirits that we made a pit stop at 969 NYC Coffee, a Japanese café just off the main drag that has an oddly serene veranda where you can have onigiri and ramen.
While debating whether we should take a car to Evelia's Tamales, to avoid a mile-long walk, my friend pointed at a pink truck with "El Culichi" written in blue making its way down this particular block of 80th street. Here, finally, was the seafood truck we had been looking for the whole time.
After giving the truck a moment to set up, we walked over. The proprietor said it would still be a few more minutes. I proposed a drink. Across the street, on the same block, was Leo's, a Colombian sports bar with a perfectly serviceable margarita.
We got back to the truck and began to read the menu, trying to parse the slight variations in the cold seafood cocktails: We got two tostadas and an aguachile especial, which ended up being three rather generous containers of seafood salad. I had the tostada especial, which lists shrimp, octopus, tomato, red onions, cucumber, avocado, and special sauce, while the friend to my right had the tostada agasajo, which lists shrimp, octopus, red onions, cucumber, cilantro, clamato, and special sauce. Can you spot the difference? Both were packed with firm shrimp and octopus; my tostada especial came in a slightly smaller container and had a spicy, smoky seasoning.
Loaded with seafood. Photo: Tammie Teclemariam
The aguachile especial, on the other hand, was all shrimp and, since it had been freshly dressed, still basically raw. When we ordered, the proprietor confirmed that we could handle something very spicy, and I am pleased to report that it absolutely delivered mouth-warming heat from the distinctly fiery chile chiltepin used to season it.
We asked if the hours were different from what was posted on Instagram, but they told us that there had been some emergency earlier and that they should usually be there — 84th Street and Roosevelt Avenue — from 2 p.m. to 11 p.m. or possibly even later.