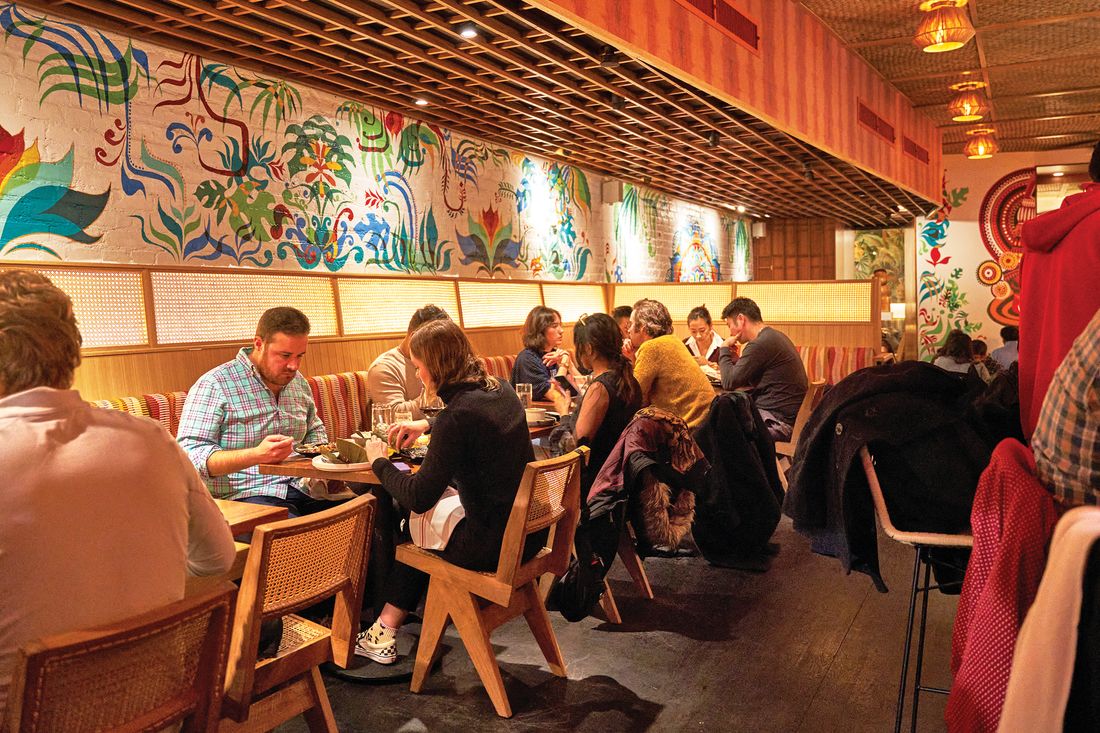 The dining room at Semma.
Photo: Adam Friedlander
So how do you enjoy a lavish feast from the south of India while dining indoors (because at Semma there's a "hospital-quality air-filter system" but currently no outdoor dining) during the great Omicron spike with your KN95 mask firmly affixed to your face?
"You don't, Dad," said one daughter as we waited, a bit apprehensively, for dinner to arrive at the latest Chintan Pandya–Roni Mazumdar operation, which has been open for a couple of months now on Greenwich Avenue in the West Village.
"I think we scarf everything down really quickly, like we're in the Army, Dad, and then we get out of here," said the other daughter as alluring, though possibly messy, platters of mung-bean pancakes, great three-cornered dosas, and delicate helpings of stewed goat intestines (kudal varuval) began to clatter down on our table.
In spite of the city's repeated, though slightly garbled, health guidelines, no other guests seemed to be wearing masks in the narrow, boisterous, increasingly crowded room, which, unlike Pandya and Mazumdar's other hit restaurants (Adda, Dhamaka), looks less like a casual Indian canteen than a posh hotel bar in Mumbai, say, or the tourist precincts of Goa. The sleek, dimly lit space, which once housed Pandya and Mazumdar's original New York venture, the star-crossed Rahi, has been redone in shades of woodsy, tropical brown. Rattan lampshades hang from the rafters, and the ceiling is covered with a pattern of woven bamboo designed to resemble the roof of a southern-Indian houseboat. Polished wood café tables are closely packed to enhance a noisy party atmosphere in the pre-COVID style, and the long bar in front is manned by barkeeps vigorously shaking up jauntily named fusion cocktails tinged with curry leaf and cardamom.
"I'm not taking my mask off for stewed goat intestines, Dad," announced Daughter No. 2 as Dad attempted to shovel dainty bites of this fiery Tamil dish over his briefly lowered mask, before waving one arm wildly in the air and making frantic, muffled cries for a glass of water. The same thing happened with the excellent attu kari sukka lamb appetizer (flavored with slivers of coconut, plenty of black cardamom, and an impressive dose of Tellicherry peppers), though no one had any trouble tackling milder southern-Indian specialties like the crispy-edged mung-bean crêpe, or the vegetable-covered uttapam, a pancake made from pounded lentils and rice, or the golden-colored house dosa, which the kitchen seasons with black garam and chile "gunpowder" spice and folds like a large tri-corner napkin around a mash of spiced potatoes and onions.
As with the other "unapologetically Indian" establishments in the Pandya-Mazumdar portfolio, the idea behind Semma ("fantastic" in Tamil) is to introduce New Yorkers to regions of the Indian culinary map most have never experienced before, which in this case is the homestyle cooking of southern India, particularly the coastal state of Tamil Nadu. Instead of Pandya, however, the chef in the kitchen here is Vijay Kumar, who, according to our (well-masked) server, has conjured up many of these recipes from his rural childhood. These include the aforementioned goat intestines, vegetable dishes like simple bowls of mustard greens tossed with chunks of butternut squash, and the kind of tender little snails that he used to forage for as a child, flavored here with tamarind and ginger and served with spongy wheels of rice-and-lentil-based kal dosa.
I had enjoyed these snails on a previous, merrily unmasked visit, but when I broached the possibility of ordering them again, my increasingly grouchy guests ("I'm focusing more on this mask than the food, Dad!") shook their heads in protest. The same thing happened when I mentioned the lobster tail in coconut milk and the signature, undeniably messy Kanyakumari nandu masala, a crab dish named for the town on India's southern coast, which is reimagined here as a festive preorder group feast complete with plastic Maryland-style crab-boil bibs and a giant Dungeness crab flown in from the West Coast. "Imagine smelling that crab in your mask?" one of my dining companions said, at which point both they and their cousin ("We seem to be drinking less with these masks on, which is less exciting") decided to abandon Dad's little experiment altogether.
As a health-conscious working professional, Dad will continue with his personal mask mandate, however, especially when there's no option to sit shivering outside in what's shaping up to be another difficult, gloomy winter for New York restaurants and those of us who love them. Did my KN95 make a difference in how I experienced the rest of our dinner, which included snaky green long peppers drowned in an overly heavy peanut sauce; helpings of leaden, slightly gummy southern-style goat biryani that didn't seem half as artful or satisfying as the goat's-neck version available at Dhamaka; and what we all agreed were a couple of forgettable coconut-themed desserts? I suppose the answer is yes, though my daughters would like everyone to know that they noticed no difference between the dyspeptic critic in his sauce-stained mask and the forgetful, genially grumpy gentleman they see around the apartment every day.
Recent restaurant reviews