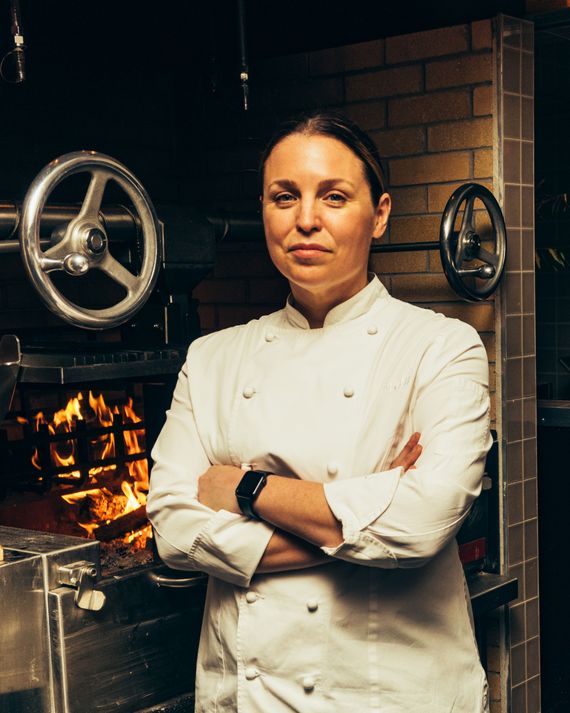 Chef Melissa Rodriguez, inside one of several kitchens she will run inside the space that used to house Del Posto.
Photo: DeSean McClinton-Holland
On a slush-soaked night in late January, the chef Melissa Rodriguez is sitting in Bar Pisellino, sipping a Negroni and thinking about what diners might want from restaurants right now. "Some people want to go out and feel taken care of," she muses. "Other people are afraid to go out, but they don't want to cook for themselves. A lot of people want an escape, and a lot of other people want something that's very familiar," she concludes. "Everything is polar opposites."
She is grappling with the question — what exactly is the mood around here, as the pandemic probably but not necessarily winds down? — with unusual intensity, because very early next month, she will open her project where she is an owner, and while the concept is entirely new, its location is extremely familiar. The new restaurant will be part of the multiphase reopening of what once was Del Posto, the grandest, most ambitious Italian restaurant in New York City's history, where Rodriguez was the executive chef until the entire thing fell apart for reasons that were outside of her control — reasons like "COVID" and "one of the partners was Mario Batali." The new project will be utterly massive, breathtakingly expensive, and impossibly daunting. To be considered successful, it will have to shed the baggage of Del Posto while — here is the inconvenient twist — simultaneously living up to the legend of what Del Posto once was.
Nobody would tell me exactly how much this will all cost, but based on their vague estimates, it's roughly in line with the budget of a mid-tier indie film. It's a lot of money to make back with any restaurant, hence the weight of the question that Rodriguez continues to ask herself: What does New York's dining public want? To start, the chef and her partners are betting that the answer involves pizza. In a couple of weeks, they will open Mel's, a neighborhood wood-fired-pizza joint that is an obvious departure from Del Posto in its tone, style, and scale. It will be comparatively affordable — apps will start at $15, pizzas will start around $20 — and while it will still be "glowy and sexy" by virtue of its meticulously calibrated lighting, it will also be the kind of place you can pop in for no other reason than you're hungry and it's Tuesday.
Rodriguez has never done a restaurant like this. "The last casual restaurant I worked in was in my early 20s in Northern California, when I had a part-time job at this tapas place," she recalls. "But I like making myself kind of uncomfortable."
After Mel's is up and running, the rest of the project will follow, eventually spanning three distinct but interconnected spaces. The centerpiece of the entire venture will be Al Coro, an ultra-luxurious Italian dining room that is the clear spiritual successor to Del Posto, but is absolutely not — you have to understand this — Del Posto part two. Underneath Al Coro, you will find Discolo, a very dark cocktail lounge that has been broken up into still more discrete spaces, designed to feel intimate and suitably exclusive. With all the pieces in motion — set to happen at an as yet undetermined time later this year — it will form an all-occasion dining ecosystem, a 27,000-square-foot Italian Disney World, dedicated to vintage Super Tuscans and hand-folded agnolotti. You get a drink at Al Coro's bar, and then you head over to Mel's to split a couple of pizzas, and then, not ready to end the evening yet, you amble downstairs to Discolo for nightcaps. Or maybe you start with cocktails downstairs — something with hints of jasmine, fig leaf, and melon — before your reservation at Al Coro. Or maybe you do dinner first, and then the Discolo cocktails, after which you find you could really go for a mushroom-and-scamorza pie. Lucky you: Mel's is just upstairs.
Above all, the three partners — Rodriguez, Del Posto's longtime general manager Jeff Katz, and James Kent, who is a chef in his own right but here will serve in an advisory capacity — want the entire experience, no matter where you are, to be a blast. Del Posto was so classically fine it could border on parody; the Al Coro megaplex will be ultrafine dining for people who like to party. "Why does the highest level of dining have to be so staid?" Katz wants to know. "Why can't it be like the most amount of fun you could possibly have?" On our tour of the space, I notice that Katz's gold Gucci sneakers seem to embody the exact vibe he is aiming to nail: extravagantly comfortable.
In general, Katz's guiding philosophy can be boiled down to one word: more. "More music," he raves. "More bar program." More of anything that's good. "You drink a little too much," Katz says, painting a picture of his vision. "You laugh a little too loud. You want to get up and dance? I don't know if you can — I'm not sure if I have the right license — but I'm not gonna stop you. That's what this restaurant is."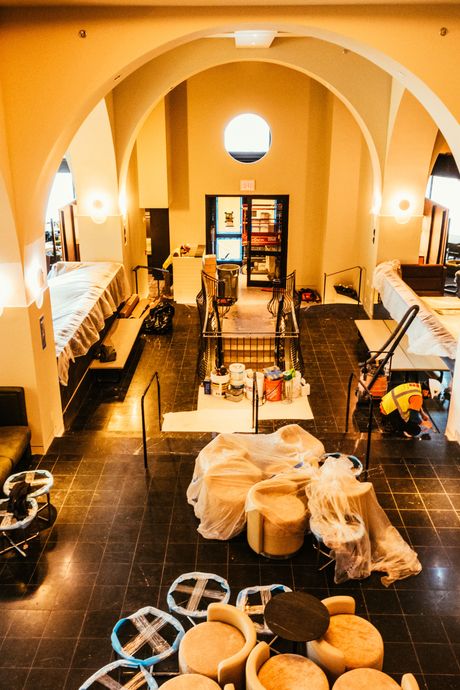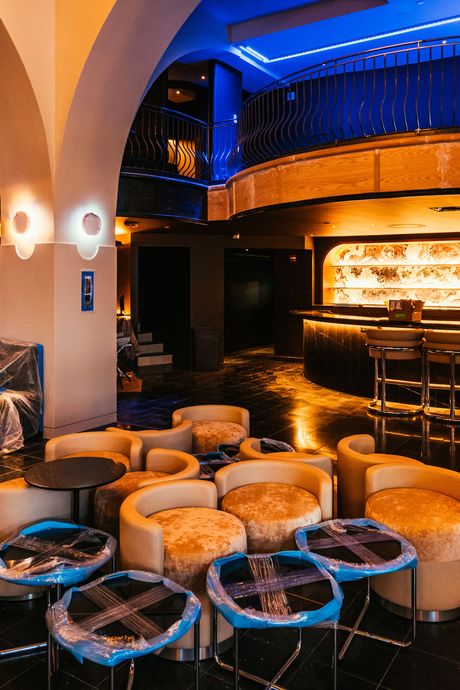 Katz and Rodriguez have had plenty of time to piece together their plans. "This wasn't a COVID grab," Katz tells me. "I'd been trying to pull this off since before Mario left. I mean, I always wanted it to happen." Arguably, the vision started to come together more than a decade earlier. Rodriguez arrived at Del Posto as a sous-chef in 2010, at which point Katz had made his way to GM. Things got more serious in 2017, when Mark Ladner, Del Posto's first executive chef, tapped Rodriguez to replace him. "When Mark left and I took over, that was immediately the conversation," she says. The restaurant had always felt like theirs, and the main frustration was that it wasn't. "We had worked there for so long, and there were so many things we wanted to do and change, but it wasn't up to us," she laments. For years, they'd been talking about it, and talking to Batali and Joe Bastianich about it, but nothing happened until, in early 2021, Bastianich agreed to sell. The group closed on the deal in April, with the backing of a silent investor they don't want to name. On Instagram, they celebrated the purchase with a video of burning sage. In May, they started demolition.
Dismantling Del Posto is no small task, especially when, simultaneously, you want to keep part of it. They tore out the grand staircase at the entrance. They moved the bar, added a bandstand on the mezzanine, and built out a central lounge. They also tried to subdivide the space, if not literally then at least emotionally. Now, the sprawling dining room, which has always felt as immense as it actually is, has been filled with all sorts of nooks and niches and cushy velvet chairs. Even as construction continues, it's clear that this will be an ideal restaurant in which to celebrate an anniversary or to be the Godfather.
The group also broke down the wall with the small space next door — which housed different restaurants over the years — and added the pizza place because pizza is the best. Not that Mel's will be just pizza. That would be far too understated for a group that's so committed to showmanship. The pies will come out of a massive wood-burning oven, the flames of which will also be used to roast whole fish and whole cauliflowers and dry-aged bone-in rib-eye steaks.
Al Coro, too, will go heavy on the crowd-pleasers. The tasting menu will be seasonal, and it will offer fewer options than the menu that Rodriguez assembled at Del Posto, but that's by design: Who can relax in a sea of endless decisions? Trust us, we've got this will instead be the implied mood. "It's like, a finer level of celebratory dining," Katz explains. "It's fancy in a modern Tuscan castle kind of way, except not aesthetically."
It would be a colossal undertaking under any circumstances, and in the shadow of Del Posto, it is somehow even bigger. The ambition on display even at this early stage is staggering, but it is a gentle kind of ambition: Let's give people more and better of what they already love. Al Coro is a restaurant for the high-rolling everyman, pleasant and nice and forward-thinking. It is not edgy — it overlooks New Jersey — but what is so wrong with that? Is there any more noble goal for a restaurant than being the most fun? Isn't it possible that a grand show of over-the-top optimism is exactly what an exhausted city wants?
Giving weary but well-heeled New Yorkers a place to relax and have fun is a very simple-sounding mission, although by now that void is very large — both in the figurative sense and literal reality. "It's a lot of seats to fill. It's my first real solo project," Rodriguez concedes. "I don't have that bravado that's like, I got this, and it's gonna be all good. So yeah, I'm nervous."