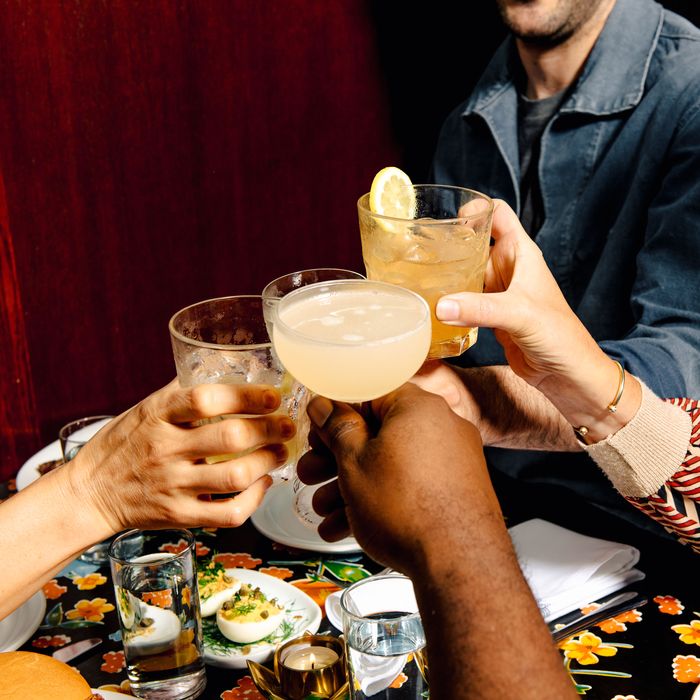 St. John Frizell's Fort Defiance returns, victorious.
Photo: Clark Hodgin
"Did you ever see the movie Zorba the Greek?" asks St. John Frizell, the bartender and owner of Red Hook's Fort Defiance. He is, in a roundabout way, explaining the concept that has made the bar and restaurant turned grocery star a neighborhood stalwart for the last 13 years. "The movie wouldn't pass the Bechdel Test, but it is, nonetheless, a pretty good film. And there's a scene where the narrator of the movie meets Zorba at this café where people go to wait for their ferry." That, he explains, is what Fort Defiance was intended to be: "There's just something about this environment that has always seemed magical to me."
And now, once again, that magic is back at Fort Defiance: Starting this weekend, the bar near the water will be — at long last — mixing Frizell's cocktails. It has been a long road to get here. You might, more thematically, call it an odyssey. Since the onset of the pandemic, Fort Defiance has pivoted (to groceries) and moved (up the street, twice the space). Late last summer, Frizell reopened Fort Defiance, maritime haven, as a restaurant–general store hybrid, a place where you could grab a takeout rotisserie chicken or nurse a stiff drink.
At least that was the plan in theory. There was a snag, and that was the liquor license. At any moment, Frizell had assumed, the license would transfer to the new space and he'd start pouring his trademark Irish coffees again. He was an industry veteran — in the interim, he'd opened Gage & Tollner — and also, more importantly, the new space had been a bar for years. Before it was Fort Defiance 2.0, it was the Copper Pot, a bar. Before that, it had been Hope & Anchor, a bar. But while there had never been a problem before, there was a problem now: When Frizell finally heard back from the State Liquor Authority, he learned that, actually, the entrance to the building was within 200 feet of a church. Ultimately they moved the door; now you enter through the side on Wolcott. This solved the church issue, but, the SLA told Frizell, there was now another problem. He'd raised money for the project using Wefunder, a tool for community investment, and the SLA wasn't set up to deal with that kind of structure, and meanwhile, he was running out of money. "It just got very, very complicated," he says. "I was just waiting for this liquor license so that I could get back into the business I actually know, which is bars and restaurants."
Last month, the moment finally arrived. A year after Frizell applied, the license was approved: "They're like, after you, nobody else until we come up with new guidelines for this sort of investment," he reports. It will once again be the way station he's always intended it to be, both a launching point for adventurers (or IKEA shoppers) and a neighborhood home base.
The new bar, tiny at 500 square feet, is tucked behind the general store. It's dark and cozy, classy but not fancy, exuberant enough for Zorba, refined enough that "you can go with your mom and she can have a nice glass of wine." She might want to order a cocktail anyway. There will be a roster of greatest hits from the old place — the King Bee, with its Darjeeling-infused vodka and honeyed Bénédictine; a Sazerac "ideally enjoyed in the shade of a courtyard in the French Quarter" and meant to be "as refreshing as a glass of iced tea"; the St. John's martini — as well as a handful of fresh-mixed additions. The Gunga Din, for example, is a pineapple-spiked gin and tonic muddled with cardamom that Frizell only recently cracked (the secret, in the end, was a pineapple gum syrup).
The bar itself is an ode to the art, designed specifically to show off the Japanese lacquerware cocktail shaker that once belonged to cocktail icon Charles H. Baker Jr., which was a fixture at the old Fort Defiance, too, if not quite so front and center. Allie Gassaway, formerly of Mission Chinese Food, has taken over the kitchen and will be serving slightly southern comfort foods starting at 5 p.m., currently Thursday through Sunday, though Frizell is aiming to expand to more days and more hours; in a few weeks, they'll be opening for lunch. The general store is set to reopen later this summer, as Frizell continues his foray into the grocery business, which is, in his own words, "not as easy as I thought."
In a way, the new young staff has only confirmed Fort Defiance's status as an institution. "My servers are all in their early 20s, and they grew up going to Fort Defiance with their parents," Frizell says. "Which is like, mind blown." They were little when the restaurant was young, and now they're working there. "We all remember our first job," he says. "It feels like we're fulfilling our mission of being an institution."