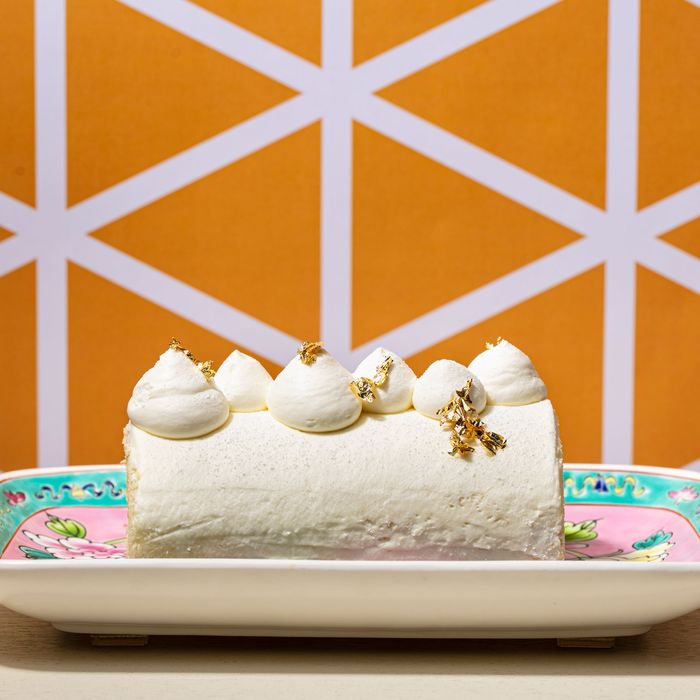 The cake.
Photo: Melissa Hom
Lady Wong, a month-old patisserie on East 9th Street, does not generally accept preorders, but the owners will, in certain cases, make exceptions — for example, if you send a screenshot of your plane ticket. "I had a person who came from California," reports Mogan Anthony, who opened the East Village shop with his wife, Seleste Tan. "They said it was cheaper buying a ticket to come here than trying to get us to ship the product over there." This weekend, he's got a guy coming in from Texas. But if you're any closer, you'll have to just show up.
The shop sells all kinds of sweets. One case is filled with a rotating selection of steamed kuih, chewy, colorful Malaysian snack cakes, and another with petits gâteaux — miniature cakes and tarts and custard cups — flavored with pandan, passion fruit, and black sesame. But the reason for the frenzy, the reason people will fly to New York for cake, is Lady Wong's durian Swiss roll.
Durian is a fruit of legend. It is football-sized, with a spiky exterior, creamy interior, and — most famously — pungent smell. The fragrance is so strong there is literature devoted to the aroma. It has been compared to both Gorgonzola and caramelized banana, but the the most vivid description I have read comes from 19th-century British explorer and durian enthusiast Alfred Russell Wallace: "A rich, butter-like custard, highly flavored with almonds, but intermingled with it comes wafts of flavor that call to mind cream cheese, onion sauce, brown sherry, and other incongruities." This is a rave review. In Malaysia, durian is sometimes called the "king of fruits."
But not all durians are created equal. In Malaysia alone, there are more than 200 registered varieties of durian. Lady Wong's durian Swiss roll, though, uses only one variety: Musang King. "It has a very special, bittersweet flavor," explains Tan. "It's like the Hermès of durian." I am a durian rube, but Tan assures me that the difference is obvious. "For durian lovers, once they eat it, they know what we are using," she adds. One might imagine the cake is stuffed with durian-flavored filling; a lesser version would be. Here, it is pure, unadulterated durian, nature's pastry cream. "You can see all the fibers," Anthony notes. "If they're mixing it to cut costs, you won't see the fiber-y stuff." When you eat it, the whole thing melds together, with no abrasive boundaries between the luxurious fruit and soft sponge. The texture is light. The durian is powerful. It's a bit like caramel but funky? I thought. The only way to solve the puzzle of the durian was to keep eating.
Lady Wong's durian Swiss roll cake costs $48, which is reasonable when you consider that really top-tier durians cost $30 a pound. Tan and Anthony buy their fruit from a specific farmer in Malaysia, who has old trees — durian from old trees is more flavorful than durian from newer trees — and by the time they receive the packages, the fruit has traveled, frozen, almost 10,000 miles. There are plenty of other durians in New York, even Musang Kings, but none, they insist, are quite like these.
Like so many other bakeries, Lady Wong began as a pandemic pop-up, with Tan and Anthony selling kuih and cakes out of the trunk of their SUV. The Westchester restaurants that Anthony ran had closed, like everywhere else, and the couple, who'd usually return to Malaysia for Chinese New Year, were homesick. If they couldn't travel, they could at least do their best to capture those same flavors at home. "We said, okay, let's make pineapple tarts to celebrate Chinese New Year," recalls Tan. "Then Mogan said, let's try to make kuih." It spiraled from there.
Despite their backgrounds — he has worked for Jean-Georges Vongerichten; she's a veteran of wd~50; they met while working at the Four Seasons in Singapore — neither had made kuih before. "It looks so simple, but it's so hard to nail," says Tan. They started Lady Wong to get rid of the excess kuih. "You can't just make one piece; you make a cake and slice it, but how much can we eat?"
The project was only meant to be temporary, but when the world reopened, they were in too deep to stop. "It just went like wildfire," Anthony marvels. "We have thousands of people who follow us now. We were at a crossroads: Do we do this? Or do we abandon the community and go back to doing what we do?"
Half the pastries are traditional kuih. "We don't want to change the flavor. We don't want to change the look," says Tan. The goal is perfect executions of the familiar, something that reminds people of what their grandmothers made. The other half of the menu is baked cakes and tarts, meant to be more familiar to Western audiences and where they can run wild.
"We didn't even have durians during our pop-up because we couldn't get them," Anthony tells me. "It took us almost a year to work out the supply chain." Even now, quantities are limited: 12 or 15 durian Swiss rolls a day, and only on the weekends. "We sell them in, like, 12 minutes," says Anthony. "When we first said we had durian, people just lined up out the door."