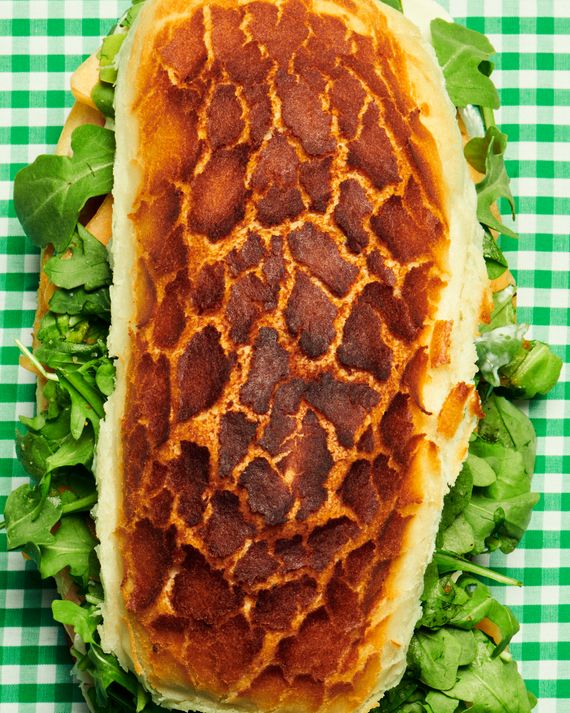 A Post Melón from Mission Sandwich Social. Photo: Hugo Yu
When attempting to re-create another region's sandwiches, it is critical to nail every detail down to the crumb. The East Coast outposts of All'Antico Vinaio — which got its start in Florence — bake their own Tuscan focaccia to ensure it's as faithful to the original recipe as possible. Bobbi's Italian Beef, in Carroll Gardens, has worked tirelessly with the nearby Mazzola Bakery to replicate the juice-absorbing rolls of Chicago's Turano Baking Co. And now a trio of spots are undertaking San Francisco's renowned Dutch crunch, a specialty that has historically made only fleeting appearances within the five boroughs.
"Dutch crunch isn't necessarily crunchy crunchy," says Brian Tsao, who runs Williamsburg's Mission Sandwich Social sub shop. "It's actually a soft, sweet bread with a mild crunch when you give it a toasting." Tsao, a native New Yorker, had never heard of the bread — which gets its distinctive pattern from a rice-flour solution that's painted on while the dough rises and cracks during baking — until a friend asked if he'd be interested in opening a Bay Area–style store. Tsao went on a tasting tour (hitting West Coast favorites like Little Lucca and Ike's), then spent the pandemic perfecting his own tiger bread, as it's known in the Netherlands, while everyone else was busy baking sourdough.
Tsao layers his sandwiches with a filling mix he calls "progressive" — veggies and sauces are given as much consideration as the meat, such as in the Post Melón, which matches prosciutto and mozzarella with hot honey, Dijon, herb mayo, basil, arugula, tomato, and cantaloupe. "It's not about a pile of protein," he says. "It's more about the balance of a whole sandwich experience."
For the lunch-only roast-beef sandwich at Mischa, Alex Stupak wanted his own customers to experience the best parts of eating a French dip and French onion soup. A sidecar of jus approximates the broth, and melted comté cheese sits atop the meat. Replacing the soup's traditional oversize crouton, pastry chef Justin Binnie — who developed all of Mischa's breads and partly grew up in California — suggested the Dutch crunch. "A lot of people do sourdough, baguettes, all that stuff," he says. "The idea was not to get involved in that conversation" and to instead focus on more humble hoagie and deli rolls.
With its dark stucco-patterend top, Mischa's is the crunchiest bread of the bunch and sticks surprisingly close to tradition. For a revisionist recipe, head to Gramercy Tavern, where Karen DeMasco returned as the pastry chef this spring. Despite a two-decade career that includes stops at Craft, Locanda Verde, and Jean-Georges Vongerichten's ABC restaurants, DeMasco — like Tsao — had never heard of Dutch crunch until a sous-chef named Brianna Cruz Rabago mentioned it. After several tests, the kitchen landed on a soft, round version that is currently used for the restaurant's BLT, a tidy stack of crisp-cooked bacon, Greenmarket tomatoes, curled Little Gem leaves, and the faint spice of aïoli mixed with Calabrian chiles. Along with the traditional rice flour, the roll gets a bit of extra crunch — and a gentle golden hue — from a scattering of coarsely ground cornmeal.