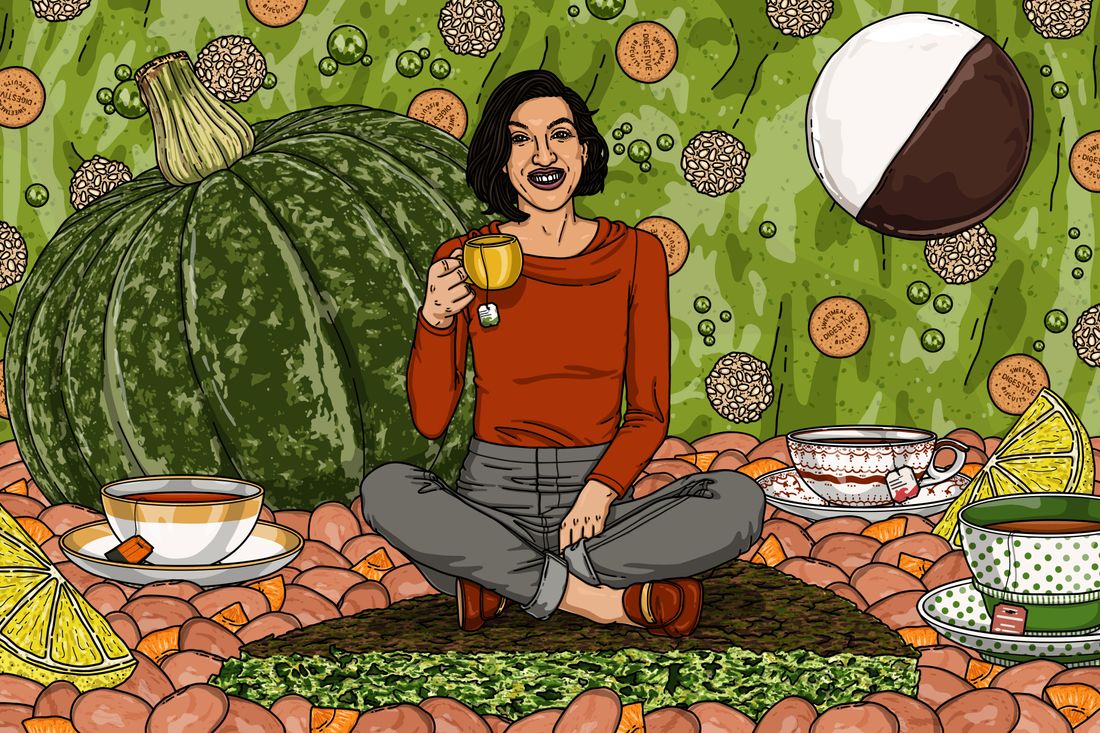 The author Elif Batuman and some of her favorites.
Illustration: Eliana Rodgers
This week, the author Elif Batuman returned with Either/Or, a coming-of-age sequel to her first novel, The Idiot, that follows its main character, Selin, now a college sophomore, as she works through the aftermath of a summer in Hungary. As our friends at Vulture write, the novel gets messy, which is for the best because "it's truer to life for a story to unfurl unpredictably, to spill out of its own leaky container." In real life, however, Batuman's Tupperwares are sealed, and as you will see in this week's Grub Street Diet, she is able to employ all sorts of useful vessels for aspirational snacking.
Friday, May 13
I'm always trying to live an easy life. For me, that means eating the same thing for breakfast every day. Lately, it's Greek yogurt with fresh blueberries and raspberries, "cashew pieces," and Chia Ginger Superfood clusters from nuts.com, plus a cup of Harney & Sons Hot Cinnamon Spice tea. The great thing about that tea is you don't have to add sugar and it already tastes like candy. Add milk, and you're basically drinking a bowl of Apple Jacks.
Today, this was all happening earlier than usual for me, at like 7:30 a.m. After breakfast, I put some Fig Newmans in a Ziploc baggie and headed to a PEN America Emergency Congress of Writers at the United Nations. The email said we wouldn't be able to eat or drink in the conference room for the whole three hours. If necessary, I decided, I would secretly eat Fig Newmans in the bathroom. Fig Newmans are similar to Newtons but with Paul Newman's face on the package.
Weirdly, all the trains were on schedule, so I got to Manhattan in time to catch the pre-meeting coffee and pastries. I don't usually drink coffee anymore because it makes me wake up in the night, but I make an exception for days when I have to run around and meet people, so I approached the coffee table. By the time I got there, the regular coffee had run out, so I ended up with decaf. Then Yiyun Li, a writer and professor, found another coffee dispenser that still had regular coffee, so I spiked my decaf but didn't end up having time to drink it.
Will there ever be a time of my life when I will be able to pass any kind of pastry-laden table and not leave with a pastry in my handbag? Today it was a blueberry mini-muffin. I stuffed it into the Ziploc bag with the Fig Newmans.
I was nervous because I had to give a four-minute talk about how I thought we should prioritize our scattered energies at this unprecedented time. I talked about Putin's and Trump's childhoods and the way adverse early experiences can lead to war and environmental disaster.
Afterward, I met my grad-school friends Luba and Marilena for lunch at Maman on the Upper East Side. I had a smoked-salmon tartine. Labneh was involved, as was Everything Bagel seasoning. Because I had already decided I could have coffee today and hadn't had any yet, I ordered an Americano. Luba and I shared a white-chocolate raspberry rose cookie, the dessert that seemed like the most different things at the same time. We then headed to the Met, where we talked nonstop for three hours while looking at paintings by Winslow Homer and Jacques-Louis David.
When I got back to Brooklyn, my partner, Lindsay, was making coq au vin with the remains of a bottle of red wine from a few days ago. After dinner, we watched a new episode of Law & Order while enjoying McVitie's Digestive Biscuits with Yogi Bedtime tea. I love digestive biscuits because they are so big and bland. If I'm craving an actual cookie, I simulate one by topping the digestive biscuit with shards of extra-dark chocolate that I break off a bar in the kitchen drawer. Extra-dark chocolate is the only kind I can keep in the house. Otherwise, I'd just eat it all immediately. Yogi Bedtime has valerian, which is great for winding down — just like watching TV people solve and prosecute uncannily topical murders!
Saturday, May 14
After a breakfast that was reassuringly identical to the one that had preceded it, I headed out for another "social" day. This time it was family lunch at my aunt's in New Jersey. I already knew the menu would include kısır — a tabboulehlike bulgur salad popular in Adana, where my dad's side of the family is from — because of a long-running debate between my aunts dating to 2010, when, in a New Yorker profile of the chef Musa Dağdeviren, I characterized Dağdeviren's kısır as the only one comparable to my aunt's. Since then, my two Adana aunts have been arguing about which aunt I was talking about. I find this whole discourse to be somehow stressful, though I have to admit it has probably resulted in more people making me kısır. Lindsay, citing a memory of the time my mom invited us for brunch and made menemen and sigara böreği, reminded me that if anyone offered me a doggy bag, the correct response was yes.
On the way to the train, I stopped at the insanely named Le French Tart Deli to pick up Comptoir du Cacao chocolate bars for the mothers in the family. I couldn't decide between the chocolate bar decorated with pink and white Eiffel Towers or the one that seemed to have slices of candied orange embedded in it, so I got a couple of each.
When I got to New Jersey, I found my aunt Gönül in charge of the kısır. She chops the mint, onion, scallions, etc., so finely that they're almost invisible, which takes forever. She always ends up doing it alone because anyone who tries to help is accused of chopping too coarsely, and if you object that chopping it her way takes forever, she invites you to leave the kitchen. The dressing has pomegranate molasses. Kısır is served in romaine hearts.
The meal — which included stuffed grape leaves (sarma), stuffed dried eggplant (dolma), and barbunya pilaki (cranberry beans cooked in olive oil) — was served late in the afternoon, and both white wine and rakı made an appearance. I had a tiny amount of rakı — the quantity they call gözyaşı (tears). Don't drink a greater volume than you can weep!
Afterward, my aunts asked if I wanted to bring home some kısır for Lindsay. What weird reflex made me say no? I comforted myself that they would ask again, but they didn't! Then a minute passed, and one of my aunts asked if I thought Lindsay wouldn't like kısır. I said I knew she would love it. I went back to N.J. Transit with a generously proportioned Tupperware.
Sunday, May 15
Breakfast: the usual. Near the bottom of the Chia Ginger Superfood. It's basically chia ginger super-dust at this point.
Spent all day glued to the computer, doing all the emails I didn't do for the past two days and also doing Yoga With Adriene to try to un-cramp my neck. Lunch: kısır, dolma, barbunya, and sarma.
After lunch, I sustained myself for four more hours of email with Harney & Sons Matcha Iri Genmaicha — a combination of regular green tea, brown-rice tea, and matcha powder — plus a digestive biscuit with a square of dark chocolate that had a pink Eiffel Tower on it.
By the evening, I was feeling bad about myself — I guess because I hadn't written enough emails. Meanwhile, my neck and shoulders felt so cramped that the thought of cooking made me want to cry. What would become of the kabocha and green beans I had bought at the greenmarket last week?
At times like this, it's important to be kind to yourself, so I took Lindsay out to dinner at a neighborhood Italian place where we could sit outside. I had a glass of prosecco, a salad with grilled chicken, and many of the fries from Lindsay's burger.
Monday, May 16
At breakfast, I subbed in Kind peanut-butter granola for the chia ginger super-dust. Then I noticed some mold on the raspberries, so I got to salvage raspberries by washing and rubbing off the moldy parts and discarding the ones that were completely moldy. Instead of putting just a few raspberries on my yogurt, I used all the rescued raspberries because Lindsay doesn't like rescue-berries and, in general, doesn't share my mania for snatching food from the jaws of death.
Lately I've been working on an essay about dirt, which has made me extra attuned to how ingrained, varied, and subjective people's ideas are about what's dirty or unsafe to eat. Lindsay and I have exercised a moderating effect on each other's views in this respect: Lindsay now doesn't feel as if she has to throw out yogurt the minute it's past the expiration date, and if I find a piece of day-old popcorn in the sofa, I no longer feel a moral obligation to eat it. As Lindsay sometimes says, "Why don't you treat yourself to some rice that definitely hasn't been walked on by a cat?"
After breakfast, I went to the chiropractor. I came out feeling amazing — like I could finally stand upright after several days of being in a box. On the way home, I stopped at Atlantic Fruit & Vegetable to stock up on raspberries, blueberries, and Persian cucumbers. I didn't consciously plan to stop at the liquor store, but then I was there, apparently wearing a lost expression because I was approached by these four kind of tough-seeming liquor-store guys, unanimously endorsing a chillable red wine from Chile called ¡No Es Pituko! It was under $20 and had a beautiful bright-yellow wax seal. The guy who rang me up asked if I knew how to handle the wax seal. I said my plan was to pretend it wasn't there and just go through it with a corkscrew. Then all the different guys told me how they thought I should remove the seal. The most vocal guy said, "You just pull it and it comes right off."
By the time I got home, it was past lunchtime. I didn't have energy to fix an actual lunch, so I sliced an apple and ate it with peanut butter. Later, Lindsay made herself a chopped salad, like a human being, and made an extra mini-salad for me, but by then I was too busy doing stuff like writing emails and also downloading Instagram onto my phone, posting a photo of myself in an Either/Or sweatshirt, and then deleting Instagram from my phone.
Afterward, I looked at the kabocha and the green beans I had felt so guilty about two days earlier, and they looked totally fine! I decided to make green beans with olive oil. There is a genre of Turkish meze called zeytinyağlı, which means "with olive oil," and you can do almost any vegetable. You just cook it for a long time in olive oil with sautéed onions and usually some combination of garlic, tomato, carrot, and/or potato. It's served cold or at room temperature. For the green beans, I used onion, garlic, and tomato.
I also made iç pilav: rice with pine nuts and currants, sometimes used as stuffing for dolma. I used olive oil instead of butter, and vegetable Better Than Bouillon instead of chicken stock, so it was vegan. I'm not a vegetarian at the moment but hope to be one again someday. My favorite iç pilav seasoning is mint, which is what my mother always uses, but I was out of mint. It still came out fine.
We had leftover coq au vin with iç pilav for dinner. I left the beans to simmer while we ate. We could have them for dinner the next night.
Tuesday, May 17
One week to pub date. After a decadent breakfast involving mold-free raspberries, I spent the morning doing Zoom interviews.
For lunch, I added avocado and hard-boiled egg to the salad Lindsay had made me the day before (romaine, cucumber, radish, green beans, and grape tomatoes). For dressing, I crushed sesame seeds with a mortar and pestle and mixed in Chinese black vinegar, olive oil, soy sauce, and sesame oil. The salad was topped with La Choy Asian-Style Crunchy Noodles, which come out of a can and were popular at salad bars in New Jersey in the '80s, when I acquired a taste for them. I order them in bulk because I feel they cause me to eat more salads, though sometimes I wonder if it's the other way around. Once, when I wasn't paying attention, I just kept adding more and more crunchy can noodles to my salad until I had gone through the whole can.
After lunch, I walked to Greenlight Bookstore in Fort Greene to sign books. My first signing for Either/Or! The books looked great, though it felt somehow strange to see so many of them. I kept misspelling my name.
When I got back home, I answered more emails, which included the editor's notes for the essay I was working on about dirt, so I put in those revisions.
Time to open ¡No Es Pituko! I tried pulling the yellow wax seal in case it really came right off. It didn't. I went through it with the corkscrew.
The wine itself was not just delightful but somehow actually comical: soft, bright, spicy, dry, and fresh, tasting of so many unexpected things. I do love a comical wine. The color was beautiful and a little cloudy. Great rec, liquor-store guys!
Now it was time to rehabilitate that kabocha! I love pretty much everything about kabocha: the green-and-orange color contrast, the cute shape, the chestnutlike flavor. And they last forever. This one was doing great after more than a week on the counter.
My favorite kabocha recipe is the kabocha miso soup from the Just One Cookbook. I add tofu for protein. Children of the '80s may like to top with La Choy Asian-Style Crunchy Noodles. The best part of this recipe is the toasted crushed sesame seeds, which I am now obsessed with and also put in salad dressing (see above).
While I was toasting sesame seeds, I decided to make sunomono because I was worried I had gone overboard with the Persian cucumbers and wouldn't be able to use them before they deteriorated.
We had the kabocha soup and sunomono to start with, then bowls of iç pilav with green beans on top and sliced hard-boiled egg on the side. This isn't exactly how you're supposed to serve any of these things, but it was all delicious.