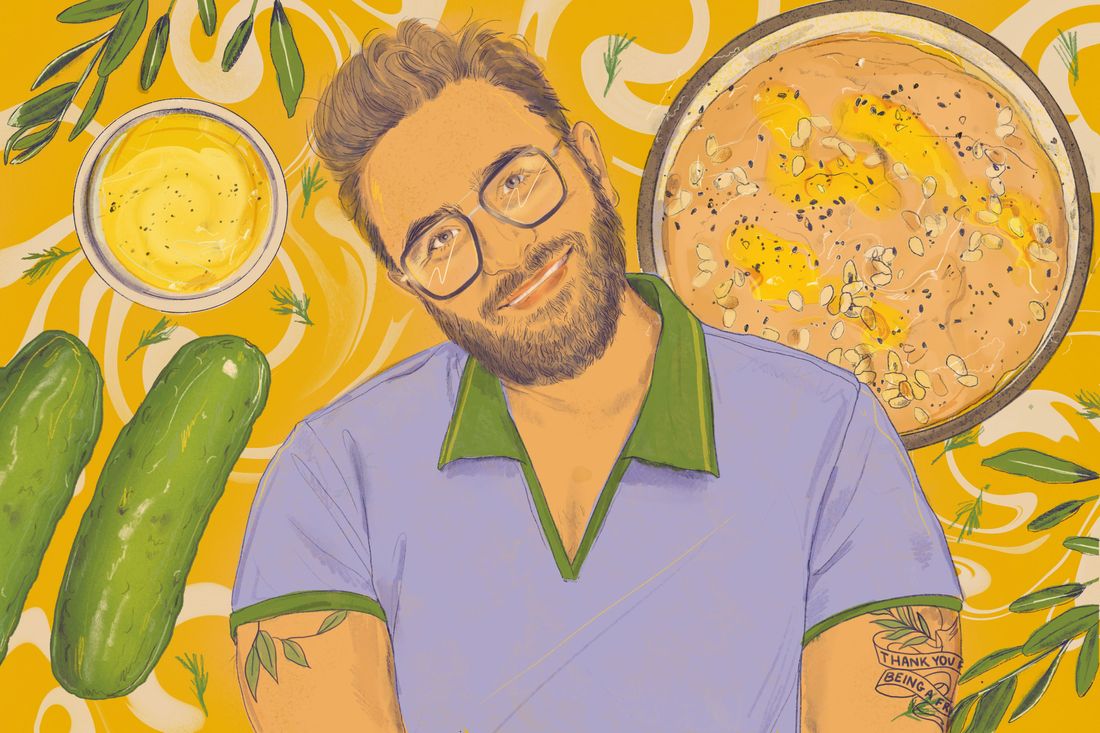 Eliot Glazer.
Illustration: Lindsay Mound
Eliot Glazer is debating the merits of a rainbow bagel — not for quality but for where a rainbow bagel lands on the spectrum of Jewish to goyish, which also happens to be the premise of his new Comedy Central web series, 2 Jews Choose. As he puts it, "There is something distinctly goyish about an adult person getting unicorn or strawberry cream cheese. It's just like, Yeah, that belongs in a church basement, you know?" Not that he dislikes sweet foods. In fact, the comedian, writer, and producer — who's worked on shows such as New Girl, Younger, and Broad City (with his sister, Ilana) — is constantly trying to balance his sweet tooth. "One of my best friends makes fun of me because he thinks my version of eating is nonstop desserts and then I fill in the blanks with handfuls of nuts," Glazer jokes. "It's not true but not completely untrue, either."
Thursday, May 12 
Bing-cherry Bai with a couple of Alyssa's Cookies. Bai is a "fruit" drink that is sweetened with stevia and is actually quite good. Initially, I binged on them during lockdown because they're so low in calories, but I wasn't counting the carbohydrates. But also the world was ending? And I was using Bai like it was my mother's milk, my baba juice. So now I have no more than one a day. Otherwise, I'm a water-coffee–Diet Coke person.
I am, as you'll find out quickly, a sugar fanatic, but I do try to eat healthily. It's a very, very dumb diet, but it does somehow tend to even out over the course of a week, especially because I exercise a lot. I try to keep my nutrition balanced, but honestly, my sweet tooth is an insatiable monster who can never get enough. For that, I (lovingly!) blame my parents, who didn't allow me to have sugar for my first 12 months. And when I did finally begin to indulge in sugar, the sweetest treat in our house was … Grape Nuts. So, yeah, now you know the real me.
These days, I eat a lot of blackberries. I like fruit that tends to be tougher: pears, apples, completely unripe nectarines. I like 'em rock hard, just how I like my [redacting this joke myself]. I really don't like easily squishy foods: zucchini, red peppers, guava, etc. Blackberries are somewhere in between texture-wise, and they're very sweet but not the kind of sweet that makes your teeth hurt. They pair well with so much stuff, too, both sweet and savory. I was going to add that I "detoxed" on an all-blackberry-and-almond diet a few years ago, but that's not totally true. I attempted to replace all added unnatural sugars with blackberries. As delicious and well meaning as it was, it caused me to have — believe it or not — a yeast infection! In my mouth! (Attractive single gay men don't read this column, right?)
I'm no nutritionist, but who knew there was so much acid in blackberries? I thought that for the citrus colors of the rainbow. My dentist was finally the one to figure it out after I kept having intense pain on my tongue. She was like, "You've got to cut back on the blackberries, you weirdo." She started me on a probiotic that is approved for everybody but whose packaging makes it feel specifically like it's marketed to Jamie Lee Curtis.
Whenever I get a haircut (near the Grove), I always have to stop by Sockerbit because that place is fantastic. I'm not even a big candy person (the twist!), but I honestly just love the aesthetic of the place. And their Swedish marshmallows because they always taste slightly stale (my favorite!).
For lunch, I had Mama Chen's chicken salad from Mendocino Farms with extra almonds. Although Bai is my drink of choice, La Croix continues to be the staple beverage of every writers' room (COVID be damned), and it always pairs nicely with Mendocino Farms, which is its equivalent in salad form. To be transparent, Mendocino is the exact type of L.A. chain TV writers warned me about when I first started in the business. "You're going to get tired of it when you eat it once a week," they would warn (there's a rotating list of writers'-room lunches that tire quickly). But I'm not quite exhausted yet, or at least not enough to forego the Chinese chicken salad. Plus my favorite cuisine is, in fact, "healthy for the '80s" — stuff that's not necessarily bad for you, but could definitely be better because ingredients like dressing, dried fruit, and croutons fall outside the realm of "whole foods."
Guacamole, street corn, and quesadillas from Tacos Tu Madre. I was so thankful when it expanded its outdoor patio during the pandemic. It's very reliable Mexican food, albeit Americanized. Even one of my Latin friends rolls his eyes every time it's suggested, knowing that my Caucasian ass is essentially there for the quesadillas (which, incidentally, pair well with baba juice). He understands why the whites are into this place because it's essentially the Cheesecake Factory of Mexican food. Not that there's anything wrong with that, especially brown bread.
Before discovering Tu Madre, I'd never thought much about quesadillas one way or another. I tend to like them well done, and that's essentially where my opinions on quesadillas begin and end. But Tacos Tu Madre makes a quesadilla where they flatten it such that there's a burnt, flat cheese as the distinctive "crust." It's like having that burnt cheese on a pizza (which, incidentally, is why Apollonia's Pizza is some of the best in L.A.).
I also ate some macaroons from Becca Joseph, a chef in New York who prepared an entire belated Passover seder. They're coconut macaroons (not macarons, which are — for the record — fine) covered in a dollop of dark chocolate and orange zest, but they taste distinctly buttery. I don't know how else to describe it, but I made sure to bring a ton back to L.A. Whereas most people try to leave L.A. with fancy booze or novelty cannabis or whatever , my suitcase is brimming over with macaroons like I'm some sort of time-traveling immigrant who docks at Ellis Island with chocolate-stained fingers. And if you don't think I added to that collection boxes of chocolate-covered macaroons sold in bulk at "the Jewish Shop Rite" near our family's house on Long Island, then you don't know me and you don't know that the best macaroons — maybe even best dessert ever? — happen to be sold at an otherwise totally memorable tristate-area grocery-store chain.
Friday, May 13
I ended up just not really having breakfast, just a bing-cherry Bai again. For lunch, I had a protein bar, which I ate during the break while kitesurfing, which is the official sponsor of me turning 39 very soon.
I work with a coach. He's native to Italy and lives in SoCal. He is also so mean to me, which I love. He literally screams at me, and I can't get enough of it. As much as I enjoy living in Los Angeles, you've really got to search high and low for his brand of chaotic energy, the kind you face every day in New York. This dude really fills that void for me, especially when I fail at landing a kite on the sand.
On the way to the gym, I grabbed a smoothie and a pear. Then, for dinner, homemade turkey meatballs, edamame spaghetti, and Brussels sprouts. These edamame noodles are just so good, and they have a spinach taste to them, which I enjoy.
Later, I have a Rosetta Cherry sour ale at Black Cat for a friend's birthday party. I definitely enjoy drinking socially, but my bar cart at home hasn't been touched in, God, months? I mean, it's a beautiful piece of furniture that I bought as soon as I moved to L.A. And, listen, if I could, I would effortlessly make martinis and pour a tumbler of Scotch at the end of a long day, but I never even think to because I'm inherently not very cool. Still, it's very pretty to look at, but when it comes down to it, I'm going to drink something from a can (incidentally, probably CANN, a THC-infused cocktail that sponsors my podcast and has sent me … thousands of beverages that remain my drink of choice).
On the way home from the Black Cat, I stopped to fill my gas tank and pop into the gas station for a couple of things — the usual: tissues, water, a single-serving It's It ice-cream cookie that's apparently a West Coast staple. I was having a real hankering for some late-night ice cream. Although, despite my huge sweet tooth, ice cream is not anything I necessarily go crazy for, except for Magpies Softserve in Silver Lake. This place has rocked my world (and my friend Alissa Nutting's). But seriously: Mexican hot-chocolate-flavored soft serve with honeycomb as a topping? I try to contain myself and not go more than once a week, but if I'm going to splurge and have a big dessert, it's going to be at Magpies. I've been mentoring an 11-year-old for years through Big Brother Big Sister, and even though he's remarkably picky about dessert, Magpies is the thing that really brings us together (well, that and psychological trauma).
Saturday, May 14
I woke up with a sour stomach but help myself to some iced coffee, which is a terrible idea, but let's see you stop a gay adult man from drinking it no matter how many Tums he's taken.
I meet a friend for brunch at Clark Street Diner, which used to be the 101 Coffee Shop in Los Feliz. The food is excellent — "elevated" diner food and pastries. I have some scrambled eggs, steamed vegetables, and potatoes but don't really have much of an appetite. When it was the 101 Cafe, the place was famously open 24/7 and served as a gathering place for … I was going to say "rock stars," but I think musicians is probably a better term to go with since my idea of a rock star is basically Jackson Maine, a [checks notes] fictional person. But now I always bump into other comedians for some reason. Are we the rock stars of 2022? Who's to say? (Me! I can say we are not rock stars; we just also want attention.)
After that, I met friends downtown at DragCon, the weekend-long convention celebrating everything Drag Race. My friend Michael Brambila designed a bunch of clothes for the queens, including Symoné and Kornbread. (Isn't that a funny sentence to imagine a straight man reading out loud?) Anyway, I meet up with him, his boyfriend, H. Alan Scott (one of my best friends and, coincidentally, a drag queen himself), and our friend Kara Klenk, a comedian who wrote on Drag Race. We spent the good part of the afternoon there.
Between live performances and a huge marketplace for merch, I totally lost track of time and didn't realize I hadn't eaten anything until later that night, when I went to the Alcove Cafe in Los Feliz, which is essentially my favorite place in L.A. It's this indoor-outdoor bar and café that checks off every box on the list of "How to be an avatar for a Rita Wilson character in a Nancy Meyers movie" (which, as a drag queen might say, is how I "feel my fantasy"). It's dog friendly, set under trees and greenery and pretty lighting, and their dessert case is my sweet, sweet kryptonite.
I have a turkey-club sandwich, knowing full well that a piece of strawberry sponge cake awaits. My friend, comedian Brent Sullivan, theorizes that I don't even consider what savory, proteinaceous foods I intake, only that I eat it as a pre-dessert necessity like Ensure or Soylent. Honestly, he's not far off, because even as I type this, I just want to get to the part where I can describe the cake as super-spongy and light and airy, which is totally my jam (actually, raspberry is my jam, but this cake doesn't even need it).
I don't really like cake that's superdense. In fact, the closer it is to something you'd serve at a wedding, the better. The Alcove is where I discovered princess cake, too, when I moved to L.A. It's my favorite dessert: a very girly tea-time kind of treat with green fondant, marzipan, jam, and fluffy cake. Ikea does a version of it, but I would never even consider fucking with that nonsense (and I've seen it in person). It doesn't hold a candle to the Alcove's version. And even though princess cake hasn't appeared in their dessert display in months, I will continue to tell myself it will eventually make its fateful return. Just let me have this, okay?
Sunday, May 15
I picked up some stuff from Whole Foods on the way to meet a friend at the beach: a tuna sandwich, some grapes, and lemon water. Most people bring beer and chips. I bring the meal of of a fourth-grader. I really should put it in a paper bag with a note from my Mommy just to get the full effect.
I also know this is one of the few places in L.A. that has a soft-serve ice-cream truck in the parking lot at all times. After I said good-bye to my friend, I order a soft-serve cone with sprinkles. If there were a way to do it, I would literally order sprinkles with a drop of ice cream. I just want to eat sprinkles as a unit. Truly, I could take or leave the ice cream.
Back at home, I finished my leftover edamame spaghetti and meatballs.
I always keep dark chocolate around, especially if I've had a bigger dessert already. I have no interest in milk chocolate whatsoever. It does nothing for me.
Why? There's nothing to it. Whereas dark chocolate is decadent and mature, rich and flavorful … kinda like Rita Wilson! Plus whenever I even think of milk chocolate now, I can taste the aluminum I accidentally didn't peel all the way off the Hershey's Kiss (or, let's be real, the Hanukkah gelt) as a kid. Dark chocolate is my lifeblood. It's not Bai, it's not princess cake, but it is most definitely the baba juice I need to get by in a world that can, at times, feel a little too salty.