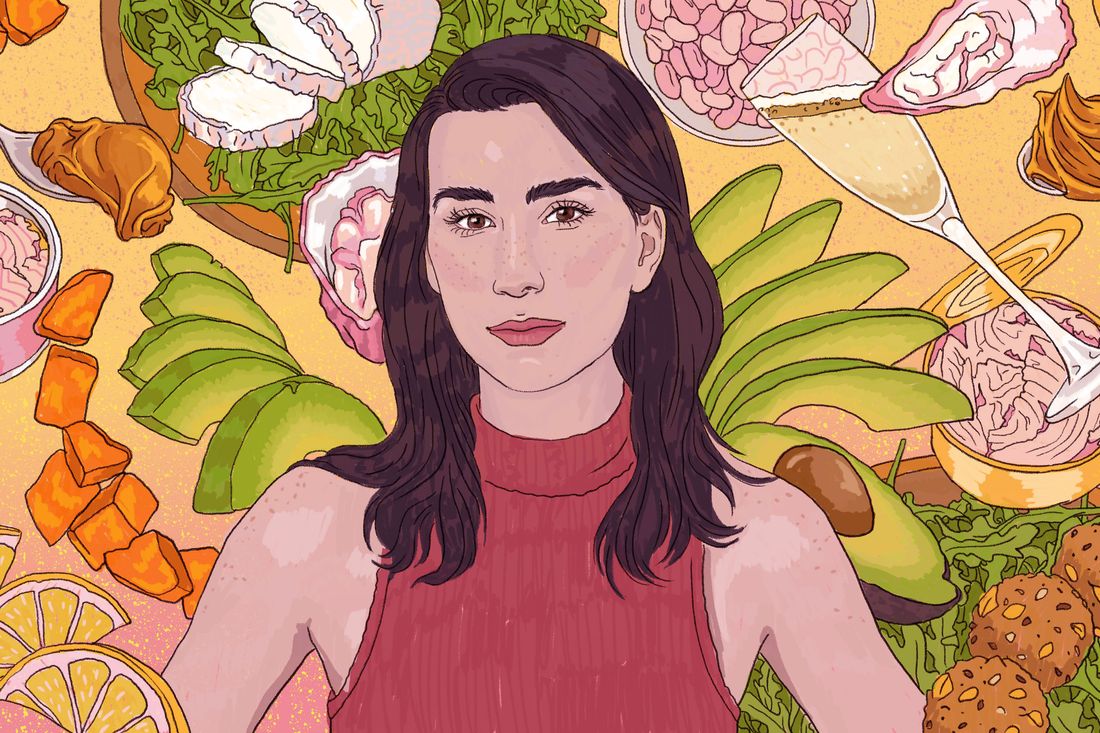 Emma Steiger, who has worked at a number of high-profile New York restaurants. Illustration: Margalit Cutler
If you spend any time in New York restaurants, it's likely you've met Emma Steiger. After stints on the floor at Cosme, NoMad, Olmsted, Runner Up (and its companion, Winner) as well as Maison Yaki and Patti Ann's, Steiger is now in charge of guest relations at Place des Fêtes and Oxalis — still a front-of-house job, technically, but one that allows for some scheduling flexibility, which is helpful since Steiger also acts. At this point, which job is the side hustle? Even Steiger — who might TA an acting class on a Monday, head to a rehearsal on a Thursday, and work a brunch service on a Sunday — isn't entirely sure: "I have a hard time staying still." 
Thursday, September 1
I had gone dancing the night before at Nightmoves, and I had to wake up pretty early for my manager meeting at Oxalis. I needed to grab something quick and on the go. I grabbed some granola, and I have this Wegmans coconut-flavored cold brew. I put that into a mason jar with some almond milk — I live in Brooklyn, what can I say? — and had it all during the meeting. It was my emotional-support granola.
I worked for a bit, then went to meet my buddy for a late lunch. He said he was craving tacos, and someone I know who lives in Crown Heights had just told me about Kimchi Grill. I had three of their tacos: Korean fried chicken, the "Krispy Fish" taco, and short rib with a guava agua fresca because I needed more hydration after all the dancing the night before. I hadn't been drinking; I was just having a good time. At one point, somebody came up to me like, "Hey, I don't know you — I just want to make sure you're hydrated because you haven't left the dance floor in three hours."
I walked off the tacos through Prospect Park and finished working at home, anticipating a chill night of laundry or writing. I made some brown basmati rice in my rice cooker accompanied by air-fried sweet potato and broccoli, snow peas, toasted pepitas, goat cheese, and a little Milu Chili Crisp. It was supposed to be my kitchen-sink dinner — just everything I had in my fridge — but a couple hours later, I got a call from my high-school friend David, who is in town from L.A. He said he was craving a burger, and he'd heard Red Hook Tavern was great. I said I'd meet him for a drink, but we ended up sharing oysters, a wedge salad, and the burger. I also had the cold-brew martini and a glass of orange wine from Bergerac.
Then we went to Sunny's, and I had a mezcal negroni. We were already in the neighborhood, so why not?
Friday, September 2
Started the day strong with another morning of Ancient Grain Crunchy Cluster Extreme Nut & Fruit Granola and Wegmans coconut cold brew with almond milk. I proceeded to snack on the granola, including the crumbs, through the manager meeting at Place des Fêtes.
Family meal went up at 3:30, and the team really does a great job of accommodating allergies among the staff. There was pasta with black olives, cabbage salad with roasted sunflower seeds and sesame, broccoli and maitake mushrooms, and chicken salad. The bar team always makes a drink too. On Friday, it was lemonade.
One of the servers, Toussaint, is awesome. He always does a check-in with everyone right before service. He made me a shot of espresso with a little bit of oat milk, which was great.
My boyfriend is the chef de cuisine at Maison Yaki, so I met him after service, around 10:45. He really wanted ice cream, and we passed Van Leeuwen, but I just nibbled on his brown-sugar cookie-dough ice cream. He'd brought me home cauliflower okonomiyaki from his restaurant as my post-work dinner.
And I chugged a quart container of water. I might not be back of the house, but I'd been working on the floor for six hours, and I was thirsty.
Saturday, September 3
Because I'm a total masochist and I don't have a coffee grinder, I woke up early to hand-grind some Parlor beans for pour-over. I then jumped into two back-to-back Zoom rehearsals for my scene-study class, so I quickly slapped some avocado on rice crackers with some cracked pepper and pink salt. Fast but a little boring.
On my way to work, I stopped by the Love coffee truck sitting outside the Grand Army Plaza farmers' market and ordered something they call a mint mochachino.
And when I passed by Maison Yaki, my boyfriend handed me a bag of North Fork salt-and-vinegar potato chips. He'd ordered them for family meal because he likes to do a sandwich day for everyone. I hadn't eaten lunch, so I almost devoured the chips.
It was an early day at Place des Fêtes because we were doing an apero hour. Family meal was broccoli with basil and mushrooms, another crunchy-cabbage salad that wasn't as spicy as the day before. It had some chervil, which made the chef laugh. Oh, you're using the fancy garnish for the salad today. And ground Thai pork with white rice.
On my walk home, it was another night of Oh, I don't need to eat anything. It's actually pretty common that I'll eat my "dinner" at 3:30 and then not eat again. But then my boyfriend and I saw that No. 7 had reopened on Vanderbilt, and it's open late, so we were like, Okay. Even when we ordered, we knew it was too much food. We had a strip steak with clam butter and the fried broccoli because, you know, that's what it's famous for.
Sunday, September 4
I manage Sunday brunch service at Oxalis, so my day started earlier than usual. I was in a rush, so I didn't have the time to be luxurious and hand-grind my coffee beans. Instead, I went to the Blank Street stand at Grand Army Plaza that's like a collaboration with King David Tacos.
The kitchen always makes family meal for breakfast, which is so appreciated. This was a wax-bean sofrito with fried eggs, and they always do a breakfast salad, which is really nice. We ate that around ten, then did our pre-service meeting at 10:30, and then we started service at 11.
I worked and then stuck around for the dinner family meal. I really love it right now because they're using up a lot of ingredients that are changing over with the season. We had Carolina gold rice with corn, cabbage, tomatoes, and greens. There was also beef stew plus a vegetarian option for anyone who doesn't eat beef and potatoes smothered in cheese and garlic aioli. They also decided to make dessert, which was flourless chocolate torte from brunch and toasted-rice cremeux. That was unbelievable.
Later that night, I finished off the leftover steak from No. 7 and added some of the sweet potatoes and broccoli I'd cooked the other night. It's interesting to be surrounded by amazing cooks who talk about all the delicious things they make at home, and I'm like, I made some broccoli and put that in rice. But if friends are coming over, I love cooking for people and try to pull out all the stops. My mom was a caterer, and she always wanted to try lots of restaurants, so I definitely get some of that from her.
Monday, September 5
It was Labor Day, so of course I worked. I don't think I've ever not worked on Labor Day. Straight into an early rehearsal, so I made coffee with almond milk and some Cocojune yogurt with blueberries. Then onto my morning commute.
I was starting to feel drained. It was a long week. I'd gone out a lot. I had worked a ton. I had rehearsals. I had been entertaining people who had Labor Day off. I was the manager at Place des Fêtes, so I went to Guevara's for an iced oat matcha.
Family meal was Korean rice cakes — they're my favorite thing in the world — served with beef stew. There was a spinach, fennel, and onion salad and eggplant with sesame and celery.
It was an earlier night — we didn't have a very late crowd because of the holiday. If you look carefully at our restaurants, you'll find bags of Haribo gummy bears. They're our secret ingredient. When I left, I grabbed some handfuls as a reward after a labor-filled Labor Day.