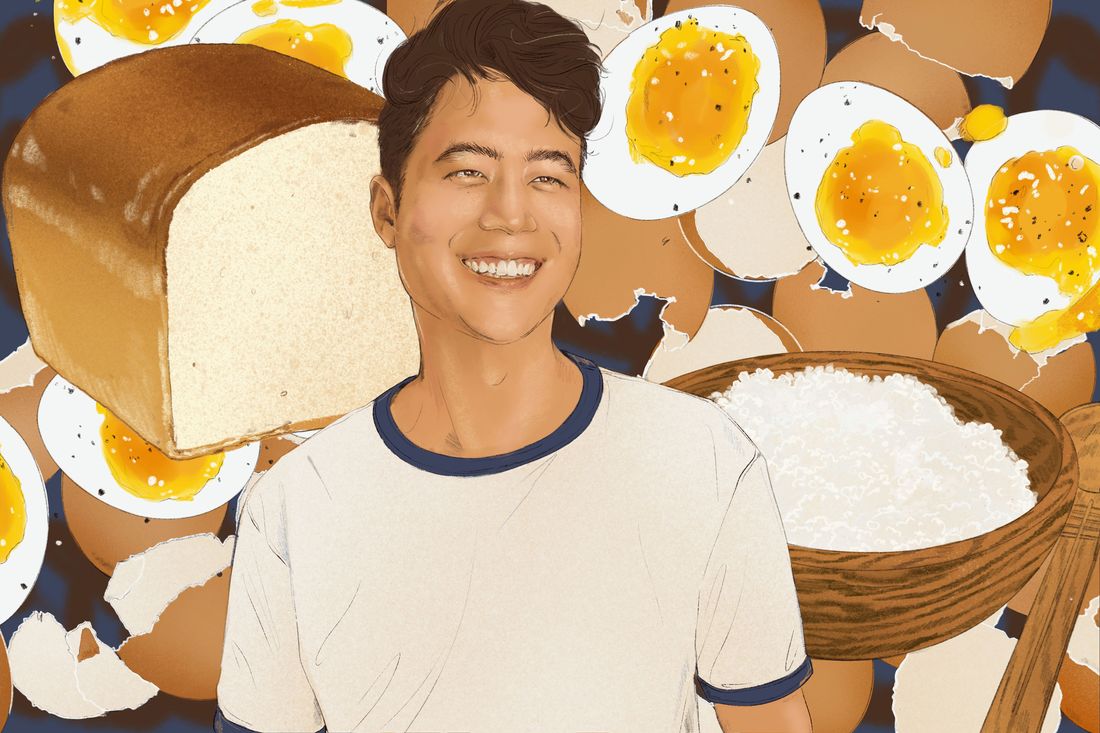 Eric Kim with his soft-boiled eggs.
Illustration: Lindsay Mound
Writer and recipe developer Eric Kim first made his name with a Food52 column about treating yourself to really nice meals for one. Now on staff at the New York Times, he's a few days away from releasing his first cookbook, Korean American, which is a window into his life growing up on kimchee jjigae and cheeseburger kimbap in Georgia. For Kim, writing the book was a process of figuring out his own place in the world. "Arriving at that definition took two fucking years," he says. "It took a long time because I was starting from scratch. I hadn't really written about Korean cooking that much." Now, he's enjoying the rewards of that work. "There's this cheesy Novo Amor song that I keep playing on Instagram as, like, background music for any time I post the cover or anything Korean American," he says. "I love this line at the end that's like, 'I feel like I'm finally me.'"
Thursday, March 15
I was meeting my friend Ellie Krieger for drinks at night, and I ate a lot of cottage cheese, soft-boiled eggs, and avocado up until that point. Furikake makes that protein-rich gunge taste even better.
Frankly, it's also how I've been eating to lose some weight for a book tour. I feel lame saying that, but that's been a thread for me right now. I want to be responsible about bringing up something like that, and it is a big part of my day-to-day. I don't know if people realize that. It's really hard to stay in shape, and you have to be in front of the camera and it's always on my mind, ironically, as someone who has to cook and eat food all the time. I can't eat like this my entire life. These pants sometimes don't fit and that sucks because pants are expensive!
I do love the way cottage cheese tastes. I always have. It takes place of rice sometimes for me. I recently developed a salmon dish, for instance, and I wanted to have it for breakfast. And so instead of having it with rice, I had it with cottage cheese. And it sounds weird, but it occupies the same role, which is sort of this bland thing that is white and soft and can take the flavors of another thing. That's the protein-pack breakfast.
What works for me is cottage cheese and soft-boiled eggs. I really figured out a way to perfectly soft-boil an egg. Here's a little tip: You put the cold egg in a boiling pot of water, and after five or six minutes, you gently crack the surface. I usually just keep it in the pot, honestly. I crack it against the walls of the pot and then I shock it with cold water.
The egg has to be cracked while it's hot so that the cold water can shock the white on the inside so it shrinks into itself. Then you get this beautiful eggshell that peels off like snakeskin. That sounds really weird, but you know what I mean. When I perfected that, I realized I was going to be eating soft-boiled eggs all the time.
I met Ellie for drinks at Nobody Told Me on the Upper West Side. I had a couple glasses of rosé. I loved my conversation with Ellie, a former Food Network host and registered dietician, because we talked about how the word "healthy" is completely relative. Everyone's North Star is different because everyone's body is different. That helped me relax a bit, so that when the French fries came out, I dug right in. I hadn't had them in a while.
Wednesday, March 16
I had a photo shoot in my house first thing in the morning. The photographer came over. I hate this more than anything, to have your photo taken, your identity captured in a single shot, so that everyone can see your imperfections — whereas on video, you're a moving object.
I skipped breakfast because by the time the photographer left, it was lunchtime. I skipped that, too, because I have another interview lined up, and anyway, I was too anxious because my milk-bread column — sorry, my ass-bread column — and video are going up. This week I feel sort of like Pat in The Other Two, when she's being dragged from place to place and told to sign this and that and meet so-and-so and so-and-such. But I took a breath and had a slice of milk bread, thickly coated with unsalted butter, figuring it would get me through the evening.
Frankly, I'm excited about my book coming out, but I think I was more excited about the ass bread coming out. I just, like, I really wanted people to taste it. It's one of my favorite things I've ever developed. And it has a funny story and it's a real main character in the book as well. So that was my little treat to myself amongst all the dieting.
To celebrate, I ordered in a "cooked roll" special from my local Japanese restaurant, Geisha Sushi. I didn't expect much, but what arrived was a gorgeous bounty of tempura-fried shrimp, wrapped inside a roll with avocado and perfect rice. I also got a karaage roll and a plain California roll. As an adult now, I recognize the value of that bit of cucumber. Used to hate it, but now I love it.
Growing up, I ate cucumbers like apples — pickles, too — but in a California roll, I was sort of like, "I want more avocado, I want more crab. The cucumber's taking up space. It's just a watery vegetable." But then I realized that a little bit of julienned cucumber actually is very aromatic, right? It's sort of like when you put cucumber in some water and then you taste the fruitiness of it when you drink the water. You're like, "Oh, shit. This tastes like face lotion. It's delicious."
Thursday, March 17
I've been developing a doenjang jjigae recipe. It was the perfect cleanser from the fried feast I had the night before because doenjang jjigae, or at least my favorite kind, is really just a hot pot of crisper-drawer vegetables: zucchini, onions, radish, tofu, and, if you've got some, greens of any kind. It's one of those foods you can eat a lot of (and I often do), and you'll still feel pretty light at the end of it. Lightness is underrated as a physical feeling. The recipe turned out fine, but I'm looking forward to finessing it.
I ate various pickled vegetables and cottage cheese for the rest of the day, and in the evening, I got the munchies, so I popped a bag of popcorn, dusted it with furikake and nutritional yeast, and caught up on my streaming queue. I finished Search Party — what a mess, I really almost stopped watching it — and started BoJack Horseman again for the third or fourth time. Comfort watching tastes great with snacks.
Remember that photo shoot from Tuesday? The piece went up and the photos look gorgeous. When I FaceTimed my boyfriend, I told him that I was feeling pretty that day. He said, "You always look pretty, but I'm glad you feel it." And I mentioned how ridiculous it was that I liked myself today but hated the way I looked the day before. All of this is just in my mind, so I realize that what I really want to do is find healthy ways to feel pretty all the time instead of just every time I survive off of cottage cheese and popcorn.
Friday, March 18
I had the day off from work, which meant I could clean my kitchen. The mess had been giving me so much anxiety all week, but it's Friday, and Friday is time for rest and social catch-up. I'm having dinner with my friend Rick Martinez at Thai Diner later; can't wait. During the day, I did a podcast interview and went on a nice long walk with my dog, Q.
I'm always having to clean as I go, but I've never been good at cleaning. So my clothes are all over the place and my schedule's all over the place and I sort of run around town. The press stuff for the book has been really, really, really fun, but also really busy. And I realized something about myself. I used to think I was a type A kind of person, and I think I am with my writing, but not in my personal life.
In the evening, I met Rick at the restaurant. We hadn't seen each other in months; he's been in Mexico, but now he's in town for some book stuff. We got two orders of roti and curry. Rick was really adamant that he wanted his own plate — I love his appetite. I watched Rick scarf the roti down, and so I copied. It feels good to eat food fast sometimes, and those roti are so flaky and buttery. You should try it the next time you catch yourself eating slowly.
There wasn't enough room on the table for everything we ordered. Along with the roti, we had short rib, papaya salad, those incredible cabbage rolls. They seemed so unassuming, but I think it's pretty well known that they are really a main event, very delicious.
So I will say, though, that I went home and I had to, I don't know, think about the rest of my week in terms of food. And I was like, I'm going to maybe eat a little less tomorrow. It started other things, but it was worth it to share that meal with him. But it's hard to … When you want to look a certain way for a certain thing. I don't know. I don't want to be like, "It worries me," but it was a thread throughout these five days, I'd say.
Saturday, March 19
Saturday was glorious. It was so sunny out, and I got to meet my new friend Maddy for brunch. I took her to one of my old haunts, the Dutch. If you want a solid brunch, the Dutch still has the best cornmeal flapjacks and its fried chicken is good, too (what I really love, though, are the honey biscuits). But I'm on a diet, so I got a spinach omelet. It was one of the best omelets I've had in a while.
Maddy ordered the smoked salmon with trout roe and an everything bagel. Solid order. I washed my omelet down with a Bloody Mary but gave Maddy the pickled-okra garnish because I wanted her to try it. Then, I told her that my favorite banchan is jangajji, soy-pickled vegetables, and guess what Maddy took out of her bag? A homemade jar of the stuff. I tasted it right at the table. Divine. Perfectly balanced but assertive in its salty, sweet, sour. Delicious. We walked some and she dropped me off at Bistro Les Amis, where I like to sit at the bar and write, with a glass of pinot that turns into a second glass of pinot and then a third. I'm reading Alexander Chee's How to Write an Autobiographical Novel, and I'm struck with how gorgeous his prose is. I thought that maybe by osmosis I could write my column while I was there. But nope, nothing came out.
By this point, I was a little tipsy and excited for my last stop on this perfect Saturday: Ella Quittner's house. She's an old friend and colleague from my Food52 days. I was there to give her a copy of my book and cook a few recipes from it. We made gochujang-glazed zucchini with fried scallions and roasted-seaweed sour-cream dip, which we had with Ruffles and crudités, and the main course was jalapeño-marinated chicken tacos with watermelon muchim. I love watching other people cook my recipes; it's like watching someone take a bite of your food (and on this night, I got to do both).
After we stuffed our faces, it was time for me to go home, but not before I played with her new puppy, Mouse, who is an absolute menace and needs to be protected at all costs.