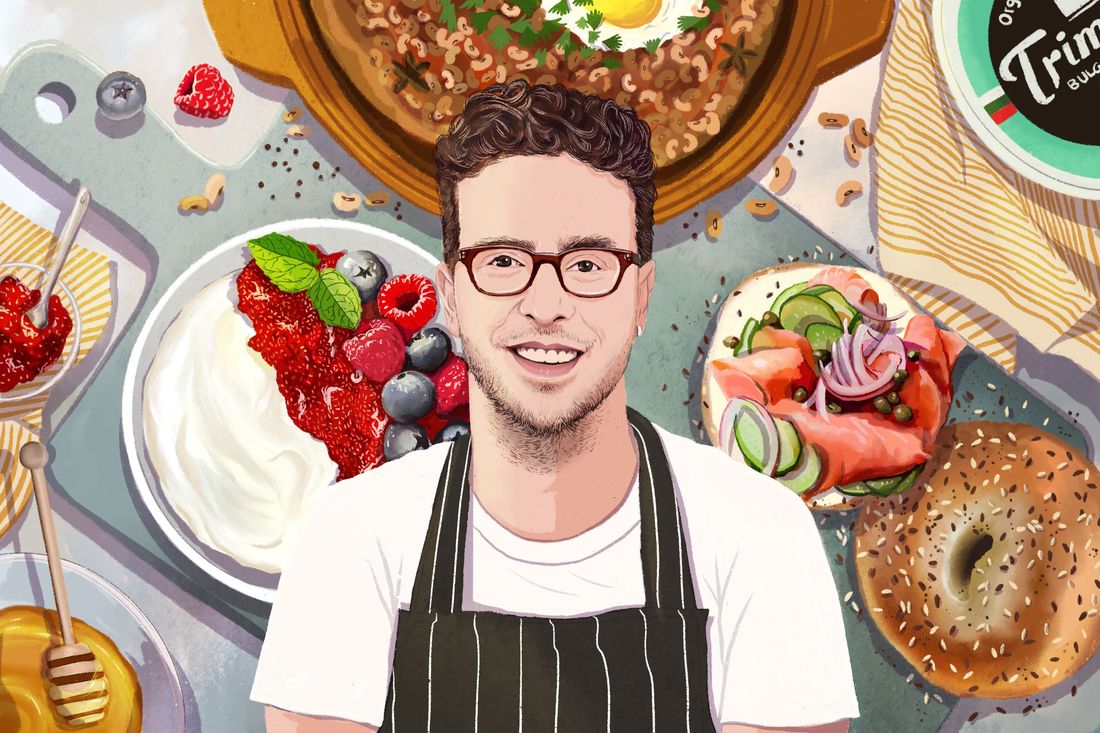 Illustration: Maanvi Kapur
As the cofounder of the spice company Burlap & Barrel, which he began in 2017 alongside Ori Zohar, Ethan Frisch spends plenty of time testing new cardamoms and cumins, but when he's not chewing on spices, he's lately been busy working through supply-chain concerns — "shipments stuck in transit, containers essentially getting lost" — but still has time to explore his Queens neighborhood's restaurant scene, which means miles-long taco treks, quick izakaya runs, mid-day momos, and a snowy dinner at the diner behind his apartment.
Wednesday, January 26
Breakfast this morning is a few slices of toast from Lost Bread Co. I love their bread, and I pick up a loaf at the Jackson Heights farmers' market every Sunday. This time, it was their buckwheat-and-cherry bread, with chunky almond butter on one slice and smoked whitefish salad on another. A cup of Tetley's black tea, then the leftovers of the light robusta coffee from Nguyen Coffee Supply that my wife, Shahla, brewed for herself.
Shahla is pregnant, and we're announcing it right here, so now you all know. Recently, I've been entertaining myself by trying to persuade her to eat a wide variety of flavors so our unborn child learns to like all of them. I read in the book First Bite that babies are more likely to enjoy fishy flavors if they're exposed to them in utero, but Shahla generally hates fish, so that's been a fun game for both of us.
Shahla and I get along so well partially because she doesn't care about food at all and I'm a huge pain and very judgmental about ingredients. I spend most of my professional life obsessing over where food comes from, who grows it, and the logistics of getting it from small farms to my customers, and it's basically impossible for me to turn that off at five. For years, Shahla has refused to go grocery shopping with me because she knows it's going to take me at least an hour to read every label and look up every company before I decide what I can buy. She loves me for other reasons.
This morning is the weekly alternate-side parking on my street, which means I have to sit in the car for an hour and a half. The alternate-side-parking dance is one of my favorite NYC rituals. I love the absurdity of the whole situation, everyone sitting in their cars for hours to avoid paying a nominal fine, swerving out of the way for three minutes to let the street cleaner go by, frantically trying to maneuver back into their chosen spot before someone else snags it.
I keep the car stocked with snacks, and this time I make a dent in a container of spicy roasted peanuts and fried chickpeas mixed together while I catch up on emails.
Lunch is kimchi fried rice with random fridge veggies and my homemade kimchi that I made for Shahla. "Homemade kimchi" makes me sound like a Kitchen Projects Guy, which I am not. I'd never made kimchi from scratch before, but it actually turned out all right, except it tastes a little fizzy and Shahla doesn't want to eat it. Story of my life.
I recently completed a certificate course in medicinal plants online with Cornell, so I've been experimenting on myself with various "medicinal" "plants" (which is not counting my general "medicinal plant" consumption). I've also been experimenting with adaptogens, so I pop a couple of ashwagandha gummies, which are supposed to help me sleep better, but they taste more like candy than plants, which might explain why they're not working. I've been taking them regularly for about a month, and I'm not a better person yet.
Shahla assembles nachos with ingredients sourced 100 percent from Trader Joe's. It's her favorite place; I can't shop there.
A cup of jiaogulan tea, another adaptogen I didn't read enough about before buying online. It tastes a little like green tea but sweeter and not bitter at all. I miss the bitterness. I love strong flavors across the board, and I think bitterness is an incredible flavor that doesn't get the love it deserves.
I had planned to take Shahla out to one of our favorite neighborhood spots for a Grub Street Diet dinner, but she has to work late. I layer up and walk the ten minutes to Izakaya Fuku. It's corny in the best ways, with rice pails instead of stools, handwritten posters on the walls, and checks presented in old DVD cases with the DVDs in them. I order spicy pickled bamboo shoots, a little plate of sashimi and a salad, which comes with wasabi dressing that goes farther up the back of my nose than a COVID test, and a beer. My sister Paula meets me there on her way home from work and has a couple sips of my beer. We live across the street from each other and are pretty much best friends.
Thursday, January 27
I usually make a big pot of unseasoned beans on Sunday or Monday and keep them in the fridge to use in different recipes throughout the week. This week, it's one of Rancho Gordo's black beans, which I probably took from my cofounder Ori's last Bean Club shipment.
For breakfast, Shahla adds some of the beans to scrambled eggs. I mix up zeit and za'atar with olive oil (the first crush of this season's olio nuovo, from Native American–owned Séka Hills) and our Burlap & Barrel za'atar from Palestine. We eat it with a freezer stash of Lost Bread Co. pita . Then I make myself an "Americano" (hot water over the dregs of Shahla's last batch of moka pot espresso). The coffee is from small farms in Vietnam via Nguyen Coffee, the eggs are from upstate New York via our local greenmarket, and my life is a parody of itself.
Ori and Jake, our ops director, arrive at my apartment for a day of co-working from my living room. I make a pot of lapsang souchong tea from In Pursuit of Tea that I love but no one else touches. I settle for using it to water the cardamom plant in the corner of my living room. (The cardamom plant loves tea.)
We get into some serious tasting. I share all the strange, fragrant samples I've collected, and we all make funny faces at one another. There are a lot of aromatics dried using some special atomic technology to give them more flavor — onions, garlic, chiles, sliced strawberries, cubes of passion fruit, star-fruit slices, cherry tomatoes, who knows. A couple of funny-shaped salts. Solid maltodextrin extruded into fabulous shapes and colors by a 3-D printer. The flavor of the garlic lingered all morning.
Eventually, we tear ourselves away from our laptops and walk to Phayul, the old upstairs place, not the new downstairs place with the same name directly across the street. We go for the specialties — bok choy with timur and dried chiles, laphing (jiggly mung bean curd) two ways: cold, with soy and vinegar and hot, stir-fried with beef and oyster sauce, potato momos, and shredded potatoes stir-fried with chiles. While we eat, we optimistically discuss a trip to Guatemala for the end of the cardamom harvest.
Shahla texts me to bring her back a cup of tea, so we stop at Raja Sweets and Fast Food on the walk home. They keep a pot of serious masala chai on the stove all day, and a cup costs $1.50. I get two, but then Shahla and I share one because the caffeine is through the roof.
Shahla returns from a long walk with the dog carrying tacos and mulitas from the Birria-Landia truck, literally walking three miles in 30-degree weather so that I will write about her undying love for tacos. Attention everyone: Shahla is from Los Angeles. She does not like New York City tacos. The one place that we used to go that she really liked was Taqueria Nixtamal in Corona. Birria-Landia is the other exception. Anyway, we eat a lot of tacos while we watch Tick, Tick, Boom.
A bowl of Ronnybrook Farm yogurt from upstate with jam from V Smiley in Vermont. The jam is sweetened with honey, which tastes amazing and paints a beautiful circular picture of bees, flowers, fruits, and honey.
Then I set up my Zojirushi rice cooker with wild-rice porridge. The rice cooker was my birthday gift to myself and is tied with my Zojirushi hot-water boiler for my favorite appliance in the kitchen.
Friday, January 28
Shahla and I eat the porridge with an old banana, some dried cherries I bought as a travel snack and a healthy pour of our star-anise-infused maple syrup from Runamok, which I love but has been notably unpopular.
On the way home from an IRL meeting at a high-end conglomerate-owned coffee shop near Bryant Park, I pick up a tea-leaf salad from Yun Cafe, a tiny Burmese snack bar inside the Jackson Heights subway station. The salad is funky, savory, crunchy, sour, salty, spicy. I eat it over the leftover wild-rice porridge from breakfast.
By midafternoon, it becomes clear that we're in the path of a major blizzard. My 94-year-old grandmother lives by herself on Long Island, so Shahla and I decide to drive out there to hunker down for the weekend. She's in great shape, and we text all the time, but she'll need help shoveling the driveway.
We get in the car and swing by Lety's Bakery for pastries — rainbow cookies (my favorite), pignoli cookies, apricot rugelach, carrot cake, and a slice of red-velvet cake with cream-cheese frosting. Shahla shoves rainbow cookies and rugelach into my mouth while we sit in traffic on the L.I.E.
When we arrive, I throw together a quick dinner — penne in tomato sauce with wilted greens — which we eat with a bottle of screw-top Malbec. Malbec is my grandmother's favorite, she reminds us several times. A couple pignoli cookies for dessert.
Shahla and I then attack the red-velvet-cake slice right out of the clamshell and eat about two-thirds of it before deciding we should save some for my grandmother.
Saturday, January 29
I get up early to make breakfast, but no one else is going to be awake for at least another hour, so I eat some granola and make a pot of quarter-caffeinated coffee, which is the ideal amount of caffeine for my elderly grandmother, my pregnant wife, and my own hypersensitive system. I prep a batch of pancake mix.
After Shahla and my grandmother make their way to the kitchen, we listen to my grandmother's favorite weekly radio show, David Rothenberg on WBAI. (NPR, which she calls "National Pentagon Radio," is too right-wing for her.) I cook up the pancakes, and we eat them with vanilla yogurt and maple syrup while my grandmother rails against Republicans and gas guzzlers.
Lunch is a kind of black-bean-and-eggplant-stew experiment. I peel and cube the eggplant and brown it with onions and a bunch of olive oil, deglaze with half a cup of cold coffee left on the counter since breakfast and a big glug of leftover Malbec. I add dried garlic scapes and thyme and let everything simmer together for 20 minutes or so, then add another splash of wine and salt. We eat it with scoops of plain yogurt and Orwasher's focaccia from the freezer, and then the Lety's pastries for dessert. Then I go shovel the driveway. Grandma and I split a packet of lemongrass and ginger THC/CBD tea while we sit together in the living room. Grandma reads the New Yorker article about Clarence Thomas's corrupt wife and mutters to herself about it while I work on my laptop.
For dinner, we have a cod filet with sunchokes and greens from last weekend's farmers' market, so I coat the cod with breadcrumbs, a little mayo, and spices and toss it in her air fryer along with sliced sunchokes and make a salad. Grandma and I finish last night's bottle of Malbec.
Sunday, January 30
I'm the first one up again, and I have my first breakfast, a bowl of Raisin Bran in soy milk with a little maple syrup. I start the coffee, deciding to go big with half-caff.
I scramble seven eggs with grated gruyere that Grandma happens to have.
Lunch is tuna-and-egg salad (mayo, mustard, chopped apples, and cucumbers) with pita toast. Shahla and my grandmother agree that tuna salad is one of their favorite foods. After, we head back to Queens.
At home, I try a handful of sour jelly beans from Trader Joe's. Sour jelly beans are the ideal sensory human food. The crackly shell reminds us of high protein, high-fat foods like nuts and insects; the sugar is pure calories straight to the brain; and the gooey, sticky inside feels like fat.
Dinner with Shahla is Jax Inn in Jackson Heights. Jax Inn is one of those classic New York diners, one of my favorite restaurant genres, plus I can see the back of the restaurant from the window near my desk. It's so close we don't even have to cross a street, which is pretty appealing. I get a big Greek salad and Shahla orders chocolate-chip-banana pancakes.