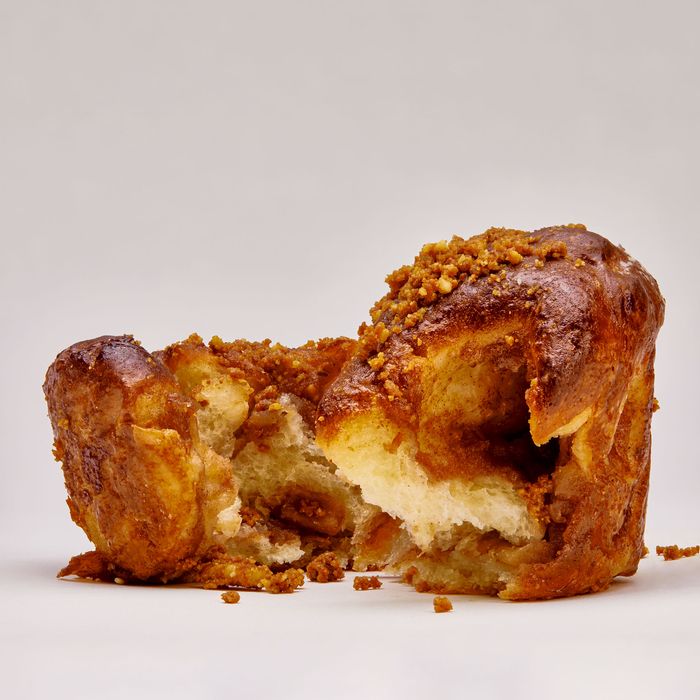 You want this. Photo: Marcus McDonald
Katreena Kanney is the self-taught pastry chef who oversees the baked goods at K'Far — the new Israeli bakery and restaurant that Michael Solomonov has opened alongside the always-jammed Laser Wolf in Williamsburg's Hoxton Hotel — and she has a confession: "I don't really like sweet things." Instead, Kanney says, "I like to use sugar how chefs use salt: to enhance flavor." Here, pastries such as seed-crusted bourekias, coiled sticky buns, and oversize Israeli-style chocolate rugelach are recognizable in form, but they act as stealth delivery vehicles for Middle Eastern flavors. "I wanted things that look familiar so people aren't intimidated," Kanney says, "but with maybe something new inside." Recently, Kanney sat down to talk us through all of her pastries.
Osem Potato Bourekia: This is our best seller at the original K'Far in Philadelphia. The customers would kill me if I took it off the menu. Osem spice is a classic chicken-consommé powder from Israel. We did a vegetarian version for this filling — a mix of fenugreek, turmeric, dill and d'vora spice. There's some labneh in there, which adds a bit of tang, and helps keep the potatoes moist. The dough is also laminated with vegan butter. Originally I sheeted it with regular butter, but, after the pastries had sat out, it developed a mouthfeel I didn't like.
Spinach Artichoke Bourekia: The newest bourekia — and also my favorite. This one starts with a hard sear of artichokes in brown butter. Then we add some wilted spinach and mix that with cream cheese, kashkaval, garlic, and salt. I was inspired by spinach-artichoke dip, the kind you get at TGI Friday's. But I really wanted the vegetables to come through and the poppy seed on top. I can't imagine not having a bourekia with kashkaval cheese. It's so delicious with a little nuttiness and a pungency.
Olive Feta Bourekia: While the other borekasim are rectangular, this one is a triangle. One reason is because there's slightly less filling in a triangular shape and I don't want the bite to be too intense. Feta is an intense flavor. We use Bulgarian feta with a little bit of cream cheese as the filling, into which we blend green olives. There are no huge chunks or briny bites. We want it to be mellowed out.
The challenge with challah is that it is a very eggy, super-hydrated dough. The wetter the dough, the harder it is to work with. Since challah is meant to be pulled apart — at dinner we do pull-apart Parker House rolls with the same dough — the crumb is super important. I'm really happy with how this turned out. I take a basic challah and turn it into a Danish. I'm a sucker for almond extract. I have a background in German pastries and remember my omma bringing over almond marzipan fruits as a kid. Here, I have a nice almond-y glaze to give an almond punch and some toasted, sliced almond on top for texture.
Ashkenazi rugelach has a flakey cream-cheese dough, tends to be smaller, and works well with savory fillings. Israeli rugelach is larger, made with a yeast-based dough, and works better with savory fillings. The chocolate filling here is dark and intense rather than overly sweet, and I glaze them in an orange-blossom honey. The yeast in the dough causes little pockets of air to form that help suck in the syrup. This is a shockingly juicy pastry.
This is both the best seller and my largest labor of love. When I first joined K'Far as a pastry cook this was on the menu, but over the time, I've changed some things to my liking. I wanted, for instance, a fluffier dough. So now we use tangzhong, a technique for Japanese milk bread in which a portion of the liquid and flour is turned into a paste and then added back into the dry ingredients. It makes a fluffier dough with a longer shelf life. I also simplified the caramel. All of our pastries are made in our kitchen in Philadelphia. They're flash-frozen, shipped up here multiple times a week, and then baked fresh in Brooklyn. Part of my mindset is not just the end product in terms of taste or looks. I have to think about production: How do I create a recipe that I can explain to somebody who has never set foot in a kitchen, and they can produce it? I'm always trying to simplify while never sacrificing flavor.
I've tried babka that is incredibly dense with extremely thin dough and prevalent filling. I've seen babka that is more like a loaf of bread. I'm somewhere in the middle. For a while we had chocolate babka, but it was too similar to the rugelach. So I thought, Let's do seasonal babka. In my head, we're going to change quarterly. Right now it's caramel apple, which can last for the winter, though I have no problem doing a pumpkin, or pumpkin-spice babka — it's popular for a reason. The shape happened by mistake. We had some leftover babka dough and put it in a sticky bun mold. But we all loved the hand held babka mold. In this case, I wanted the dough to be a major part of the experience, with a one-to-one ratio to the fillings.
Our pecan cake is a play on the more traditional walnut cake, but pecans are softer and oiler than walnuts, with a well-rounded and complex flavor. The cake, which is gluten free and uses a combination of almond and rice flour, is a phenomenal bite. The batter is about 70 percent pecans, which helps the cake remain moist. (Rice flour sucks the moisture out of a dough.) This is the only pastry you can get on the dessert menu at dinner, when it comes with a labneh whip and caramelized apples.
Chocolate Chip Tehina: We have always had a cookie on the menu at K'Far. This one was grandfathered in and I tried my darnedest to change it. But it's a fan favorite and I realized it was just egotistical to change it "just because." I focused instead on perfecting it. I use a nice and dark 72 percent chocolate and finish the cookie with Maldon salt. You can see memes as much as you want of pastry chefs who put Maldon salt on everything but they do it for a reason: It's delicious and it's not going anywhere.
Honey Tehina: A while ago we were catering for a banking convention down in Philly. I had to come up with something for a few thousand people that had our restaurant flavors, was fresh, and wouldn't crumble. I immediately thought of shortbread tehina cookies. By taking out some of the tehina and adding in sugar, the cookie was less dry and didn't crumble as easily. It also helped with the mouthfeel. (Too much tehina can give a dry mouthfeel.) The cookies were a hit and shortly afterward, we added them to the menu.
The Jerusalem bagel isn't the boiled bagel you're used to seeing here or anywhere else in the country. It's definitely more yeasty and breadlike, without the intense crust that comes from the boiling process. Also the sesame seeds. They're not just on top. It isn't a few. The bagel is fully submerged in them before we bake it. In Jerusalem — and elsewhere in the Middle East — it is called ka'ak (or kahqua). You can get it in the marketplace and walk around, eating it plain like a baguette. Here, we're pressing them into sandwiches. One comes with egg and cheese, the other with smoked salmon. The fact that the bagels are nice and airy means we can press them really thin and they get crunchy.