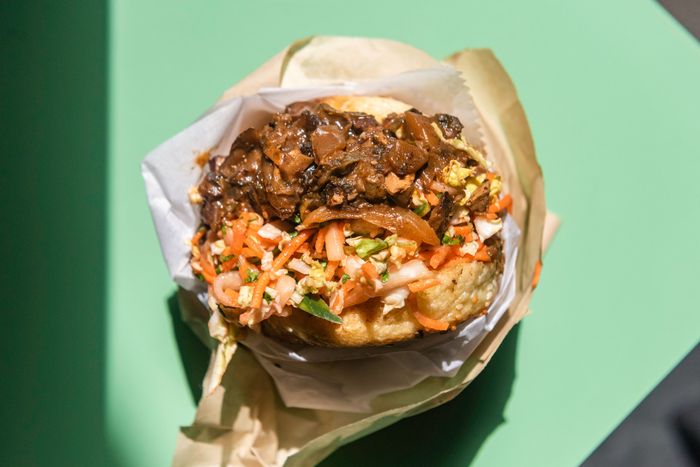 Fat Choy's Mushroom Sloppy sandwich. Photo: Will Blunt/StarChefs
Fat Choy opened in September 2020, during a time in the restaurant industry when no one knew what was going to happen next. New York was headed into a bleak winter with another COVID wave looming. Most jobs hadn't returned to the industry. Around the country, according to one survey, nearly one in six restaurants had closed. It wasn't, to say the least, an ideal time to open a restaurant, though owners who were paying rent and had planned to open earlier in the year — before the pandemic shut the industry down — could only hold off for so long. (The owners of Fat Choy, for one, had applied for a liquor license in December 2019.) Now, two years and a few months after its opening, Fat Choy's time has come to an end. Owners Justin and Katie Lee announced that the restaurant's last day will be December 23 in an Instagram post that was scant on details.
"The reason we're closing is just business isn't good enough — it's very plain and simple," Justin says. "To be honest, we're doing pretty weird food and it's during an economic recession and people just want a little more comforting stuff. While I think the experience is comforting, getting them out of their element to come and try it is difficult."
Fat Choy opened with a menu that was entirely vegan and whose items were all initially under $10. It was, in one way, a restaurant we should see more of: To keep prices low, they simply eschewed meat altogether instead of using factory-farmed proteins. A signature dish is the Mushroom Sloppy sandwich — a meatless version of the sloppy joe — made with flower-shiitake mushrooms and smoked tofu on a sesame roll. Other dishes included salt-and-pepper cauliflower, "grandson style" sticky-rice dumplings, and rice, beans, and greens.
"We're a little bit limited in doing the volume that we probably need from a check-average perspective," Justin adds, citing the restaurant's small size and delivery zone. Inflation — which now seems to be finally slowing down — also factored in, making it more difficult to keep the prices accessible to a wider audience. "We're paying more for vegetables than we did for chicken and pork at other restaurants," he says. "It sucks to be closing before Christmas. We were hoping to hold out for a little longer, but business has been worse and worse over the last few weeks and months."