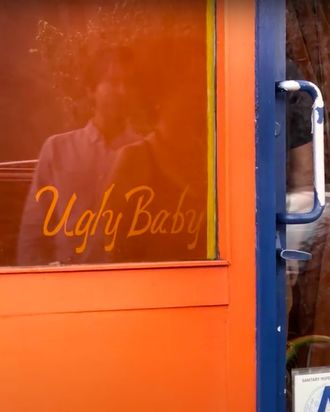 The door at Ugly Baby, which really is as popular as you've heard. Photo: Zach Schiffman
Ever since I started investigating the city's so-called impossible tables — showing up without a reservation at prime time to see how long it takes to walk in — I've been surprised, or maybe even a little disappointed, by how quickly I'm usually seated. I strolled into Foul Witch on a Saturday night. Tatiana had an entire outdoor dining area where I could sit instantly. Sure, Carbone will forever be off-limits to anyone not named Hadid, but it seems to me that the Resy culture dominating New York dining is often holding restaurants back from seating to their full capacity. The people behind Ugly Baby, the Carroll Gardens Thai restaurant known for its blast-your-face-off cooking, must have noticed that too. Late last month they announced they were getting rid of reservations and reverting back to a walk-in-only policy (remember those?) that would allow them to serve more diners, since they wouldn't have to hold tables for upcoming reservations.
The post to announce the change stipulates that seating and sign-ups start at 5 p.m. Per the parameters of this particular assignment, I recently stopped by at 7:30, prime time, to see how hard it would be to walk right in. Would it be a truly democratic first come, first served basis, or might this very popular restaurant fall into the same system as its neighbor Lucali, where the elites are granted entry ahead of the hoi polloi, who may or may not be allowed to return several hours later to be seated? I would never blame a restaurant for being popular, and, hey, if Beyoncé wants some pizza, you're not going to make her stand around on the sidewalk, but I still wanted to know just how tough this tough table would be, or whether the move away from online reservations would make things easier. In the end, it was a little bit of both.
When I showed up, I was quoted an hour wait for a two-top. As someone who once worked as a (very bad) host at a restaurant in high school, I immediately recognized the look on this hostess's face: She was a little overwhelmed. Clearly this new no-ressies policy had taken its toll on this night.
I, however, felt a sense of calm — one that I hadn't felt at Bad Roman or Lilia — because I trusted that, as long as I was patient, my name would eventually be called in the proper order. Alternatively, restaurants that want to give the illusion of popularity might quote a longer wait time, only to text a few minutes later. In the case of Ugly Baby, with throngs of (nice!) people lingering outside, I sensed that the popularity, and demand for a table, was organic.
Then, as I began talking to other people waiting, I got more nervous: Groups that had been quoted 30 minutes were heading into their second hour. As my own hour rolled around, the sidewalk crowd began to thin. It was getting dark, and my friend and I were suddenly the only party left. After another 20 minutes, we finally got our table, delayed a bit by people who'd put their names on the list, left without notifying the hostess, and didn't respond to calls to ask if they still wanted a seat. (Don't be those people.)
The restaurant was still packed when I sat down at 8:50. Despite the crowd, the staff was calm and easygoing — and more than happy to make fun of me when I couldn't handle the spice on some supposedly "mild" shrimp. Yes, Ugly Baby is still the hottest restaurant in town in more than one way, and yes, they brought me something to drink to help alleviate the burn.