KFC said online ordering through its app had doubled "year on year for the last five years".
"These figures have led KFC to look at how it can make its service quicker, easier and more convenient," a company statement said.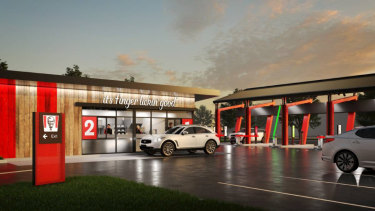 Those using the new drive-through operation will be able to order and pay for a meal with the KFC smartphone app or website before arriving at the site.
Customers will need to enter a four-digit code – generated by the smartphone app – on a touchscreen receiver, which will "send their order to the kitchen where it is freshly prepared, ready for collection".
For those who prefer to order meals face-to-face, the operation will include "two traditional order and payment lanes", alongside the three app- and website-order lanes.
KFC said it had invested about $1.5 million in the new concept, which was part of a wider trend affecting the company in Australia – including use of its app and "Alexa voice ordering".
Kristi Woolrych, of KFC Australia, said the project was an example of the company's commitment to innovation.
Ms Woolrych said the company aimed to sell food in "the most convenient way".
Construction on the project started in late June. It will open in early November.