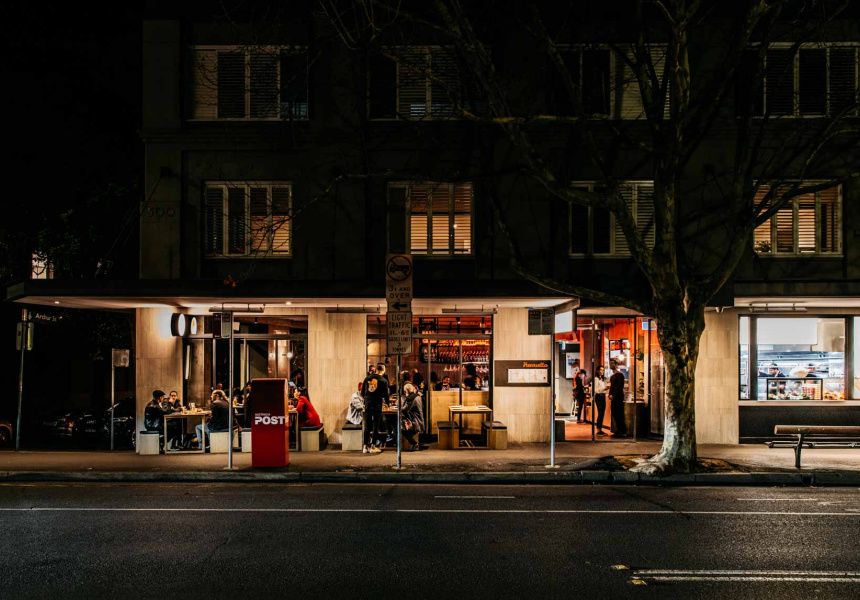 For the past six months, the former site of Pizza e Birra has been wrapped up, leaving Surry Hills locals wondering what's to come. The paper has finally been pulled off the windows to reveal Henrietta, a casual and fun new charcoal chicken eatery, bar and takeaway shop (with a separate window for pickups) by prolific Crown Street restaurateur Ibby Moubbadder.
Moubbadder's success has been simple: "I like to take a concept and elevate it," he says. He did it with his almost-fine-diner, Middle Eastern eatery Nour (also owned by Jorge Farah) and scrambled-eggs-with-an-edge cafe Cuckoo Callay – both just up the street. And now he's done it with his favourite (and most nostalgic) meals: Lebanese charcoal chicken.
Sydney already has a robust charcoal chicken scene, so Moubbadder knew he and his team really had to perfect it if they were to venture into that market. "We've honestly tested over 500 chickens … to make sure ours was the best," he says. "But the trick to Lebanese charcoal chicken is really all about how you eat it."
According to Moubbadder, that means no knife and fork. "You've got to get your Lebanese bread and rip it open, put a lot of garlic sauce [toum], chicken, pickles and chips in, then roll it and eat it all together."
In other words, it's not fancy. But it is fun.
While the charcoal chicken is the star, you can also get chicken-tawouk (skewerd chicken) spring rolls with toum; lamb kibbeh (bulgur, minced onions, finely ground meat and spices) san choy bow; brisket-shawarma tacos with zhug (a Yemeni hot sauce similar to chimichurri); and falafel bao with harissa and mint yoghurt.
There's a banquet for $50 per person, but Moubbadder says that's the most expensive menu item, and it's a lot of food.
There's a slushie machine at the bar, and the cocktails come packaged like they do at Ms G's. "They're all Middle Eastern-inspired and we've made our own tapioca pearls."
Pair you chook with a lychee Cosmo (vodka, pomegranate liquor, lychee, cranberry and pomegranate juice, rosewater and lychee pearls) and a spicy passionfruit Margarita (chilli-infused Espolon blanco tequila, Vida del Maguey Mezcal, passionfruit, orange blossom honey, and a sumac-chilli-salt spiced rim).
The space is neon-splashed and tactile-friendly, with a clever combination of terrazzo and textured concrete surfaces (the work of Paul Papadopoulos from DS17, also behind Nour's very pretty interiors). When planning the fit-out, they made sure the kitchen was big enough to cater to both the dine-in and takeaway crowds. Moubbadder has brought head chef Riyad Seewan from Nour to oversee the first couple months of opening.
A lot of thought has gone into the takeaway chooks ($18), too. "We'd cook the chicken and try it, then leave it out for 20 minutes, and try it again, then 30 minutes, 40 minutes, 50 minutes," he says. "We had to make sure it could travel."
The secret is in the marinade, which controls how long it takes to cook and ensures the chicken gets that complex, smoky flavour without drying out. "It's a very, very, very fine line."
Henrietta
Shop 1/500 Crown Street, Surry Hills
Hours:
Daily 11.30am–late