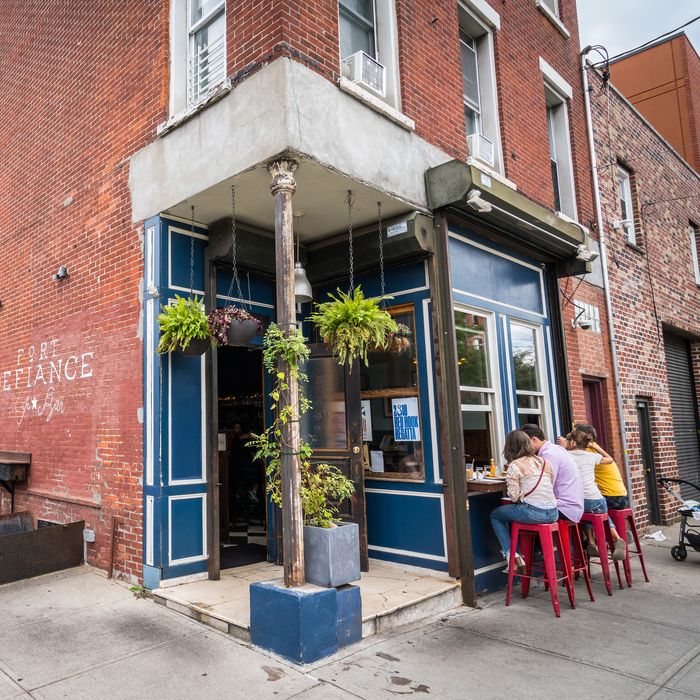 Fort Defiance, when it was a restaurant.
Photo: Noah Fecks
Red Hook's Fort Defiance is a really good neighborhood restaurant, the sort of place people write odes to as their place, and a bar that captures a good life sensibility, served around the clock. (Or, at least, from 10 a.m. to midnight.) Back in 2013, the New York Times critic Pete Wells wrote that "I doubt there is another restaurant in New York with a finer sense of what to drink when." It's known as much for its Irish coffee as its cocktails like the Ramos gin fizz, and it's a place you can order an off-the-menu, down-right excellent piña colada. (Shaken, not blended.) Or, at least it used to be. This week, owner St. John Frizell announced that after 11 years, Fort Defiance as we know it will not return. In its place, he'll continue to operate the Fort Defiance General Store, as he has since March 30.
"It's not all bad news. The good news is the response I've gotten has made me feel great," Frizell says. "It really has gotten me through the last three months, and given me a purpose and connection to the community I really haven't felt in this way in a while. It's great. It's not running scared in any direction."
At Fort Defiance General Store, Frizell will expand on the groceries he's been offering since he reopened using PPP and EIDL loans: Lancaster Farms CSA boxes at a relatively affordable markup ($30), sourdough bread, Lancaster farms slaw, rotisserie chicken, a picnic box with that chicken and sides, and some other prepared foods including the restaurant's chicken-liver pâté. Starting this weekend, they'll also bring some cocktails like the Barbados Buck back, which they'll be selling to-go. That aspect might not last long, as New York's takeout-cocktail law is set to expire next week.
"We're going to put tables outside; we won't be serving those tables, they'll be picnic tables. Lots of prepared foods all to go. Sort of like Red Hook's Balducci's, if you will," Frizell says. "You won't be able to get everything you need, and that's fine. But you will be able to get fresh baked bread, rotisserie chicken, chicken-liver pâté, and bottled Manhattans to go, and in life how much more do you need?"
All service and sales has been made from a window, with most orders done online and no customers allowed in. That'll continue for the time being, prudently. States around the country, including Idaho and Texas, have seen spikes in coronavirus cases connected to young people going to bars, which are, unfortunately, ideal places for transmission of the virus.
Frizell's decision to go full grocery was made just a couple days before the news that Fairway will close its Red Hook location, the neighborhood's only grocery store. His 1,000-square-foot isn't a replacement for that sprawling store, which was eagerly welcomed when it opened in 2006. Fairway's relationship with Red Hook, however, soured over time. Earlier this year, after the company filed for bankruptcy, workers and locals told the City that the store contributed to gentrification and was unaffordable for many neighborhood residents.
While New York City is now in the midst of its own bumbling reopening, owners and employees face a long road ahead of them. Outdoor dining may not be an option for all, and the city's cramped storefronts are, again, not exactly places to go to if you want to avoid the coronavirus. (The city is expected to enter phase three of reopening on July 6, which will allow for indoor dining.) The customer base is also just not there. The city's unemployment rate rose to 18.3 percent in June, with more layoffs sure to happen as job prospects slim. Some of those still employed may be reluctant to spend rather than save, or have concerns about going out to eat, both for their own health and that of restaurant workers. That the immediate future is grim for restaurants — and especially immigrant– and Black-owned restaurants — is no secret.
"I'm trying to read the tea leaves here, and it does not look like the next 12 months are going to be great for restaurants," Frizell says. Restaurateurs were sharing concerns about the viability of the industry even before the pandemic happened, and it has of course only gotten worse since then. "There's nothing but reasons to get out of the business, and now things just got a lot worse. I'm just looking at the facts here. They're not going to be good for neighborhood restaurants like mine," Frizell says. (He sees the exception as special-occasion places like Gage & Tollner, the historic Brooklyn restaurant that was supposed to return on March 15, the day before the restaurant shutdown.)
"Is it possible others will figure out a way through this and survive the next year or two and then thrive? Of course it's possible. But it's not something I want to spend the time doing," Frizell says. "I'd rather go where the energy is pulling me."