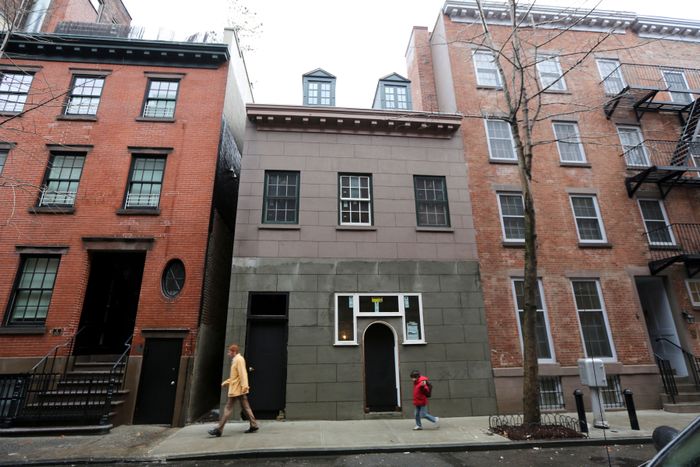 86 Bedford Street in 2012. Photo: Librado Romero/The New York Times
It was just after 11 a.m. last Wednesday, and the door to 86 Bedford Street in the West Village had been left propped open. Through the entrance, it was possible to see inside. Rather than portraits of literary titans — which had lined the walls when the famous address housed Chumley's — the walls displayed colorful portraits of cartoon frogs gathered around a dining table, lifting glasses of wine, and licking their lips. Torn-down butcher paper and painting supplies littered the front step as a builder transferred them to a van. By all appearances, Froggy's was coming together.
The new restaurant has been a much-discussed culinary project from chef and restaurateur Liz Johnson, one-half of the couple (along with her husband, Will Aghajanian) at the center of the recent report surrounding her celebrity-beset Los Angeles restaurant Horses. Given the nature of the stories — allegations of animal abuse and mistreatment at multiple restaurants, as well as Johnson's divorce — it was natural to assume the East Coast expansion may be on hold. But Johnson confirms that Froggy's is happening; she says she is planning to open by fall of this year.
Prior to the Horses fallout, Froggy's first became a topic of conversation in the spring of 2022, when the New York Times reported that Johnson and Aghajanian were "working with Thomas Carter, Ignacio Mattos's former partner in Flora Bar, Estela and Café Altro Paradiso, who left under a cloud in light of accusations that he harassed employees." (Johnson did not comment on Aghajanian or his current involvement; Carter has since left the project.)
Both the Froggy's Instagram account and website are, as of now, blank. But the space looks nearly ready for business, with a cheerful white-and-black-checkered entrance vestibule and handsome wood paneling beneath the frog mural. "We're almost ready to bring in chairs and tables," said a man at the scene last Wednesday, as he cleared construction supplies from the stoop, "after a year of work."